Los Angeles may be the TV and film capital of the world, but it's also home to many legendary moments in rock and roll. Clubs like the Whiskey, The Troubadour and others have been important launching pads for many artists, including Elton John, the Eagles and Van Halen, to name a few. But beyond the most famous sites are some lesser-known locations that have figured prominently, for better and worse, in the colorful history of rock and roll.
Opening Doors
The Doors remain perhaps L.A.'s most famous home-grown band. Though he died in Paris, lead singer Jim Morrison's legacy is alive and well around town, both in spirit and in some notable landmarks. Fans of the brooding poet/rock Adonis will want to start their journey at the Alta Cienega Motel, located 1005 N. La Cienega Avenue. Morrison lived here from 1968-1970, as the sign on room 32 attests. Inside the room, dedicated fans from all over the planet have written loving messages upon the wall. Just across the street at 8512 Santa Monica Boulevard is a building which once housed The Doors' offices and recording studios. It's now the Benvenuto Café, and the men's room on the lower floor actually served as the vocal booth where Morrison recorded the classic song, "L.A. Woman." Incidentally, Morrison used to hang out at nearby Barney's Beanery, located at 8447 Santa Monica Boulevard. It's a classic L.A. hangout even today, but back on Oct 4, 1970, Janis Joplin sat at her favorite booth, #34, and downed two screwdrivers before heading up to the Landmark Hotel. She would die there later that evening.
Just for the Record(s)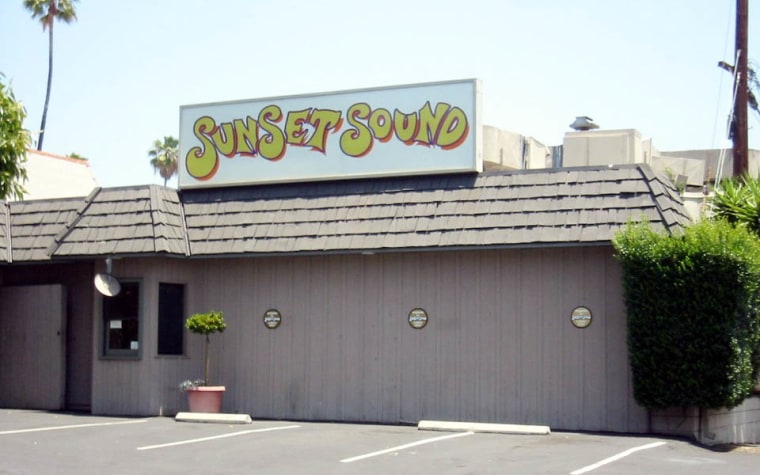 Hollywood has also been home to some of the most famous recording sessions in rock and roll history. At Radio Recorders (now Explosive Records) located at 7000 Santa Monica Boulevard, it would have been common to see Elvis roll up in the 1950's. After all, it was here that he recorded Jailhouse Rock, All Shook Up, Loving You and Teddy Bear (among others.) Gold Star Recording Studios (formerly located at 6252 Santa Monica Boulevard) is where legendary producer Phil Spector created his famous "Wall of Sound" approach to recording: the dense, layered, echo-filled sound that surrounded songs like "He's a Rebel," "Be My Baby," "Baby, I Love You," and "You've Lost That Loving Feeling" among others. It's also where Brian Wilson created Pet Sounds, the critically-acclaimed 1967 Beach Boys album that supposedly pushed the Beatles to up the ante with Sergeant Pepper¹s Lonely Hearts Club Band. The studio was razed in the mid 1980s to make room for the mini-mall that's there now. Sunset Sound, located at 6650 Sunset Boulevard has also hosted some legendary sessions. Led Zeppelin recorded their second and fourth albums here, the latter of which included "Stairway to Heaven." The Rolling Stones cut Beggars Banquet here, and other famous recordings include James Taylor's "Fire and Rain," Janis Joplin's "Me and Bobby McGee," and Michael Jackson's "Beat It."
Let's spend the night together
Hotels always seem to play an important part in rock and roll, and Hollywood is no different. If only the walls at The Hyatt on Sunset (8401 Sunset Boulevard) could talk. When British bands first invaded this hotel in the 1960s, it was simply known as the Continental Hyatt House. Before long, it became known as "Riot House," thanks in part to Led Zeppelin racing Harleys down the hallways, among other more sordid endeavors. Room 1015 bares the distinction of being where Rolling Stone guitarist Keith Richards mooned the world and dropped a TV out the window.
Further down the Strip at the Le Mondrian Hotel (8440 Sunset Boulevard) is where one of the lead "singers" for the pop duo Milli Vanilli tried to kill himself in 1991. Rob Pilatus took an overdose of pills, slashed his wrists, and tried to jump out of the ninth-floor window of this hotel before the police finally stopped him. (On Apr 3, 1998, Pilatus was found dead of an apparent overdose in a Frankfurt, Germany hotel room.)
"Say goodbye to Hollywood"
Just north of Sunset Strip is a street immortalized by the late George Harrison. It's called Blue Jay Way and in Aug 1, 1967, George Harrison was staying at a house on this street. It was here that he wrote the song "Blue Jay Way" while waiting for Beatles PR flack Derek Taylor to arrive at the house, and the song eventually was recorded by the Beatles for the Magical Mystery Tour film and soundtrack record. It's a little tricky to find Blue Jay Way, so here are the directions: Turn north on Sunset Plaza Drive off Sunset Boulevard. Head north to Rising Glen when Sunset Plaza goes east. Go left on Thrasher, follow it around west, then turn north on Blue Jay Way.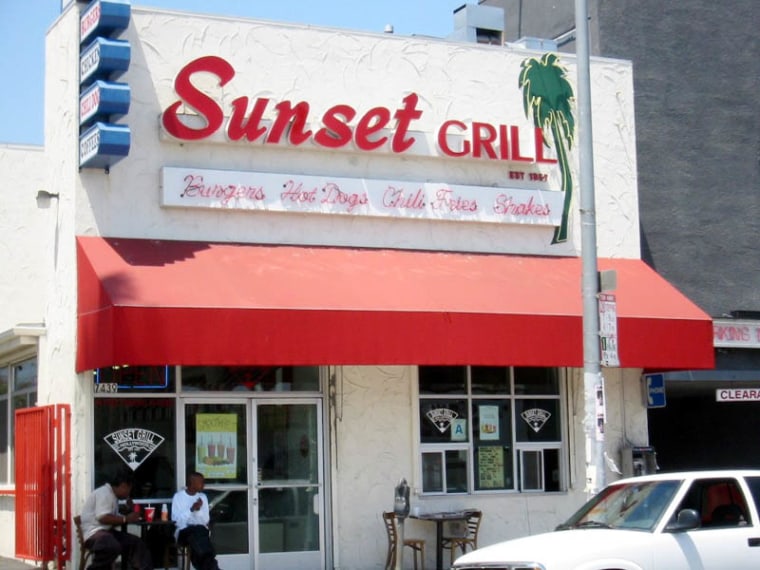 Back down on Sunset is the Sunset Grill, located at 7439 Sunset Blvd. The small hamburger counter was the subject of Don Henley's "Sunset Grill" from his Building the Perfect Beast album. When the tune came out, the Sunset Grill's owner, Joe Frolich, had no idea he and his establishment had been immortalized in song. After customers started telling him that he and his restaurant were being sung about by the ex-Eagle, Joe¹s wife, Eva, finally recognized Henley at the Grill one day.
And if you like the handprints at Mann's Chinese Theater, you'll love the Rock Walk at the Guitar Center at 7425 Sunset Boulevard. Here in front of the store, dozens of famous musicians are immortalized in cement imprints.
Lastly in Hollywood, there¹s a wistful spot at the southwest corner of Sunset Boulevard and Crescent Heights. If you remember Joni Mitchell singing "They paved paradise, and put up a parking lot" in the song "Big Yellow Taxi," then take note. It was written about a hotel that used to sit here. The Garden of Allah was Hollywood's famed apartment-hotel that welcomed transient show business guests from 1935-1955. Errol Flynn, Clark Gable, Greta Garbo, W.C. Fields, Humphrey Bogart, F. Scott Fitzgerald, the Marx Brothers, Orson Welles—they all lived here. Mitchell wrote the song about this place, as a supposed metaphor for the destruction of a cultural monument. (And yes, it is a parking lot today, for a bank that's here now.)
Heading for the Hills—Beverly Hills
Where did Elvis first meet the Beatles? At 565 Perugia Way. The original house is gone, but this was is where, on Aug 27, 1965, Elvis Presley paid his initial visit to the Fab Four. The Beatles were in town to play the Hollywood Bowl and it was reported that at this meeting, the Beatles fawned over the King; who remained aloof (rumor has it he didn't care much for their music).
And that classic 70's album cover, Hotel California? No, it wasn't a mysterious desert hideaway. It was the legendary Beverly Hills Hotel which truly is "Such a lovely place." Interestingly, to get the shot of the mission bell, a cherry picker was used (making it hard to imagine the angle when you stand in front of the hotel). The inside photo of the band in the hotel "lobby" was actually shot inside the Lido Apartments, located in Hollywood at 6500 Yucca Street.
Moving west on Sunset from the Beverly Hills Hotel, you'll soon hit Dead Man's Curve, located at Sunset Boulevard near Whittier Drive. It was here on Apr 12, 1966, that singer Jan Berry (Jan & Dean) had a near-fatal car accident in his Corvette Stingray 427 that left him permanently disabled. However, the exact spot the duo referred to in their famous song, "Dead Man's Curve," was curve slightly west on Sunset Boulevard, near Groverton Place, just north of UCLA.
Just off the map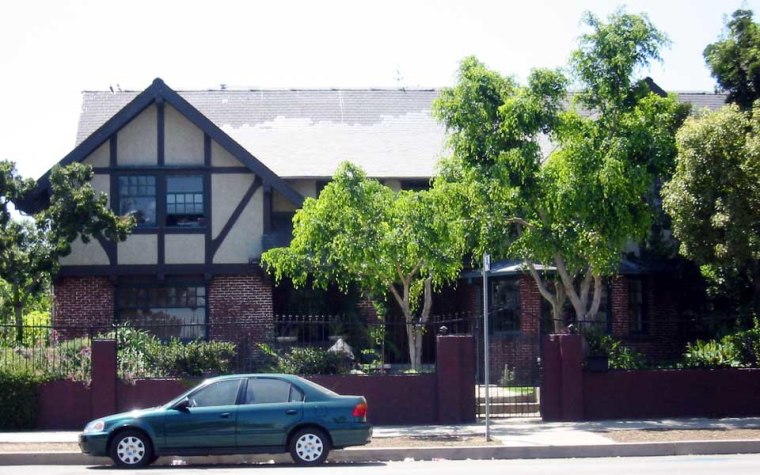 South Los Angeles: At 2101 South Gramercy Place, you'll find the house where legendary soul singer Marvin Gaye was shot to death by his minister father, Marvin Gaye, Sr., during an argument at their home on Apr 1, 1984. The father pleaded guilty to voluntary manslaughter, but received only five years' probation. Marvin Gaye would have been 45 years old the next day.
Hawthorne, California: At 11969 Hawthorne Boulevard (just north of 120th Street) you'll find a classic Beach Boys landmark. The band grew up here in Hawthorne, California, and the "hamburger stand" mentioned in their hit song, "Fun, Fun, Fun," was actually this very Foster's Freeze (which they nicknamed "Frostie's"). Evidently Brian Wilson had spotted a friend here driving by in her daddy¹s T-Bird.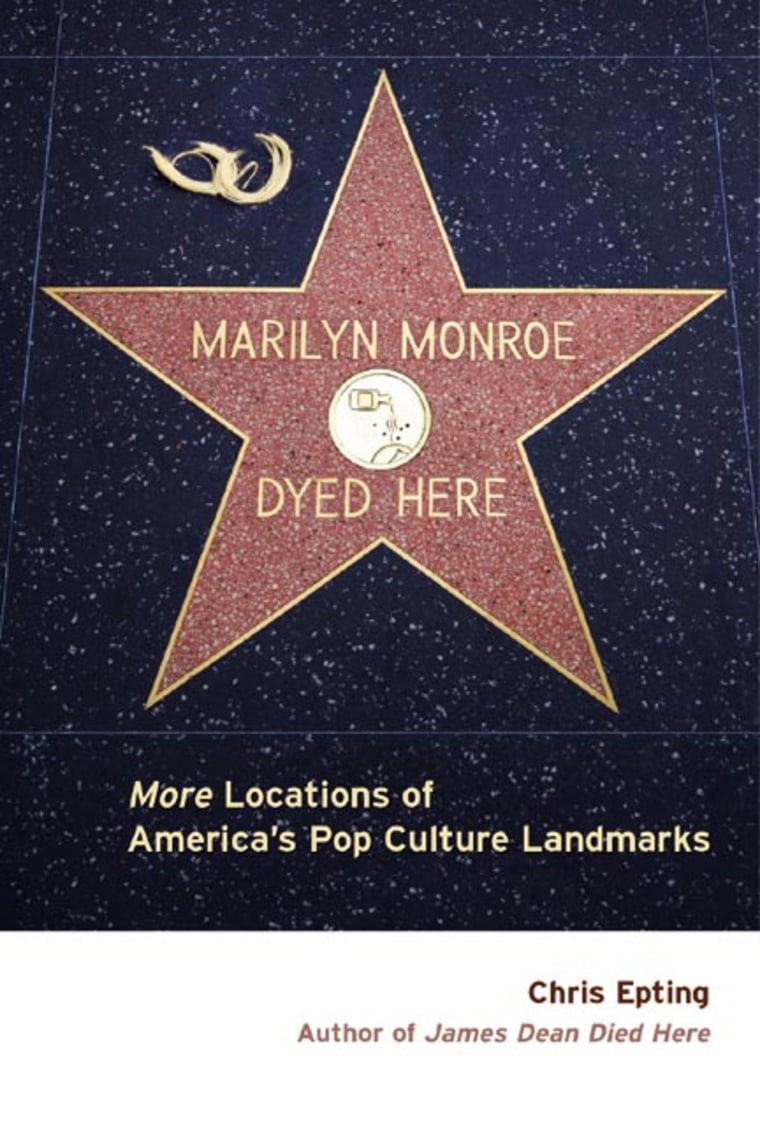 Los Angeles has seen a lot of music history. These are but a few of the landmarks that make for interesting side trips, especially when you're ready to rock.
Chris Epting has created many popular advertising campaigns over the last 20 years. He is also the author of six books including Roadside Baseball and James Dean Died Here, The Location's of America's Pop Culture Landmarks. Marilyn Monroe Dyed Here, More Locations of America's Pop Culture Landmarks comes out this May from Santa Monica Press.