When Facebook founder Mark Zuckerberg announced his gift of $100 million for Newark's public schools two years ago on "The Oprah Winfrey Show," he described it as a "challenge grant" which he hoped would attract other donors to make additional contributions.
He wrote on his Facebook page the same day that, using his own Facebook stock, he was creating a foundation called Startup: Education, "with over $100 million to invest in educating and improving the lives of young people."
"We're setting up a $100 million challenge grant," he told Oprah, sitting alongside New Jersey Gov. Chris Christie and Newark Mayor Cory Booker, "so that Mayor Booker and Governor Christie can have the flexibility that they need to implement new programs in Newark, and really make a difference. And turn Newark into a symbol of educational excellence for the whole nation."
'Cultural shift'
In an interview with NBC News Senior Investigative Correspondent Lisa Myers last year, Booker said that it would help totally transform Newark's public schools, a system that now includes 70 schools, with approximately 37,000 students and 3,100 teachers in classrooms.
"We've got to create a cultural shift in America," Booker said, "a cultural shift here in Newark that supports our kids' educational excellence."
Statistics for Newark's population and its students' academic performance from the year of the gift show that the challenges are urgent and daunting.
According to the 2010 Census:
Almost one-third (29.9 percent) of all Newark families with related children under 18 had income below the federal government's poverty level.
According to Newark Public Schools, as of the 2010-2011 school year:
40 percent of students are rated as proficient in reading and math after 7th grade;
38 percent enter college;
56 percent graduate high school.
Newark Public Schools currently spends approximately $22,000 per student per year, and has an annual budget of $1 billion for the current school year (2012-2013). Zuckerberg's one-time $100 million gift represents just 10 percent of that annual budget.
After two years, how much of Zuckerberg's gift has Newark spent?
Almost $17 million.
Greg Taylor runs the nonprofit Foundation for Newark's Future, set up to distribute the money.
In the two years since the gift, Taylor told NBC's Myers in an interview at the foundation's offices in downtown Newark, other big private donors have pledged $54 million in matching contributions, as Zuckerberg intended, bringing the total private philanthropic money available to help Newark's schools to $154 million. The goal is $100 million in matching funds, for a total of $200 million, Taylor said.
So far, the foundation has committed $16.8 million, all in the form of grants.
Taylor told us the foundation is pursuing six "investment strategies" for all the money — school choice options, teacher and principal leadership, early-childhood education, out-of-school youth, the new national Common Core academic curriculum, and community engagement.
"I'm actually very, very excited about where we are in our investments at this point," Taylor said. "Long way to go, but I do think that we're having a real impact in the investments that we've made this far."
What's been spent so far
As of this month, the Zuckerberg money has gone out the door in the form of 32 grants, according to a list the foundation provided NBC News (see the full list here).
The grants include start-up money for six new innovative high schools — four that started last year and two more this year. Three of the schools are regular public schools and three are charter schools. Specific grants for specific schools include:
$550,000 for Bard High School Early College, offering a challenging "early-college" curriculum;  
$500,000 for Newark Bridges High School, a "second-chance" school for students who previously had dropped out.
(NBC News visited both of those schools in September 2011, when they were in their first month of operation. Read our previous report on the first anniversary of the gift. How did these schools and their students do in their first year? Read about their first-year results here.)
The foundation also has provided $600,000 for a Teacher Innovation Fund — consisting of smaller grants of $10,000 or less to groups of teachers to try out their creative ideas at their own schools. It has awarded 25 of these grants so far, totaling $212.4 million.
It also committed $176,000 for a "My Very Own Library" program, which is distributing 10 free books to each of 5,200 students at eight elementary schools.
(If you do the math, that works out to a bargain price of a little more than $3 per book.)
But the biggest chunk of Zuckerberg's and the other donors' money spent so far — almost $10 million — has paid for administrative and operational items to help analyze the entire school system and, backers of the initiative hope, transform it.
$2 million PENewark community survey.
$2.8 million Newark Public Schools system diagnostic.
$550,000 Newark Public Schools financial audit.
$4 million Newark Public Schools organizational transformation.
The foundation told us that some of that money have gone to individual consultants and a consulting firm. The consultants are working in leadership positions at Newark Public Schools on a temporary basis, according to an official with knowledge of the foundation's grants.
With the exception of the survey, the foundation lists these items on its grants list under a category entitled "Newark Public Schools Operational Excellence."
The category description includes a "rationale," which states that the foundation "supports the Superintendent in her goal of transforming Newark Public Schools into a service-oriented organization that efficiently serves the needs of students."
It describes the $550,000 financial audit as a "sophisticated" "mapping" of strategic resources in order to better allocate them. It describes the $4 million for organizational transformation as "technical assistance funding to support (the) NPS Superintendent's priorities to transform Newark Public Schools into a service-oriented organization, primarily focused on talent management and human capital, finance and operations, and innovation."
Embedded in that language is the core of what Newark is trying to do and how private philanthropic money is helping to do it.
One of the most visible drivers of what Newark is trying to do is its superintendent of Newark Public Schools, Cami Anderson. Formerly a teacher, superintendent of alternative public high schools for New York City and executive director of Teach for America, Anderson started her job almost a year and a half ago, with the blessings of Mayor Booker and Gov. Christie, and Christie's Department of Education commissioner, Christopher Cerf. (Newark public schools have been under the state of New Jersey's control since 1995.)
In an interview last month, Anderson told NBC News that Zuckerberg's money is making a difference in Newark by contributing to a systemwide transformation of Newark's public school system, from administration to schools to principals to teachers.
"We're focused on great schools, great principals and great teachers," Anderson said, "and I think we've made strides on all three."
One of the biggest steps was Anderson's announcement last March of her final plans for expanding school options to better serve Newark students.
'Renew' schools
A centerpiece of those plans was the closure of underperforming traditional public schools and the re-opening of some of them as more innovative "Renew" schools. NPS closed 12 schools at the end of the 2011-12 school year, and reopened eight of them as Renew schools in September, with larger student populations consolidated from closed schools.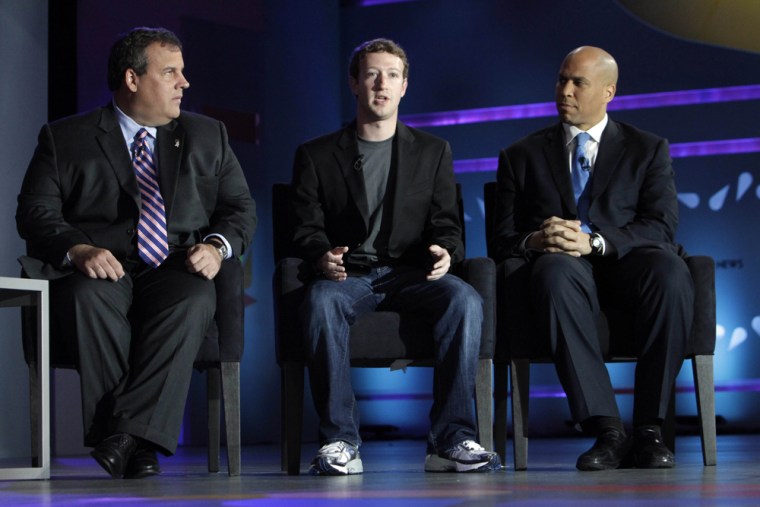 "In order to find the resources to make eight great schools," Anderson told us, "we had to close 12."
Anderson said the closed schools had these characteristics:
Fewer than one-third of students were reading at grade level.
No real demonstrable gains in student performance had been achieved in the last three-to-five years.
At least one-third of the school buildings were underutilized.
"Underutilized" means a school is not serving as many students as its capacity. Part of the reason for this is that there are fewer Newark students, down to 37,000 now from 44,000 in 2009, as families have left the traditional public school system during the last several years. 
"People are voting with their feet," said Renee Harper, a spokesperson for Superintendent Anderson. "They have not been happy with the quality level of the public schools, and they've been looking for and they've been finding other alternatives."
Some of those alternatives, she said, are Newark's public charter schools. Harper told us that last year the waiting list to get into them was 10,000 names long. 
But for those that remain, the Renew schools are another option.
NBC News visited two of them last month, the Cleveland School and the Thirteenth Avenue School.
The hallways of the Cleveland School are bright with reflected light off the newly painted white walls. The color scheme is white and yellow. In the lobby, there is a glass case containing boys and girls uniforms displayed on half-mannequins, and a sign identifying them as official dress for children attending the school. It looks like something from the 1940s.
On the day we visited, Derrick Davis, the vice principal and dean of culture and students, was an imposing but kindly presence in the hallways.
"Tuck in that shirt," he directed one young boy. "Please pick up that paper," he told another.
Both students responded respectfully to his gentle but firm authority and did as they were asked.
Cleveland schools' classrooms appeared neat and well-appointed, with supplies, teachers' brightly-colored posters, tools and decorations. The teachers we observed were professional and purposeful, their lessons engaging. Students at the elementary school serving kindergarten through eighth grade were mostly attentive, listening or participating. 
(The overall impression Cleveland School made was very positive, and we observed no disruptive students. But we did find several younger children sleeping at their desks in one class. While accompanying NBC News during the visit, the school's principal, Barbara Ervin, a Newark Public Schools veteran reassigned from a closing school to lead the Cleveland School, quietly attended to several of the sleeping students, all boys. As she bent toward them and whispered encouragement, her face seemed to show both care and sadness. As any parent knows, sometimes there are reasons from outside the school's walls and influence that some children arrive at school too tired to stay awake, too tired to learn.)
'I am committed to excellence. I am hungry for knowledge'
The Thirteenth Avenue School's interior had a similarly sharp appearance, with new paint in cheerful light colors. Principal Kimberly Mackey gave us a tour, showing off classrooms with high-tech equipment such as electronic learning devices like SMART Boards and SMART Tables, as well as a homey library space she said she'd redecorated to be more inviting for students.   
While there, NBC News observed the school's uniformed students reciting a daily pledge which begins every school day:
"I am self-disciplined," the students chant, standing in rows behind their desks. "I am committed to excellence. I am hungry for knowledge."
They punctuated the pledge with choreographed physical expressions designed to remind them of their own strength and power, like flexing both arms at the end.
Are the Renew schools a sign of the Zuckerberg money at work? No.
Anderson told us she has not used any of the private money from Zuckerberg or the other donors for the Renew schools. Instead, she used the regular school budget, saving money at the closed schools and moving it to the Renew schools.
So what has Newark Public Schools used the private gift money for?
As detailed above, Newark Public Schools is spending a significant portion of it — approximately $7 million the Foundation granted it — on the system diagnostic and the financial audit, and on general organizational transformation. Much of that work appears to be toward improving the district's data-collection and organization, creating systems to track everything from infrastructure to resources to student performance, to principal and teacher performance — so that it has more detailed and accurate information about the system as a whole.
Getting better principals and teachers
But when pressed to describe the most important contribution of the gift money so far, Anderson told us that it has been helping to fund their most important innovation: getting better principals and teachers into schools.
"It allowed us to pick great principals," she said. "And it allowed us to help them select their staff more strategically."
When we asked Taylor of the Foundation for Newark's Future about that, he pointed us toward several items on the gift money grants list he said had helped with this objective, under a category labeled "Teacher Quality and Principal Leadership":
$500,000 to nonprofit organization New Leaders for New Schools to execute an "Aspiring Leaders" program to attract new principals to Newark.
$500,000 to nonprofit Teach for America to help it place some of its teachers at Newark schools.
And two other items: Taylor told us the foundation also partially funded the development of two websites as recruitment portals for qualified principal and teacher candidates, Lead Newark and Teach Newark.
"Strong school leaders drive student achievement," reads the message on the first one's homepage. "Principals matter."
"The movement begins with you," reads the message on the one for aspiring Newark teachers. "Join our movement. Meet our students where they are, and lead them toward success and ultimately their dreams."
Newark Public Schools reports that more than 80 percent of its new recruits for principals and teachers came through those portals, as NPS directed all applicants to them.
"We have changed dramatically how we recruit, select, train, coach and evaluate both principals and teachers," Anderson said. "And that's big. That's big 'to do' in one year — but it's critical because anything else, technology, curricula, school models — I mean, you name it — none of it will succeed if we don't have transformational school leaders at the helm and effective teachers who feel like they're growing and developing."
Toward that end, half of all the principals at Newark's public schools are new this year, and got to select their own teachers. But some under-performing principals and teachers who were moved out are still around. In the 2011-12 school year, Newark paid $8.5 million for 80 of them to do not much more than substitute. Already the number has grown to 200 in 2012-2013 school year, which could double that amount.
Experts say union contracts can make it difficult to fire anyone, including underperformers.  Sources told us under the condition of anonymity that using private money like Zuckerberg's to buy out underperformers covered by such contracts is now under consideration, pending the completion of negotiations on a new contract between Newark Public Schools and the local teachers union.
The Newark Teachers Union, Local #481 American Federation of Teachers (AFT)/AFL-CIO, did not respond to repeated requests for comment.
Some Newark parents don't see the money
What do Newark's public school families think about all of this? We talked to parents of Newark public school students outside several schools, and contacted others we had talked to last year. Overall, we found less skepticism and more hope than a year ago. But some told us they still see no evidence that the Zuckerberg gift money has trickled down to their own children's schools.
Parents were upset about that at one of the Renew schools we visited: the Thirteenth Avenue School, where enrollment has increased since the reopening.
We talked to Lyndon Brown, president of the school's parent-teacher association, which represents the school's 1,200 families, outside the school one afternoon last month. He said "quite a few" of the school's parents are "very, very disappointed" because they have not seen any benefits from the money. Brown, who has no children, is an alumnus of the first class of the Thirteenth Avenue School in 1971.
"It was such a wonderful breath of fresh air when we heard that the money would be allotted to our community," Brown said. "And we all had high hopes that our student achievement would be enhanced, greatly. And that has not happened."
Brown helped gather a group of school parents, who had arrived to pick up their children after dismissal.
When NBC's Lisa Myers asked the group what kind of difference the Zuckerberg money has made, they responded in a chorus:
"No difference." "No difference." "We don't see it in the school."
"One-hundred million dollars needs to be for desks, books, and the kids' education," said Steven Lewis, standing with his 13-year-old son, Michael, an eighth-grader at the school. "And we don't see anything."
Other parents said similar things. During the conversation, a tall, well-dressed woman joined the group and listened. She then identified herself as the Thirteenth Avenue School's principal, Kimberly Mackey.
"Has any of the Zuckerberg money actually made it to this school," Myers asked her, "and made a difference?"
"This particular school, not as of yet," Mackey said. "But that is our plan for this school year."
Foundation: Spending effectively takes time
"Some folks feel they haven't felt the dollars," Taylor of the Foundation for Newark's Future told us. "And we're sensitive to that. But I would argue that we're investing at a level that will have lasting change in this community."
Taylor and Newark officials, from Mayor Booker to Superintendent Anderson, all say that fixing Newark's schools, and even just spending all the money effectively, will take time. Most progress will be incremental, they told us last year and this year. They asked Newark parents to have patience, and pledged that they would begin to see improvements over time.
When Myers asked the group of parents outside the Thirteenth Avenue School whether any of them had seen any improvements in the last two years, one parent, who had been listening to the conversation off to the side, jumped in.
"Well I have," she said. "I'm a parent of three that attend Thirteenth Avenue School and I have seen improvement. I don't know about other parents and how they feel, but I've seen a step up in teachers. I've seen a step up in administrative. … I've seen a step up in a lot of things that may have not been where they may supposed to have been.
"I have seen a lot more improvement. … Maybe some parents need to come and take a walk around. And a look around. Inquire a little bit more to see what's actually going on in the school system. Because there are some good thumbs up in there."
It was plain during our visit to Newark this year that the reforms are beginning to win over some critics.
Optimism grows
Last year, parent Quenntina Foster told us that she saw no sign of Zuckerberg's money at her 8-year-old son Andre's school. His reading book was old and water-damaged, some of its pages torn.
"I just believe money is going somewhere else, not into the school system," she said last September. "As a parent, I'm outraged. I'm furious."
But this year she is more hopeful. She has moved Andre, now 9 years old and in the fourth grade, to the Cleveland School, one of the Renew schools we visited.
"I'm optimistic because he's at a new school," Foster told us. "New staff, new principal, new teachers. And that gives me hope to say, 'O.K., it's new — it's a new outlook. It's a new year. Something's going to change. Something has changed.'"
One of the reasons Foster is optimistic? She is very impressed with Barbara Ervin, the new principal of the Cleveland School, who she met at a parents meeting over the summer.
Ervin previously was principal at one of the underperforming schools that Anderson closed. But Ervin got a reassignment to lead the Cleveland Renew school.
A biographical description of Ervin's performance issued by Newark Public Schools explains why. It notes that Ervin "achieved impressive results" as principal of her previous school, even though it closed. It described how NPS had chosen Ervin as the new principal of the Cleveland Renew school because "in the principal selection process, she demonstrated high expectations for all students, a focus on student achievement data and results, and the ability to coach and develop teachers."
Ervin is not a new recruit. She is part of the half of Newark's principals who are not new. She has been a teacher and principal in Newark Public Schools for 40 years.
"I've seen a lot of promises come and go," Ervin told Myers.
But this time, Ervin told us, she thinks Newark may be getting it right. She was not aware of any Zuckerberg money coming to her school and had not seen any information about how it had been spent, until NBC News showed her the list of grants. But she said Newark's overall reforms, such as creating the Renew schools and putting better principals and teachers in place, are beginning to make a difference.
"The difference now is that a lot of the focus is on making sure that kids are learning," she said. "I believe that the better the teachers are in the classroom, the more students will learn.
"This is probably the best shot that Newark is going to have to improve public schools."
Interestingly, none of the three principals NBC News talked to during this visit — two of them principals of Renew schools — was aware of any Zuckerberg or other private money coming into their schools.
So far, the only visible changes they see are coming from the Newark Public Schools own reforms, funded through its own $1 billion budget.
Tension over 'laborious' process
Privately, some Newark Public Schools officials expressed irritation at the slowness of the Foundation for Newark's Future's distribution of the Zuckerberg and matching money.
"There's been some frustration – perhaps that's not the right word – let's say, some tension," particularly about the foundation's "laborious" decision-making process, one Newark Public Schools official told us, speaking on condition of anonymity because the official did not want to appear antagonistic about the process
When Myers asked Taylor, the foundation's CEO, why it had only committed $16 million so far, he defended its record.
"I'm actually very, very excited about where we are in our investments at this point," he said.  "We're very proud of that number."
Last year Taylor had said something different. 
"Let's get after this and make big plays and make transformation," he told The New York Times, in November, "as opposed to the drip, drip, drip that sometimes characterizes education reform. … I mean multimillion-dollar plays … tens of millions of dollars. The way in which it gets invested and to whom, we're figuring out."
Asked about why such big plays had not yet happened, Taylor told us that foundation officials are being cautious for good reason.
"This is not a foot-race," Taylor said. "We want to be thoughtful and strategic and really invest in a way that has a lasting change."
But Newark Public Schools officials made plain several times in interviews and conversations with NBC News that it isn't waiting for the foundation to dole out Zuckerberg's money to push forward on its significant reforms.
"That train is leaving the station," one Newark Public Schools official said, "whether that money is part of it or not."
When Newark Public Schools issued a 25-page report in March, entitled "Newark Public Schools: A Vision for our Students, our Schools, our Success," it included no mention of Zuckerberg's gift money, or of any private philanthropic money, or any discussion of their role in the district's vision for the future of the city's public schools.
Donor motivations questioned
Questions about the motivations behind Zuckerberg's gift, and the other donors' matching gifts, and about the purpose of the infusion of private philanthropic money into Newark public education, have swirled in Newark since Zuckerberg's announcement.
Here are some of the questions that some parents and local education advocates have been asking:
Is there a hidden agenda behind the infusion of private money into Newark public education?
Who are the other matching donors and what do they want for their money?
Will the private money help charter schools at the expense of traditional public schools?
Is Zuckerberg satisfied with how Newark is spending his gift?
Have the city of Newark and the Foundation for Newark's Future been transparent enough about information that answers these questions?
As we reported last year, some critics in Newark worry that the private gifts approach embraced by Booker and Christie and others in the education reform movement will favor charter schools over traditional public schools. Parents raised that concern to us last year and this year.
First, consider this definition of charter schools:
According to the National Education Association, charter schools are public elementary or secondary schools "that have been freed from some of the rules, regulations and statutes that apply to other public schools, in exchange for some type of accountability for producing certain results, which are set forth in each charter school's charter." As public schools, they are funded with public money, but they may also accept private money.
Of the six innovative high schools in Newark started up with Zuckerberg's money, three are regular public schools and three are charter schools.
In his interview with Myers, Taylor's first answer identified the charter school sector as the foundation's other chief partner in Newark school reform.
"We're working very close with the Newark Public Schools system, with the Newark Charter School Fund," he said, "and the charter sector, and others."
He described partnering the public school system with charter schools as one of the foundation's biggest accomplishments.
"One of the real concrete accomplishments is the way in which the Foundation for Newark's Future, the Newark Public Schools, and the Newark charter school sector are all working together on behalf of children," he said. "Tangibly, really beginning to work with the district and the charter sector to align what it really means for charters and districts to coexist in this particular community."
Some parents we interviewed this year and last year thought an unacknowledged motive behind Zuckerberg and the other donors' money, and Newark's use of it, is to promote and support private charter school models over traditional public schools.
Taylor strongly rejected that argument. 
"We get that all the time," he said. "I would argue it's not accurate at all."
Taylor told us that almost half of the private money from Zuckerberg and others has gone to traditional district public schools. He said that the other half has gone to "various partners who are promoting public education in Newark," including to organizations whose work is directly benefiting Newark' traditional public schools.
"We're absolutely embracing the charter sector," he said. "It's about high-quality school options for all children. Newark is really fortunate to have some very high-performing charter schools. And so, we certainly do see as one of the ingredients of the work we're trying to do as expanding the charter sector.
"That we're doing it at the expense of the traditional district schools is simply not true."
In fact, according to the foundation's accounting, it has committed $13.5 million — or 80 percent — of the $16.8 million disbursed so far to Newark's traditional public schools, and only $700,000 — or 4 percent — to charter schools.
When we asked Newark's Mayor Booker a year ago about the concerns about whether Zuckerberg's gift would favor charter schools, he told us that such "fears … (are) not merited or warranted at all."
"The majority of the money," Booker told us then, "is to be focused on the traditional public school system, period."
This year, NBC News received this statement from Booker in response to our questions:
"We began this education reform movement with bipartisan collaboration to create a historic partnership with Gov. Christie — a partnership fueled by the unprecedented investment of several pioneering philanthropists, including Mark Zuckerberg. These leaders, along with the leadership of Newark Public Schools and the Foundation for Newark's Future, continue to work hand in hand with the community to make the critical decisions on how these resources are allocated. Over time these investments will support high quality school models within the district and charter sector with the ultimate goal of making Newark the first city in the nation to provide every child with a choice of excellent schools."
The other donors
Here is the current list of the other donors and the amounts they've given to match Zuckerberg's $100 million gift. The Foundation for Newark's Future provided it to NBC News in response to our request.
William Ackman, hedge fund manager with Pershing Square Capital Management and founder of the Pershing Square Foundation: $25 million.
John Doerr, venture capitalist at Kleiner Perkins Caufield & Byers and founder of the New Schools Venture Fund: $10 million.
Goldman Sachs Gives (donor-advised charitable fund): $5 million.
Ravenel Boykin Curry IV, portfolio manager with Eagle Capital Management: $5 million.
Bill & Melinda Gates Foundation: $3 million.
Ford Foundation: $1.1 million.
Anonymous: $1 million.
Eli and Edythe Broad Foundation: $500,000.
(These amounts total $50.6 million. Donors have pledged $3.4 million more, but the foundation has not taken possession of those funds as yet.)
The two top private donors to Newark public education reforms, Zuckerberg and Ackman, did not respond to NBC News' requests for comment.
We made requests for interviews for this report with Zuckerberg through Facebook's media office, last month and last year, but we received no responses of any kind.
In June, Business Week reported that Zuckerberg had participated in a phone conference call with Gov. Christie and Mayor Booker in April of this year.
Media representatives for the governor's education commissioner, Christopher Cerf, and for Mayor Booker did not respond to NBC News questions about the nature of the call.
We also made a request for an interview or phone conversation with Ackman, the top matching donor, three weeks ago. His media representative declined on his behalf, citing his busy schedule.
Ackman expressed some opinions about charter schools in an interview last April on "Squawk Box" a morning program on NBC Universal's business channel CNBC.
Co-anchor Joe Kernan asked Ackman: "Are you a charter-school guy?"
"I would say charter schools can be a solution," Ackman answered. "There are good charter schools and there are not-so-good charter schools."
"Charter schools are not going to solve the educational problem," he continued later in the interview. "But they do create a much more competitive landscape."
Other donors have involvements with charter schools elsewhere. Doerr is co-founder and a board member of the New Schools Venture Fund, which has invested in charter school management organizations nationwide. Curry of Eagle Capital Management co-founded two Girls Prep charter schools in New York City and is a trustee on the board for Girls Prep/Bronx.  Goldman Sachs Gives, a donor-advised charitable fund of the global investment banking, securities and investment management firm, has donated to charter schools elsewhere.
Legal battles over transparency
Since the gift announcement, several individuals and organizations have made attempts to dig into public records seeking information about possible motivations for the private gifts.
Last year, one organization of volunteer Newark parents and grandparents, the Secondary Parents Council, filed a request under New Jersey's Open Public Records Act requesting copies of correspondence between Booker and his staff and Zuckerberg and other matching donors regarding their gifts. The city of Newark's law department rejected the request, describing it as "overbroad," citing executive privilege and arguing that some of the mayor's communications about the gifts were exempt from public disclosure because he engaged in them as a private citizen, outside his duties as mayor.
Attorneys for the Council and for the American Civil Liberties Union of New Jersey Foundation sued Newark in New Jersey's Superior Court, complaining its failure to provide the information was a violation of law. Booker later said on a Newark radio talk show that he would release any relevant correspondence. One year later, he has not done so.
The New Jersey Superior Court judge has not ruled in the case, and neither the Secondary Parents Council nor ACLU-NJ has received any documents.
Another group, the Education Law Center in Newark, obtained some State of New Jersey Department of Education emails also through an Open Public Records Request. Those emails revealed the large amounts (detailed earlier in this report) that the Foundation for Newark's Future had paid to help Newark Public Schools pursue system-wide organizational transformation, including monies paid to consultants.
Those items appeared on the grants list the foundation provided to NBC News this year, but they did not appear on the previous list it provided last year, before the Education Law Center obtained the emails. (The Education Law Center is a long-standing Newark-based nonprofit education advocacy organization, founded with a mission to advance the education rights of schoolchildren. It receives financial support from a variety of sources, including the State of New Jersey's largest teacher's union, the New Jersey Education Association.)
Before obtaining those records, said David Sciarra, the Education Law Center's executive director, "It was virtually impossible to know what they were spending their money on.
"It's very hard to figure out what they're doing. I definitely think there's still a lack of clear public disclosure about what they're doing."
Taylor rejected the criticism, telling NBC News that the foundation had disclosed the information about the consulting expenditures independently of the Education Law Center.
Paul Tractenberg, a professor of education law at Rutgers (University) School of Law/Newark and the founder of the Education Law Center, said he remains skeptical about the underlying motivations of the private philanthropic money donated to Newark.
Tractenberg, who has spent 45 years focusing on public education and has been tracking the foundation's public reporting since its inception, said his chief concern has been that behind the money is a national effort to privatize public education, in part through charter schools.  But, after two years, he said he thinks the picture in Newark has been mixed and murky, and the game plan not very clear at all.
"In a way, it's been a shockingly minimal agenda for a group that has the leverage it had," Tractenberg said. "I don't know what to make of it. … I just think there's been a sense of a strange kind of flailing around in the name of improving education."
One of the most common criticisms of the private philanthropic effort is that it has failed to actively engage and inform Newark public school parents.
While Newark Public Schools has made outreach efforts to better inform parents about its reforms during the past year, the foundation has not done similar outreach.
According to the school district's website, it arrived at its final reform plans in March "following an intensive period of community engagement that included more than 112 meetings with families and civic leaders."
Taylor, on the other hand, told NBC News he has attended two or three parent meetings in one specific community. A spokesperson for the foundation said it has made an effort to be more transparent, but has focused more on supporting Newark Public School's outreach efforts to parents.
Who decides how the money spent?
But the Foundation for Newark's Future has made good on one commitment toward transparency. In a phone conversation last summer, Taylor told us that it was planning to establish a community advisory board that would regularly meet to discuss issues about the distribution of the money and advise the foundation's governing board of trustees. The foundation has since created the advisory group, consisting of 14 individuals from various local Newark educational institutions and programs, including one official from Newark Public Schools.
One of the community advisory board members, Richard Cammarieri, a former member of the Newark Public Schools Advisory Board, told NBC News that the group's members are local Newark people drawn from "a broad educational swath" of the community. He said he joined on the condition that he would engage the governing board in "constructive critique" and "respectful honesty." He said he received an assurance that the governing board would listen to the advisory board's concerns.
"I'm taking a chance at this really," he said. "I'm taking a wait-and-see attitude to make sure that the advisory board's advice is at least heard by the governance board."
Late last month, the foundation provided a list of the new community advisory board's members to NBC News. While that board does include a diverse group of individuals representing local Newark organizations, it does not include any members directly representing Newark public school parents, children or teachers.
It's the foundation's governing board of trustees that determines how, and on what, the foundation will spend all the gift money. As we reported last year, some critics have questioned the governing board's composition. As of last year and this year, that board's four voting members were:
Mayor Booker;
Paul Bernstein, chairman of the Pershing Square Foundation;
Enrico Gaglioti, a private philanthropist and partner in Goldman Sachs;
Jen Holleran of Facebook's Startup: Education Foundation.
Apart from Booker, these members all represent the major private donors who have provided gift funds or their representatives.
This year, the foundation added a new fifth voting member, Dr. Robert Johnson, a physician and educator who is not affiliated with any of the donors nor their financial interests. Johnson, the permanent dean of the University of Medicine and Dentistry of New Jersey's Newark medical school, also is the chair of the new community advisory board.
Taylor said that the foundation added Johnson to the governing board of trustees "because he's a long-standing and well-regarded member of the Newark community," and that "it's good to have a bridge" between the governing board and the community board.
Johnson told NBC News that his mission is to support evidence-based approaches, and that he intends to vote his conscience. He said that the foundation first approached him about a year ago. He said that he assumed his position as chair of the community advisory board last month when he attended its first meeting, but that he had not yet met with the board of trustees. 
Johnson said that the foundation has a plan to add parents and students to its community advisory board, and that officials are figuring out which parents and students to include.
But, as for teachers, he said, "I'm not so sure that's a constituency that needs to be represented."
Awaiting the real test
The fact that it took two years after Zuckerberg's gift for the foundation handling the gift money to establish a community advisory board and add one single non-donor vote to the spending decisions of the governing board is telling, some critics told NBC News.
"It seems to me that they're doing a lot of back-filling after the fact," said Sciarra of the Education Law Center, "to make it look like they're responsive and transparent."
Johnson said he is aware of no other motive behind the gifts of the private money besides implementing effective reforms that lead to real results.
Both Newark officials and the Foundation for Newark's Future told us the real test of whether Newark's school reforms and the gift money are having a positive impact on public education in Newark will be whether the academic performance of students actually improves. The initial answers to that question will come later this fall, when Newark Public Schools finishes analyzing the latest student achievement assessments of its students.