President Vladimir Putin paid a surprise visit Tuesday to the Chechen capital of Grozny, two days after its Moscow-backed leader was killed in a bombing that dealt a blow to Russia's efforts to control the republic.
Putin, speaking at the start of a government meeting after arriving back in Moscow, said he had posthumously awarded a medal to Akhmad Kadyrov and given it to his relatives, Russian news agencies reported.
He also ordered the Chechen police force to be increased by an additional 1,125 officers by the end of the year, the agencies said.
Kadyrov was buried Monday, one day after his assassination in an bomb blast at a stadium in Grozny that killed five others and injured 57. He was attending celebrations marking Victory Day, a national holiday in Russia marking the 59th anniversary of the defeat of the Nazis in World War II.
Kadyrov, who was 52, was a rebel commander during the 1994-96 war in Chechnya that ended with Russian forces withdrawing. However, he became disenchanted during the period of Chechnya's de facto independence, complaining of the growing influence of the Wahhabi sect of Islam in the republic.
He broke with Aslan Maskhadov, who had been elected Chechen president in 1997, and in 2000, the Kremlin appointed him the republic's top civilian administrator. He was elected president in an October vote widely criticized as fraudulent.
Top guerilla target
Kadyrov had been a top target of anti-Russian guerrillas since he abandoned armed separatist rebellion to seek a peace within Russia.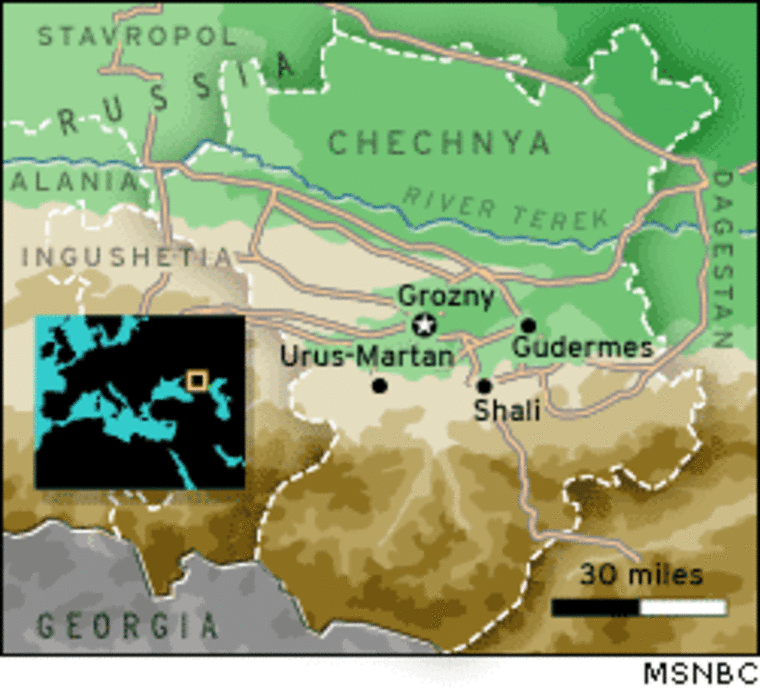 He had interrupted his studies in a Muslim university in Oman in 1991 to join the rebellion at home and rose to the key position of mufti, a respected spiritual leader.
In that position he proclaimed a jihad, or holy war, against Russia in 1995. The following year Russian troops withdrew from Chechnya after an agreement that ended a bloody and, for Moscow, humiliating conflict.
But three years later he accused rebel leaders of fostering militant Islam and switched over to back Putin, then Russian prime minister, who launched a fresh war in Chechnya in October 1999.
Kadyrov, from then on "enemy of the nation number one" for the rebels, was elected regional president in October under a Kremlin peace plan and maintained a tough grip on Chechnya.
In  past weeks he had been campaigning for the withdrawal of most Russian forces and handing over the formal control over Chechnya to his armed supporters.
After siding with Russians he survived a series of assassinations, including one by a woman suicide bomber.