/ Source: The Associated Press
The party of opposition presidential hopeful Fernando Poe Jr. warned Wednesday of another "people power" revolt if he's cheated of the presidency — fighting words in a nation where popular protests have knocked two leaders out of office.
Polls and surveys showed the count from Monday's election race going in different directions. With both sides coming close to claiming victory after a bitterly fought contest, some kind of confrontation appeared likely.
Even though official results aren't expected for weeks, a confident President Gloria Macapagal Arroyo called a Cabinet meeting to start delivering on her campaign promises.
A statement from Poe's KNP party said a repeat of "people power" — the mass protests that ousted dictator Ferdinand Marcos in 1986 and President Joseph Estrada in 2001 — "will surely come out" if the vote count is tainted with fraud.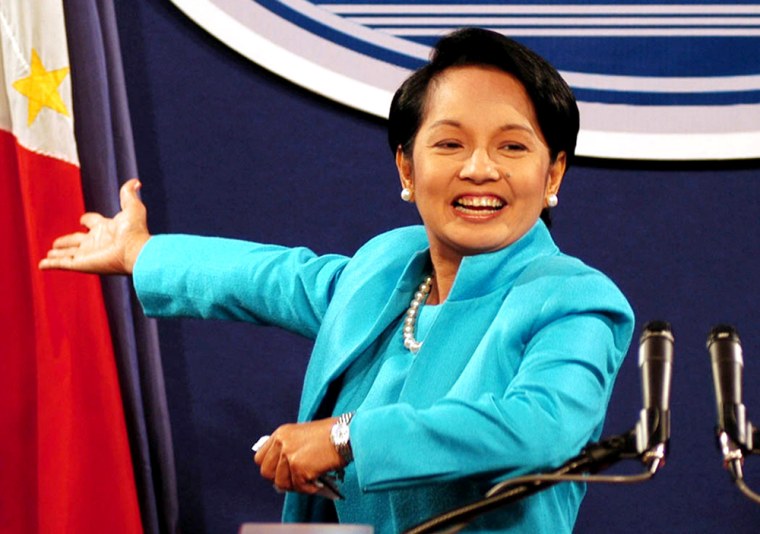 Arroyo took over for Estrada midway through his term but now is seeking her own six-year presidency.
A nationwide survey by a reputable independent pollster has projected that Arroyo will beat challenger Fernando Poe Jr. by 41 percent to 32 percent. But a "quick count" by an officially sanctioned election watchdog group showed Poe ahead 43.7 percent to 33.4 percent. The count covered only 1.8 percent of the precincts.
Election-related violence
Fresh election-related violence broke out in the north when gunmen attacked two town halls, killing a policeman and burning ballots in some of the worst incidents since Monday's polling, police said Wednesday.
A powerful bomb exploded Wednesday on southern Jolo island, killing at least one person and injuring 14 near a building where ballots were being counted. Men burned a municipal building on nearby Basilan island in an attack related to the elections. A vice mayoral candidate in southern Maguidanao's Parang town was fatally shot by an aunt of his rival, police said.
Poe's camp has alleged widespread election irregularities, and he has urged his backers to "remain firm in our belief in the truth that victory is ours."
Arroyo's office said she called a Cabinet meeting for Friday to begin "work on her governance agenda." That includes promises to create 1 million jobs over the next six years, as well as plans to provide power to more homes, loans to small businesses and cut-rate medicine for the poor.
Three other presidential contenders were trailing badly as the Philippines waited for an official count expected to take weeks as workers tally tens of millions of paper ballots by hand. The elections also were for vice president, lawmakers and provincial and local officials.
Filipinos voted Monday without any major disruption, but at least 115 election-related deaths since December have made this campaign season deadlier than the 1998 presidential campaign — when 67 were killed.
The Philippine military has warned against any violence or massive protests, saying troops would use "necessary force" to maintain order if losing parties try to stir up trouble.
The presidential race has been bitter and full of recriminations. Opposition leaders accuse Arroyo's side of corruption and plots to rig the vote count. Arroyo's camp denies the charges and has alleged that Poe's backers want to disrupt the results with violence.