Superstorm Sandy surged inland late Monday, hitting the New Jersey shore and New York Harbor with incredible force, killing at least 10 people, plunging more than 7 million others into darkness and crippling transportation with historic flooding across a huge swath of the East Coast.
The mammoth storm began breaking up as it hit the New Jersey shore Monday evening with maximum sustained winds of 90mph, later dropping to 75 mph, but Sandy continued to punch a destructive path across 11 states and the District of Columbia even after having been downgraded from hurricane status.
"You have to stay wherever you are," Mayor Michael Bloomberg said late Monday, telling New Yorkers they threatened their own and other people's lives by going out in the storm.
"DO NOT DRIVE. Call 9-1-1 for emergencies only," the city's Office of Emergency Preparedness said in blast alerts to mobile devices across the city.
New York University Medical Center was moving about 215 patients to other hospitals because its backup generator was out, the hospital said. Critical adult and pediatric patients and infants in neonatal intensive care and obstetrics were being taken by ambulance to Mount Sinai Hospital, Memorial Sloan-Kettering and New York Presbyterian Hospital.
From hurricane to nor'easterThe National Hurricane Center re-designated Sandy as a "post-tropical cyclone," saying it was as it merged into an enormous nor'easter.
The National Weather Service predicted "historic and life-threatening coastal flooding" through Tuesday morning, with the greatest danger coming at high tide.
The powerful storm flooded sections of Atlantic City and other areas of the New Jersey shore, while New York Harbor surged into lower Manhattan and areas of Brooklyn, submerging entire streets and parks.
Dawn Zimmer, mayor of Hoboken, N.J., told MSNBC TV that half the city was flooded and that emergency crews could reach few areas of the city.
"We want people to be aware that it's a very dangerous situation," she said.
At least 10 people were killed Monday:
Two men were killed in separate incidents in New York — one in Queens and one on Long Island — when trees fell on them, , and a woman was electrocuted in Queens when she stepped into water that concealed a live wire.
Two boys were killed in Westchester County, N.Y., when a tree crashed into the home they were in in North Salem.
Two people died when a tree fell on their car in northern New Jersey, .
One person was killed when a car hydroplaned over high water in Montgomery County, Md., in the suburbs of Washington, Maryland Gov. Martin O'Malley told MSNBC TV.
One person died after a tree fell in Mansfield, Conn., .
A woman died in an accident on snow-covered roads in Tucker County in northeastern West Virginia, .
One person was killed when the crew abandoned 90 miles southeast of Hatteras, N.C. Fourteen others were rescued, but the captain was missing. The ship later sank in 18-foot seas.
Sandy made landfall at Atlantic City about 6:45 p.m. ET, NBC New York reported. By 11 p.m. ET, its center was about 10 miles southwest of Philadelphia.
poured into the Brooklyn-Battery and Queens Midtown tunnels, bursting into a subway station and even cascading into the construction site at Ground Zero. At 9:24 p.m., the water level at Battery Park, on the southern tip of Manhattan, had reached 13.88 feet, surpassing the previous record of 11.2 feet in 1821.
Nearly 7.1 million customers had already lost power across the eastern half of the country. About half were in New York and New Jersey.
About a quarter-million were in Lower Manhattan, Bob McGee, a spokesman for Con Ed, told NBC News on Monday night. The utility pre-emptively began shutting off power to part of Lower Manhattan to protect its equipment and to allow for faster restoration after the storm had passed.
"Pretty much everyone" is out of power south of 39th Street to the Battery, McGee told NBC News.
The Nassau County Department advised residents in Long Beach and Mill Neck Estates water districts to not drink or use water for personal use. In a statement, the department said boiling the water would not make it safe for consumption. All residents of the county were advised to conserve water to maintain water pressure for emergency and fire responders.
Schools, offices, roads and transit systems shut down across an area of 50 million people.
The fact that the storm made landfall "does not mean this is the end of the event," said Rick Knabb, director of the National Hurricane Center. It means, Knabb said, that "for many folks, it is just beginning".
across the U.S. on Monday, and more than 3,500 were called off Tuesday. Rail traffic was heavily affected, with Amtrak canceling all of its Northeast Corridor service, in addition to some other lines. Workers began shutting down New York City's subway, bus and commuter railroads Sunday night. The city's Holland and Brooklyn-Battery tunnels were shut down at 2 p.m. ET Monday.
Surrounding buildings were evacuated after the front of a multidwelling structure collapsed on 8th Avenue in New York, . No one was believed to have been in the two-building, four-story structure, the interiors of which were visible from the street.
Despite a mandatory evacuation order for 375,000 people living in low-lying areas Monday, , hunkering down in in their homes.
Business experts feared because of Sandy's tidal surge carries, which produces more damage than wind because water is heavier. U.S. stock exchanges didn't trade Monday and will be closed Tuesday. In Washington, federal offices closed Monday and Tuesday, and federal courts in affected areas announced that they would be shuttered.
In New York, a crane atop a high-rise building under construction and was dangling over the side. Nearby offices and streets were evacuated.
Before it made its way north, Sandy was blamed for the deaths of 65 people in the Caribbean.
As Sandy's winds howled and rain poured over Atlantic City — where part of the fabled boardwalk was washed away — Gov. Chris Christie sharply criticized Atlantic City Mayor Lorenzo Langford, whom he blamed for having "advised people to stay in shelters in the city."
"Despite my admonition to evacuate, he gave them comfort, for some reason, to stay," Christie said, .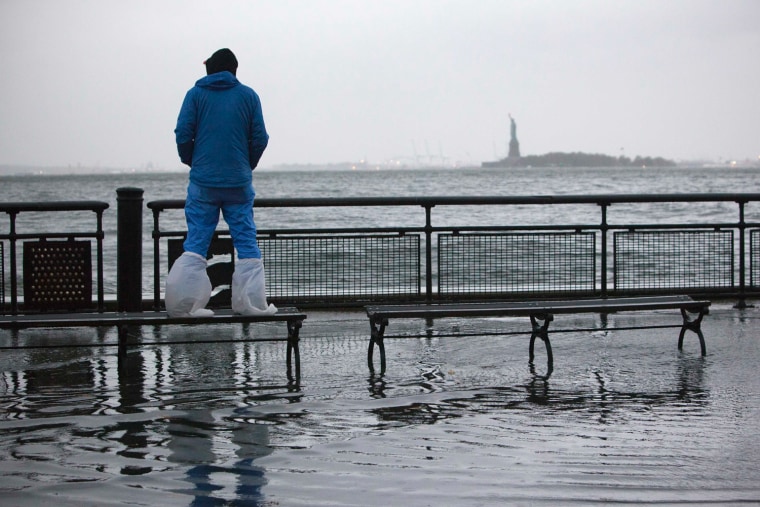 Later on, Sandy is expected to collide with arctic air and a storm moving in from the west to create windy, wet, even snowy conditions far inland.
Winter storm warnings were issued through Wednesday morning for southwest Virginia and the East Tennessee mountains, where snow had already started falling. More than 30 inches of snow was expected in the higher elevations of West Virginia, and a foot was forecast in the North Carolina mountains.
Power failures, meanwhile, affecting millions of residences and businesses could continue through the presidential election, NBC meteorologist Bill Karins said.
"After the storm hits, expect the cleanup and power outage restoration to continue right up through Election Day," he said.