/ Source: The Associated Press
An explosion destroyed part of a plastics factory in Glasgow on Tuesday, killing seven people, injuring dozens and burying an unknown number in the rubble, police and fire brigade rescuers said Wednesday.
Rescuers who had voice contact with some of those trapped worked painstakingly through the wreckage of the Stockline Plastics building and pulled out seven people alive before nightfall.
With banks of lights illuminating the site, rescuers pressed on into the night, sending in sniffer dogs after they lost voice contact.
"We still think there may be people in there alive, and as long as we still think that, we'll keep working," Strathclyde firemaster Brian Sweeney said shortly after 9 p.m.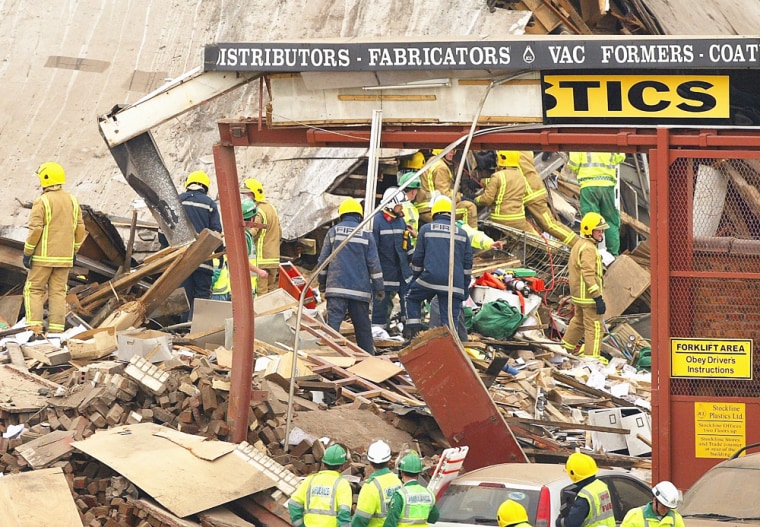 Early Wednesday, the fire service raised the death toll to seven from four. Strathclyde firemaster Brian Sweeney also said he believed there were more survivors because noises were heard from the rubble at 5 a.m. local time Wednesday.
It was not clear what caused the blast, but Strathclyde Police Chief Superintendent David Christie said there was "absolutely no" indication that it was related to terrorism.
Sweeney would not speculate how many might remain buried.
Rescuers found a young woman in "distressing circumstances" after six and half hours of searching but was expected to make a full recovery, he said.
Blast killed, trapped workers
The midday blast wrecked much of the building and left 40 people injured, 16 of them seriously, police in the Strathclyde region said. Three people were pronounced dead at the scene and a woman died in the city's Western Infirmary, they said.
One firefighter collapsed and was taken to a hospital.
Sweeney had said earlier that emergency services were concentrating their efforts on pockets beneath the rubble where survivors were still trapped.
Before the loss of voice contact, he said the trapped were "'in various states of ability to talk. Some are injured, some are badly injured, some are in shock, some will be traumatized and so we're having as much decent dialogue as we can with them, trying to comfort and reassure them and offer support under what must be very traumatic circumstances."
As many as 200 firefighters from around the country were involved in the rescue. Some were using thermal-imaging cameras and heat-seeking equipment.
Sweeney said rescuers were having to work slowly to avoid injuring those trapped, and he estimated the rescue operation could take as long as 48 hours.
David Andrews, 50, a worker who escaped uninjured, said he was working on the opposite side of the building from the part that came down, and ran out when he heard a huge bang.
"I was trying to help pull people from the rubble. All my colleagues were lying on the ground with cuts and bruises to their heads and broken arms," he said. "The whole lot just came down on top of them."