Even before the latest editions of Newsweek and The New Yorker reached the streets over the weekend — each containing new revelations about secret, high-level decisions allegedly meant to sidestep the safeguards of the Geneva Conventions — a White House aide launched a pre-emptive strike on those insisting on answers to an important question: How far up the chain of command does responsibility for the Abu Ghraib prisoner abuse disgrace go?
Pre-emptive strikes come in many guises, and the one launched this weekend came from the pen of White House counsel Alberto Gonzales, targeted with precision at the Saturday Op-Ed page of The New York Times. The venue is important, for as anyone who ever lived on a public salary knows, the Saturday paper is the least read of the week and the marquee of choice for someone who wants to get on the record but not find himself on the weekday evening newscasts.
Gonzales' piece briefly notes the history of the administration's decision not to feel encumbered by the Geneva Conventions when dealing with al-Qaida, the Taliban or any others who "hide among civilian populations and viscously flout the core Geneva principles protecting the innocent." Most important, it forthrightly affirms the United States' responsibility to treat POWs and detainees in Iraq according to the Geneva Conventions.
"Make no mistake that the United States is bound to observe the rules of war in the Geneva Conventions," he writes.
From Cuba to Baghdad?
Getting this on the record probably struck Gonzales as an excellent idea given the discoveries being aired almost daily regarding the Abu Ghraib abuses.
Newsweek, for instance, unearthed a previously unknown written by Gonzales from 2002 that stated: "In my judgment, this new paradigm renders obsolete Geneva's strict limitations on questioning of enemy prisoners and renders quaint some of its provisions requiring that captured enemy be afforded such things as commissary privileges, scrip (i.e., advances of monthly pay), athletic uniforms, and scientific instruments."
Gonzales makes crystal clear in his Op-Ed that his words were confined to the treatment of al-Qaida and its ilk. How, then, did the decision to deny certain rights to the men behind 9/11 extend into the American-run jails of postwar Iraq?
Seymour Hersh of The New Yorker has reported that this sidestepping of the Geneva Accords went hand in hand with a decision by Secretary of Defense Donald Rumsfeld to approve physical and sexual coercion for use against Guantanamo Bay detainees.
The Pentagon flatly denies this, and this part of the mystery remains unresolved. There remains no documentary evidence, yet, of any direct order from on high that Iraqi prisoners should be tortured. As Pentagon spokesman Larry Di Rita said in a statement Monday: "No responsible official of the Department of Defense approved any program that could conceivably have been intended to result in such abuses as witnessed in the recent photos and videos."
But did the Pentagon deliberately set vague guidelines that allowed or even encouraged such behavior? This, short of a document confirming Hersh's reporting, is the crux of the matter right now.
'Dig out' information
According to Pentagon officials who spoke to MSNBC.com on condition of anonymity, a very deliberate effort began last autumn to try to figure out why interrogators at Guantanamo Bay extracted far more useful intelligence from captives than those in Iraq. This effort, which came to involve very senior officials of the Defense Department, provided a bridge for the  "coercive" techniques approved to handle 9/11 terrorist suspects to migrate from the legal limbo of Guantanamo Bay to Iraq, where, as Gonzales reminds us, the Geneva Conventions' jurisdiction is not in doubt.
Pentagon officials say that beginning late last year, as it became clear that the postwar instability was congealing into an outright insurrection, Rumsfeld instructed his senior Pentagon aides to find a way to "dig out" information and get at the insurrection's command structure.
Two top aides led the effort, the officials say: the undersecretary of defense for policy, Douglas Feith, and the undersecretary of defense for intelligence, Stephen Cambone.
"The idea was to get a handle on what worked in Cuba and to apply it to Iraq," says one of the officials. "The trend [in Iraq] was negative, and they wanted that reversed, and they wanted Saddam's head on a platter."
Cambone tasked his deputy, Lt. Gen. William Boykin, with traveling to Guantanamo Bay and assessing whether tactics employed there that had successfully produced "actionable intelligence" might be transferred to Iraq.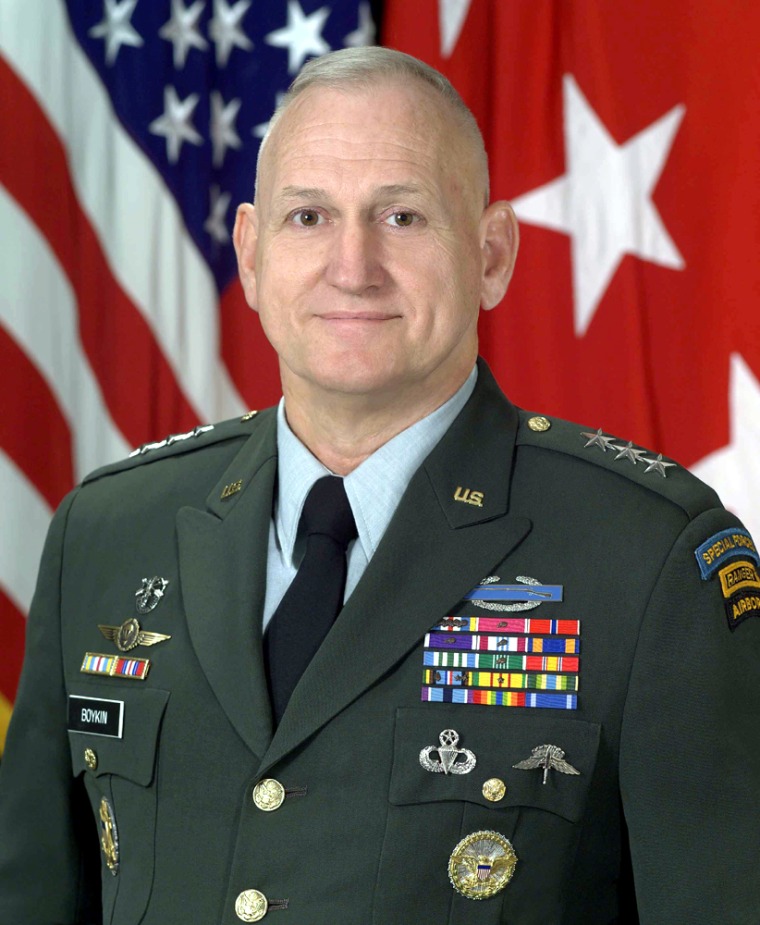 Within a few weeks, Boykin had dispatched Maj. Gen. Geoffrey Miller, the officer who had implemented Gonzales' "new paradigm" interrogation rules at Guantanamo Bay, off to Baghdad to figure out how to crack captive insurgents.
"There was a realization that the U.S. needed to be much more methodical about getting at the insurgent networks in Iraq," says William Arkin, an NBC News military analyst and intelligence specialist. "There was a well-known understanding that these thousands of Iraqis who were being detained needed to be exploited, and Boykin definitely dispatched [Maj. Gen.  Geoffrey] Miller to figure that out. But you can't draw a straight line from that to what happened at Abu Ghraib."
The military has downplayed Boykin's role in all this, fearful that his previous 15 minutes of fame as a right-wing Christian chauvinist — he dubbed Muslims idol worshippers and bragged that his God is bigger than Islam's. His boss, Cambone, denied Boykin's role during Senate testimony last week. But officials say Boykin played a significant role. Already newspapers in the Muslim world, where he is known as "the Holy War general," are speculating about how a man nearly fired last year for his public denigration of Islam suddenly appears at the center of a scandal involving the abuse and humiliation of Muslim prisoners.
Laying down a marker
So much fog shrouds the Iraq prisoner abuse scandal that it is difficult at this juncture to be definitive. If there is a direct link between the administration's decision — publicly announced — to foreswear the Geneva Conventions in Guantanamo Bay and the outrages committed at Abu Ghraib, the link remains one of tone rather than text at this point.
Yet enough is known to understand why the White House counsel, by definition attuned to impending legal peril, might want to make his own role clear. With accused soldiers retaining counsel of their own, with the general at "battalion level" pointing upward and now documents suggesting a possible link to the highest levels of the Pentagon, what attorney would not want to consider all sides?
White House counsels have a way of being right at the center of these kinds of things and yet coming away relatively unscathed. They owe "attorney-client privilege" for some of this luck, but knowing exactly when to bail helps, too. In scandal after scandal in Washington, presidential counsels land on their feet even when their clients take a beating. Leonard Garment played Watergate like a Stradivarius; Bernard Nussbaum and Beth Nolan sailed right through Whitewater, not to mention Monica and Paula Jones.
Ever hear of Peter Wallison? There's a good reason. He was White House counsel during Iran-contra, the most expertly handled White House mess in modern times. Jail sentences made Oliver North and Adm. John Poindexter famous. But Wallison protected the throne and went back into a thriving private practice afterward.
Against all the laws of military physics, which suggest that things like the Abu Ghraib mess flow only downhill, the disgrace has crept steadily upward. It overtook the Pentagon's first line of defense, the non-commissioned MPs who served in the prison, almost immediately. The general commanding at the "battalion level" also points upward, and the military intelligence officers Gen. Miller suggested should set the tone at the prison also say they acted under orders. The scandal is creeping, to quote the words of a psalm that Boykin no doubt can sing, "upward, ever upward."
Michael Moran's column appears every week on MSNBC.com