Griffin Technology is known mostly for the gadgets it makes for Apple stuff: iTalk (turns your iPod into a voice recorder), iTrip (transmits audio from your iPod to an FM radio -- great in the car) and SightLight (a FireWire lighting fixture for Apple's iSight) to name just three.
Fortunately for the rest of us, however, one of their coolest products works just as well with Windows PCs as it does with Macs: It's a little audio junction box called the PowerWave, and what it can do even when not connected to any computer is amazing.
A USB audio interface and amplifier, the PowerWave is basically an external digital sound card. No software is necessary to hook it up, just plug it into any USB port. It measures 5.75 by 3.75 by 0.9 inches and weighs 3 ounces or so.
Hook up any microphone or line input to the PowerWave, and then go wild: Digitize your old record collection, tape your niece playing the piano, learn to speak Spanish. It's up to you.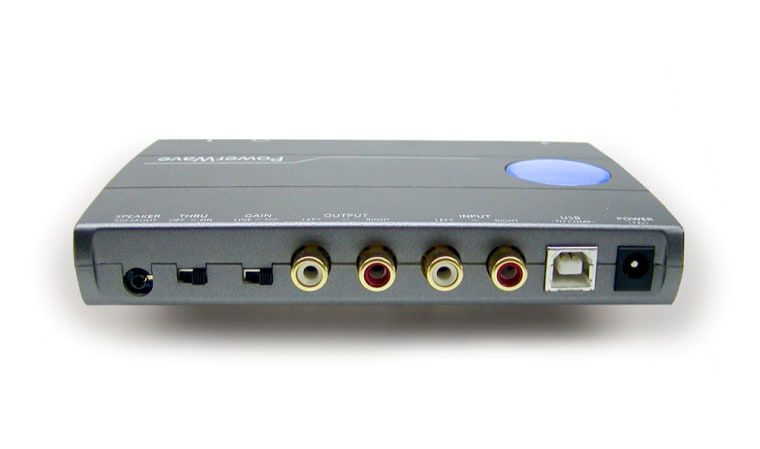 There are so many inputs and outputs your mind can spin. RCA jacks with adjustable gain, USB ports and a special Apple speaker connector.  Luckily, the instructions inside the box are very simple to follow. They even supply cables. 
I tried the box on both an iMac and a Windows PC and it works exactly as advertised.  I was even able to transfer LPs directly to my computer with the help of clever software on the included CD.
Here's the best part: The PowerWave sells for $99 — worth every penny.  Normally, this is where I'd end my column. But I'm not finished with telling you what PowerWave can do.
Leading a double life
There's one more thing Griffin mentions in their literature: "The PowerWave is also an integrated desktop amplifier. Use it to connect any set of home speakers to your computer. PowerWave makes a great compact amp for your MP3 player. It even enables the use of Apple Pro Speakers™ with any USB enabled computer."
The 10 watts-per-channel stereo amp is perfect to power the Apple Pro speakers? You can connect any set of home speakers to your computer? Guess what? It also might be able to power the speakers in your home stereo as well.
PowerWave's digital Class-T amps have fostered an underground culture on a number of audio forums on the Web. It's become a big following. After reading what everyone else had to say about it I had to try it for myself. 
Using the included plug, I attached PowerWave to my home stereo system, which has DeVore Gibbon 8 speakers. I'm amazed to tell you that it actually sounded good. I'm talking about successfully powering a pair of $2,800 speakers with a $99 power amp!
So, I went the next step. I asked my buddy Ed Schilling to send me a pair of his Horn Shoppe Horns. They're super efficient, so 10 watts-per-channel should be just right. At $775 a pair they're also a better match price-wise.
Exactly as Ed told me, the PowerWave/Horn combination sounded "scary good." So good that after a few weeks of listening I didn't want to send Ed back his speakers. I relented, but I'm buying a new pair from Ed as soon as he can build them so I can listen to the combination a whole lot more. It's something you have to hear for yourself to believe.
Now, I'm not trying to tell you that a $99 stereo amplifier beats everything else on the market. PowerWave is made to power Apple's little speakers, so both the extreme bass and treble are boosted a little to make those tiny things sound good — but not so much to make other speakers sound bad. If you have super-efficient speakers you owe it to yourself to hear just how good it sounds.
Some very prestigious high-end audio manufacturers know about Class-T amplifier technology.  I'm hoping to get my hands on a Bel Canto or an Audio Research model to see what happens when a company produces a cost-is-no-object design. 
In the meantime, if you have speakers that thrive on a mere 10-watts, go buy yourself a $99 PowerWave and get a glimpse of near audio nirvana as well as a very cool USB audio toolbox.