/ Source: NBC News and news services
Members of Congress said Wednesday that new photographs and video clips of U.S. soldiers brutalizing Iraqi prisoners were even worse than they had expected, depicting "disgusting" and "appalling" instances of torture and humiliation.
"I expected that these pictures would be very hard on the stomach lining, and it was significantly worse than anything that I had anticipated," said Sen. Ron Wyden, D-Ore., one of several members of Congress who emerged grim-faced from lawmakers-only screenings in the Capitol building. "Take the worst case and multiply it several times over."
"I don't know how the hell these people got into our Army," said Ben Nighthorse Campbell, R-Colo.
Private viewing
Senate Majority Leader Bill Frist, R-Tenn., called the images "appalling," saying they "go beyond" what much of the world has already seen in photos broadcast and published earlier this month.
But House Majority Leader Tom DeLay, R-Texas, while acknowledging that the materials showed "pretty disgusting sexual acts," said there was no need for more investigations. "The American system is working," he said. "... Our enemies are incredibly more evil than what is depicted in the pictures."
Lawmakers had demanded to see the images. Defense officials carried three discs with them to the Capitol, containing about 1,800 still images and an undisclosed number of video clips of U.S. soldiers brutalizing Iraqi captives at the Abu Ghraib prison on the outskirts of Baghdad.
Several lawmakers said photos of sexual intercourse were among the images defense officials screened for lawmakers in a top-secret room in the Capitol. At least some of them appeared to depict consensual sex involving U.S. military personnel, they added.
Others showed military dogs snarling at cowering prisoners, as well as shots of Iraqi women commanded to expose their breasts, some said. Others said there were images of hooded Iraqi prisoners being forced to masturbate while cameras captured the scene.
Rep. Jane Harman, D-Calif., said she saw a clothed man hurling himself against a wall as though trying to knock himself unconscious.
"The whole thing is disgusting, and it's hard to believe that this actually is taking place in a military facility," said Sen. Dianne Feinstein, D-Calif.
The Defense Department allowed only the lawmakers to see the materials, which they could not copy because defense officials fear that allowing them to become public could deepen international fury over the abuses.
Sen. John Warner, R-Va., chairman of the Armed Services Committee, agreed that the materials should remain secret at least until trials of U.S. soldiers got under way to "protect the integrity of the legal process." He also said keeping them private would lessen the chance that they could "inspire the enemy."
Fears that the prisoner abuses would trigger a violent backlash appeared to be realized Tuesday when a video clip was posted on a Web site linked to al-Qaida showing the beheading of a U.S. civilian. A voice on the clip said the killing was to avenge the prisoner abuse.
Rumsfeld defends most techniques
Defense Secretary Donald Rumsfeld has said the abuses at Abu Ghraib were unauthorized actions taken by a handful of personnel, but senators sharply questioned those statements after viewing the new pictures.
"In one particular still photo among troops that are in a hallway, where you've seen the clump of people tied together on the floor, we counted seven or eight troops," said Sen. Bill Nelson, D-Fla. "Now, you can't tell me all of this is going with seven or eight Army privates."
"The question is how far up the chain of the command did the orders come from, and where did that failure of the command and control occur?" Nelson added.
But Rumsfeld defended U.S. military interrogation techniques in general Wednesday, rejecting complaints that they violated international rules and could endanger U.S. captives.
Testifying before a Senate Appropriations subcommittee hearing on the Defense Department's budget, Rumsfeld said lawyers for the department had approved such methods as sleep deprivation and changes in diet and making prisoners hold "stress" positions.
Air Force Gen. Richard Myers, chairman of the Joint Chiefs of Staff, said the rules required prisoners to be treated humanely at all times, but Sen. Richard Durbin, D-Ill., said some of the approved techniques "go far beyond the Geneva Convention" — the international rules governing the treatment of prisoners of war.
Durbin noted that a U.S. GI was missing in Iraq, his whereabouts unknown. Given the circumstances, he asked Rumsfeld, "wouldn't it help if there was clarity from you and from this administration that we would abide by the Geneva Convention when it comes to civilian and military detainees unequivocally?"
Expanding his question to include detainees in Afghanistan and at the U.S. naval base at Guantanamo Bay, Cuba, Durbin asked whether such a declaration would "also serve to help American prisoners" held captive.
Rumsfeld replied that the Geneva Conventions applied to all prisoners held in Iraq but not to those held in Guantanamo Bay, where detainees captured in the global war on terror are held.
He said the distinction was that the international rules governed wars between countries but not those involving groups such as al-Qaida, the terrorist network blamed for the Sept. 11, 2001, attacks in the United States. "Terrorists don't comply with the laws of war. They go around killing innocent civilians," Rumsfeld said.
Two reservists face general courts-martial
Meanwhile, two more U.S. soldiers were ordered to stand trial in the abuse scandal.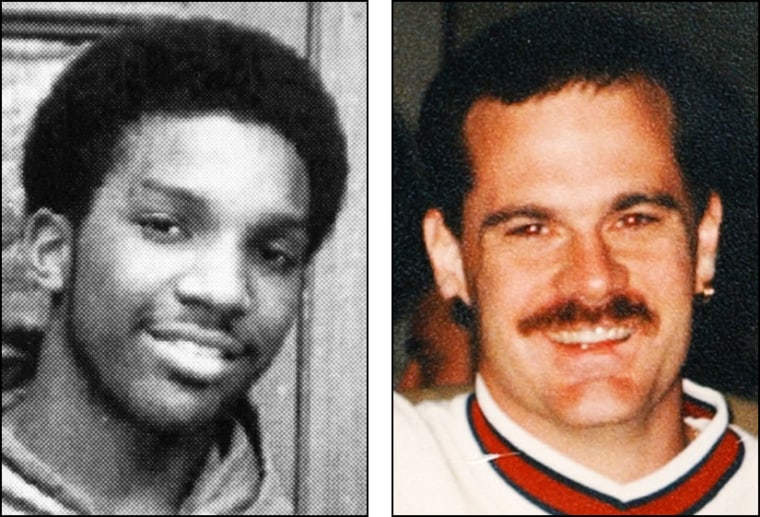 No dates have been set for the general courts-martial of Sgt. Javal S. Davis, 26, of Maryland and Staff Sgt. Ivan L. "Chip" Frederick II of Buckingham, Va., said Brig. Gen. Mark Kimmitt, deputy director of operations for the U.S.-led coalition in Iraq.
Spc. Jeremy C. Sivits, of Hyndman, Pa., goes on trial May 19 before a special court-martial, which cannot levy as severe a sentence as a general court-martial.
Davis was charged with conspiracy to maltreat detainees, dereliction of duty for failing to protect detainees from abuse, maltreatment of detainees, rendering false official statements and assault.
Frederick was charged with conspiracy to maltreat detainees, dereliction of duty for negligibly failing to protect detainees from abuse, maltreatment of detainees and wrongfully committing an indecent act by watching detainees commit a sexual act.
Both Davis and Frederick are reservists assigned to the 372nd Military Police Company.
Pentagon, CIA officials testify in private
The Army officer who investigated the abuses at Abu Ghraib, Maj. Gen. Antonio Taguba, told the Senate Armed Services Committee on Tuesday that the military police officers who acted improperly did so "of their own volition."
Lawmakers continued to delve into the scandal Wednesday. The Senate Intelligence Committee was scheduled to hold a closed-door hearing at which Defense Department and CIA officials were to testify. Among those due to testify were Lt. Gen. Lance Smith, deputy commander of U.S. Central Command; Stephen Cambone, undersecretary of defense for intelligence; and John McLaughlin, deputy CIA director.
Both Cambone and Smith testified Tuesday at the public hearing before the Senate Armed Services Committee.
At that hearing, senators challenged military officials who pinned most of the blame for the mistreatment on a small group of soldiers and on supervisors who provided inadequate training and leadership.
Several senators questioned the defense officials and Taguba about their contention that low-ranking soldiers created the sexually humiliating scenarios by themselves.
"It implies too much knowledge of what would be particularly humiliating to these Muslim prisoners," said Sen. Susan Collins, R-Maine. "And that is why, even though I do not yet have the evidence, I cannot help but suspect that others were involved, that military intelligence personnel were involved, or people further up the chain of command."
Nelson challenged Taguba on his statement that Brig. Gen. Janis Karpinski, who headed the 800th Military Police Brigade at the prison, bore responsibility for a breakdown in discipline that led to abuse.
Authority shift created confusion
Taguba testified that orders were issued taking tactical control of Abu Ghraib away from Karpinski and given to Col. Thomas M. Pappas, commander of the 205th Military Intelligence Brigade.
"It was clear that he was directed to be the forward operating base commander there for security detainees and force protection," Taguba said. "However, General Karpinski challenged that, and she noted that in her recorded testimony."
Taguba said the order placing Pappas in charge of prison policy where Karpinski's MPs worked created a confusing situation and was contrary to Army doctrine. Nonetheless, he found that Karpinski retained overall responsibility for the MPs in her brigade, and he assigned much of the blame for the abuse to inadequate leadership on her part.
Asked to put in simple words how the abuses happened, Taguba said: "Failure in leadership, sir, from the brigade commander on down. Lack of discipline, no training whatsoever and no supervision. Supervisory omission was rampant."
Karpinski has been suspended and issued an official letter of admonishment in connection with the abuse. She has not been charged and has asserted other officers are trying to make her a scapegoat.
In other developments:
The U.S. military announced Wednesday that it had launched an investigation into a complaint of detainee abuse in Afghanistan. Former Afghan police Col. Sayed Nabi Siddiqui told The New York Times that he was subjected to beating, kicking, sleep deprivation, taunts and sexual abuse during about 40 days in U.S. custody last year.
Lynndie England, an Army private facing court-martial for being photographed with naked Iraqi prisoners, said in an interview that she was following orders from unidentified superiors to create psychological pressure on the prisoners.
The Associated Press reported Tuesday that it had obtained a letter in which Lt. Col. Jerry L. Phillabaum, the commander of the 320th MP Battalion alleged that a female soldier took "" on Iraqi prisoners at another camp who she believed had raped Army Pfc. Jessica Lynch. The AP said the letter, whose charges the soldier denied, was written to rebut charges against his leadership of the battalion.

A video clip showing a young U.S. soldier saying "Who cares?" about