/ Source: The Associated Press
Secretary of State Colin Powell criticized Palestinian leader Yasser Arafat on Sunday as taking actions that impede efforts to advance the peace process.
"Mr. Arafat continues to take actions and make statements that make it exceptionally difficult to move forward," Powell told reporters at the World Economic Forum being held at an isolated Dead Sea resort.
Powell did not specify what actions, but mentioned Arafat's remarks Saturday to Palestinians on the 56th anniversary of what Arabs call "The Catastrophe" -- Israel's establishment.
In a speech broadcast live on Palestinian television, Arafat repeatedly called on his people to be steadfast in their struggle against Israeli occupation.
Arafat ended his speech with a quote from the Koran.
"Find what strength you have to terrorize your enemy and the enemy of God," he said. "And if they want peace, then let's have peace."
Arafat, whom Israel accuses of supporting militant groups, did not appear to be calling for new attacks on Israel. The passage in the Quran refers to the early Muslims' wars against pagans and is frequently invoked by Islamic leaders today to encourage strength in times of conflict.
Willing to consider Gaza plan
On Saturday, Powell said the Palestinians are willing to consider a proposed Israeli pullout from Gaza depending on how Prime Minister Ariel Sharon revises a plan rejected by his party.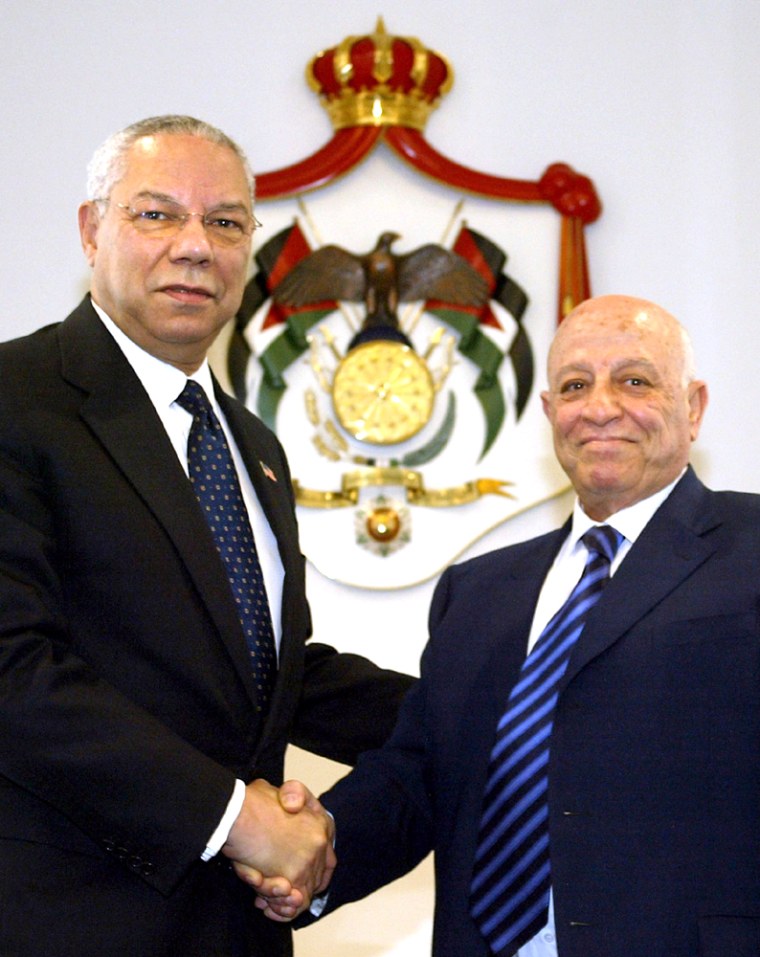 "I think that the Palestinians want to seize this opportunity," Powell said after a 40-minute meeting with Palestinian Prime Minister Ahmed Qureia in Amman, the Jordanian capital. "They want to know more about it, of course."
So, too, does the Bush administration, Powell later told ministers from some 50 nations, including Israel, at an economic conference at this Dead Sea resort.
Sharon lost a struggle with hard-liners in his own Likud Party with the May 2 defeat of his plan to evacuate all soldiers and the 7,500 Jewish settlers from the coastal strip. The prime minister is revising the proposal to make it palatable to a broad range of Israelis.
"And so we are all waiting to see what the actual plan is, and to see the details of that plan," Powell said at a joint news conference with Qureia at the Amman airport.
Qureia: Meeting was 'very, very constructive'
Qureia, whose authority is unclear because Yasser Arafat remains the Palestinian leader, described the meeting as "very, very constructive."
"I believe it will reflect itself on the ground, hopefully very soon," Qureia said.
In Ramallah, the West Bank Palestinian capital, Arafat bitterly marked the 56th anniversary of Israel's founding in a speech aired over Palestinian television, urging steadfastness toward ending Israeli occupation.
He cited a verse from the Quran, Islam's holy book, that says: "Find what strength you have to terrorize your enemy and the enemy of God. And if they want peace, then let's have peace."
There was no immediate response from Powell.
During Powell's conversation with Qureia, the secretary made clear that the prime minister must take control of Palestinian security forces and that making headway toward statehood depends on ending violence, a senior U.S. official told The Associated Press.
Operating with uncommon support from the United Nations, the European Union and Russia, the administration overcame its initial wariness and seized on Sharon's offer to withdraw from Gaza and dismantle some settlements on the West Bank.
Until Sharon stepped forward, "We were not getting anywhere," Powell acknowledged in a speech to the World Economic Forum,
"It is an opportunity we all should seize, removing settlements," Powell said.
At the same time, he cast President Bush's support for Israel's retention of some population clusters on the West Bank as a matter that requires the approval of the Palestinians.
He said that is the case also with other "final status" issues, including Jerusalem, which the Arabs want as the capital of a Palestinian state, and borders between Israel and what would be the new state of Palestine.
Abdullah pushes for international support
The forum's host, King Abdullah II of Jordan, urged international support actively regional justice and peace in the Middle East.
"Let the world's leaders demonstrate, once and for all, that they are serious about Palestinian freedom, said Abdullah, who met with Bush at the White House 1½ weeks ago. "This must include peace and security for Israelis and Palestinians, and the creation of an independent Palestine."
Powell said time is running out on Bush's pledge to create a Palestinian state in 2005. "I don't think anybody can predict right now whether we will be able to achieve 2005 or not," Powell said.
"But right now, it's more important to get started and let's see progress, and then we'll see what date that state can be achieved in," he said.
"Time is passing and we have to look a the reality of the situation," Powell said.
Qureia said he still hoped the Palestinians would have a state by the end of next year. "We have enough time to finish the negotiations and to have a Palestinian state according to President Bush's vision," he said.
The U.S. diplomatic effort continues Monday when Bush's national security adviser, Condoleezza Rice, meets with Qureia in Berlin on Monday.
Rice was in Moscow on Saturday discussing the Mideast situation as part of an overall world review with Russian President Vladimir Putin.