The Home Entertainment Show doesn't come to New York often enough. It seems to get here only every other year or so. But when it does finally makes its way here, it's always a great opportunity to see and hear some of the best home theater and hi-fi equipment on the planet.  This year's edition is no exception.
LCD TVs seem to be all the rage this year. Even computer maker Hewlett-Packard was there, showing off what they call their "PC entertainment displays" –- actually a first in a new line of TV/monitors. 
The H-P f2304 23-inch High Definition LCD Monitor provides 1,920 x 1,200 native resolution.  That means it can reproduce a 1080p (progressive) signal as well as a 1080i (interlaced) signal.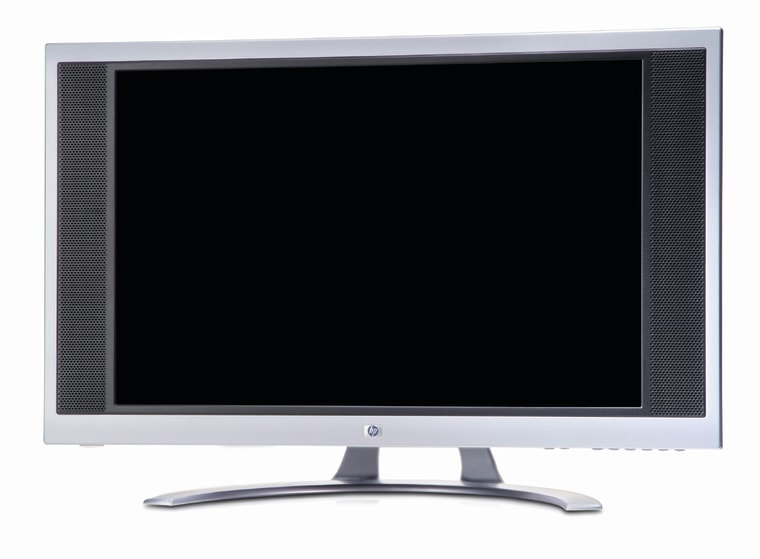 H-P says the unit is HDTV ready – which means you can plug it into your HDTV cable or satellite box, DVD or high-end gaming computer and reap all the benefits.  Should be available on May 30 via the H-P Web site. Price is set at $2,199 with an available $100 rebate.
And new LCD television manufacturing technology is allowing for larger screen sizes in addition to higher resolution devices.  Samsung announced the introduction of the world's largest LCD TV available to the consumer: the 46" LTP468W with a whopping 1,920 x 1,080p resolution (great for a big-screen TV) and a matching price tag of $9,999.
HDTV for $699
I was also fascinated by Samsung's 26-inch, picture tube HDTV.  In the industry those are called "direct view" TVs. Their 26-inch DynaFlat HD TXP2670WH TV is a real HDTV –- with a built-in HDTV tuner (so you can receive regular over-the-air HD broadcasts) -– but sports a list price of only $699. Who says HDTV has to cost thousands? It's a great way to convert a bedroom or other small room into a personal home theater. I'll be testing one in the near future.
Not that spending a lot of money doesn't bring its own rewards. I saw an amazing demo of Runco's new entry-level 3-chip video projector. Price is in the $30,000 range (other 3-chip models can be as much as $60,000) and needless to say, the picture quality was similar to the best movie theater experience I've ever had -- and that was from a projector. The audio portion of the demonstration was handled by Bel Canto amplification and JM Lab speakers. Amazing, to say the least!
Return of the tube
As for audio, turntables and tubes were everywhere.  What "golden-ear" audiophiles have been realizing is that some of the great technological designs of the past were way ahead of their time and still sound great.  Today, audio equipment made with tubes instead of transistors along with really good sounding high-end turntables boast prices as much as a car or a small home.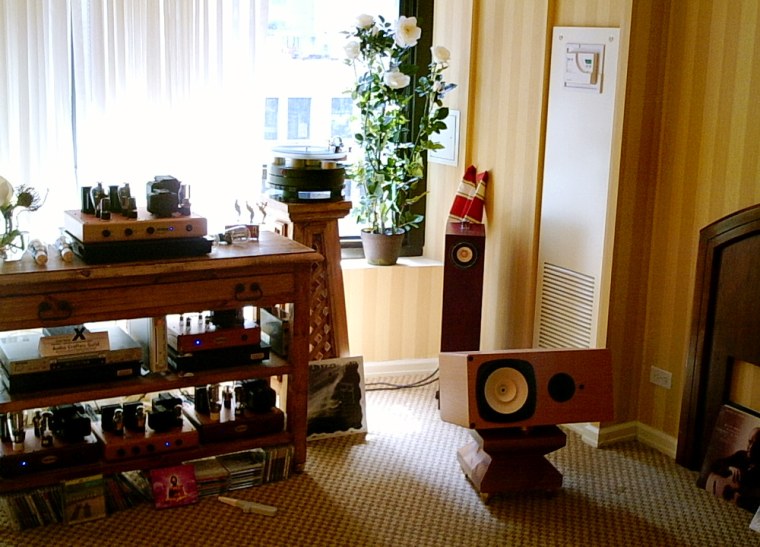 That said, I was happy to find one room using Ed Schilling's affordable Horn Shoppe Horn speakers ($775 a pair, in the corner of the photo at left), as well as some other very interesting equipment. Robin Wyatt had a terrific sounding pair of Omega Grande 8 speakers ($999 a pair, in the foreground) and a very interesting Tektron integrated amp ($1,779 plus the price of the tubes of your choice). Robin was demonstrating the amp by changing the output tubes "on-the-fly" and instantly letting show attendees hear what different ones sound like when listening to the same music — with the same amplifier. That means you could change the sound of your amplifier — and of the whole system — for each song if you care to.
John DeVore was proudly showing off his new Silverback Reference speakers. I'll tell you more about them in the near future. But suffice it to say that they sound amazingly great. They should; they'll be selling for $13,000-$14,000 depending on the finish.
Yamaha was showing off their MusicCAST wireless, home music network system. Built around the MCX-1000 digital audio server, it digitally stores any CD you play. The system then allows you to play the CD anywhere in your home, either through a wired distribution clients or cute wireless audio terminals. Prices begin at $1,200 for the server box; the terminals are extra.
Surround sound headphones
Finally, there was a good showing of headphones at the show.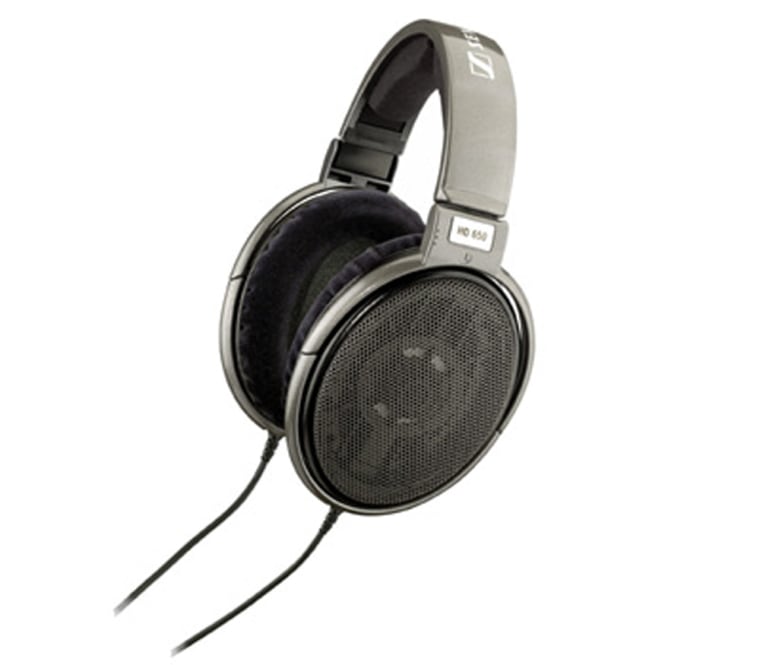 Sennheiser's new top-of-the-line HD 650s are on display (along with the rest of their "cans" including the great sounding, under $40 PX 100s). The 650s are developed from the award-winning HD 600 and feature improved materials for even better sound reproduction. During my quick audition and comparison test with their previous best, I'm happy to report that Sennheiser has figured out a way to further refine the sound of their flagship headphones.  It's really, really good. I've seen 650s selling for $450 on the Internet. More listening details are forthcoming in a full review.
And AKG, the people who make the unusual and sensational K1000 earspeakers (headphones to you) have announced their "hearo 999 audiosphere II" system. It's a rechargeable, wireless headphone system that reproduces 2-channel and 5.1 channel surround sound audio through headphones. The transmitter uses AKG's IVA technology to achieve a 3-D listening experience.  This system can be used with everything from DVDs, SACD and CDs to game consoles.
It really works: Voices come from the front, side or rear positions -- even though the headphones only have one speaker driver per ear.  Retail price of this system is $1,290 — steep — but it takes up a lot less room that a full-blown 5.1 surround stereo system in a room.
AKG also has a "wired" version of the hearo system –- for people like me who would like to keep using their current headphones and get the surround sound experience. I'll tell you how this sounds real soon.
There was a lot more to see and hear -- and if you're in the New York area, you can experience it for yourself. The Home Entertainment Show takes place at the Hilton New York in midtown Manhattan and runs through May 23.
Correction: When first published, this story incorrectly identified a monitor by a different manufacturer as Hewlett-Packard's F2304 23-inch HD monitor. The correct image of the H-P monitor is now on the story.