Cancer — it's probably one of the most petrifying words in the English language. It is the second leading cause of death in the United States, exceeded only by heart disease, and kills more than 1,500 Americans every day. In your lifetime, the disease will likely strike someone in your family or circle of friends ... or perhaps even you.
Yet more than 30 years on from President Nixon's National Cancer Act, the 1971 legislation designed to mobilize the country's resources to fight cancer, experts say we still have a long — and increasingly expensive — road ahead in the crusade to conquer this everyday killer, which in many instances is preventable.
"If I have learned anything about cancer it's that it's a very complicated disease and the level of understanding we have of it right now is not very high," said Peter Tollman, an analyst at the Boston Consulting Group who covers the biotechnology sector. "Cancer is a tough problem and the disease is constantly evolving, so the challenge for the latest cancer treatments is to catch up with cancer itself — that's enormously complicated."
Still, some experts are finding reason for optimism.
A rash of new so-called "targeted" cancer treatments developed in recent years by companies like Genentech and Novartis has given those working to significantly decrease cancer death rates a potent new weapon in their struggle.
And the new drugs could mean big business for the pharmaceutical industry. At present, the oncology drug market is about $40 billion compared with a worldwide pharmaceutical market of about $450 billion, estimates David Epstein, president of Novartis Oncology. "It's growing rapidly though," he noted. "As the science develops, more companies are focusing on this."
For decades, doctors have relied on established combinations of chemotherapy and radiation treatments to treat cancer. While they have surely saved many lives, the trouble with these treatments is they are effectively blunt instruments.
Chemotherapy, for example, reaches throughout the body, attacking not only cancerous cells but also healthy ones, and patients who undergo the treatment suffer from a horde of side effects, including nausea and a weakened immune system. Some patients become resistant to the treatment or die from complications.
Today, however, oncologists have developed a more sophisticated understanding of how cancers grow and are creating new cancer drugs that focus on the molecular characteristics of cancer cells, leaving the body's healthy tissues relatively unscathed.
As biotech companies spend millions of dollars annually testing hundreds of new compounds, the U.S. Food and Drug Administration is working to get the latest drugs to patients, sometimes under fast-track status. A case in point is Avastin, a treatment for advanced colon cancer approved by the FDA in February.
Avastin interferes with a process called angiogenesis, in which tumors form a network of blood vessels to survive. The drug attacks a cancerous tumor by choking off its blood supply and can extend patients' lives by a median of five months. Few other drugs for advanced stages of this cancer have provided that much benefit.
But while there is a huge amount of optimism about the hundreds of new cancer therapies in development, experts stress that there is still a great deal to learn about the progression of the disease. At the same time, the number of new cancer cases is set to swell as the U.S. population ages. And the World Health Organization estimates there will be a 50 percent rise in the number of new cases globally by 2020.
And cancer survival rates remain modest.
Thirty years ago, about 50 percent of those diagnosed with the disease survived more than five years beyond their initial treatment. Today, the number has risen to 64 percent — that's progress, experts say, but the numbers disguise an ongoing struggle with cancer: While major advances have been made in the battle to lower death rates from common cancers, such as breast and prostate, other types are still on the increase.
Taking an economic toll as well
The complexity of treating a multifaceted disease like cancer is certainly well understood. What's less well known is the huge financial problem the disease presents for patients, cancer centers, municipalities, and also for society as a whole.
The National Institutes of Health estimates that in 2002 the bill for treating the disease in the United States came to $189.5 billion, with the cost of treatment reaching $64.2 billion and the loss of productivity due to illness costing businesses $16.3 billion.
Faced with these data, it's little wonder that cancer prevention has become a buzzword for oncology organizations around the world, with institutions like the Cancer Institute of New Jersey (CINJ) in New Brunswick, N.J., devoting ever larger portions of their budget to cancer prevention and research.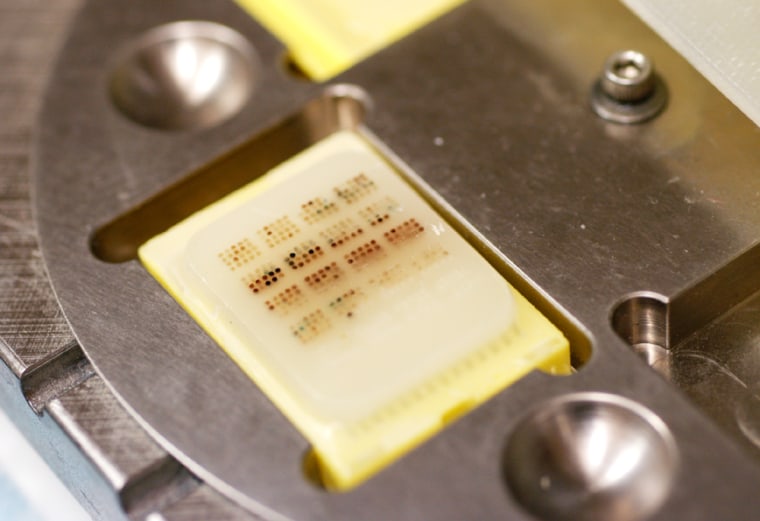 Designated a comprehensive cancer center by the National Cancer Institute, it is devoting some $4 million annually, or up to about 8 percent of its annual budget, to its cancer prevention efforts, which include researching the cancer-fighting abilities of dietary supplements, tobacco addiction, and the role of obesity in cancer development. And that number is increasing steadily every year.
Tobacco is public enemy No. 1, according to Dr. William N. Hait, director of the CINJ.
The latest American Cancer Society data show roughly a third of the 550,000 cancer deaths estimated to have occurred in the United States last year were caused by tobacco use. Another third was related to poor nutrition, physical inactivity, obesity and other lifestyle factors, and so was also likely preventable.
"Our center and others have finally awoken to fact that treating established, very resistant cancers is very difficult and may not give us the best results," Dr. Hait said. "The prevention side of cancer treatment has enormous potential," he added. "Just think what we could achieve if we could only figure out how to stop people from smoking, or from eating junk food — it would be a huge boon."