/ Source: The Associated Press
Aid workers dragged bodies from floodwaters Friday and handed out food and fresh water to survivors, who said children appeared to have been the biggest loss from flash floods and mudslides that cascaded down denuded mountains, submerging half of this farming town.
But the emergency crews were working against time, warning of a possible epidemic if they did not quickly recover most of the bodies in Mapou and the south-central part of Hispaniola island, which is shared by Haiti and the Dominican Republic.
They feared contamination of the underground water supply, which people here tap through wells. Dominican officials said they planned to use airplanes to spray disinfectant over the Dominican border town of Jimani to keep decomposing bodies from spreading disease.
"It's horrific. People are finding people in very odd and unreachable places, even hanging from the tops of trees," said Sheyla Biamby of Catholic Relief Services in Port-au-Prince, Haiti's capital.
Hundreds dead; thousands homeless
The flooding has left hundreds of people dead and thousands more homeless, and international aid organizations warned of the possibility of finding many more hungry survivors and decaying bodies in remote areas. U.S.-led troops packed inflatable dinghies to reach outlying villages.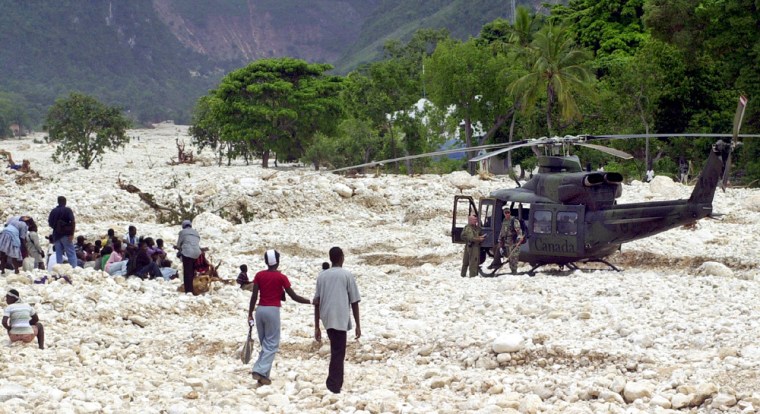 "The magnitude of the disaster is much worse than we expected, with many, many more people affected," said Guy Gavreau, director of the U.N. World Food Program in Haiti.
French troops rushed Friday to Jimani, erecting tents for the homeless and burying 23 bodies they recovered from the banks of a saltwater lake crawling with crocodiles.
Across the border in Mapou, workers of the International Committee of the Red Cross pulled seven decomposing bodies from an area of submerged homes where only the tops of palm trees showed above water and mud. They placed the corpses in body bags and buried them in higher ground.
Half the homes in Mapou — about 1,300 — have been destroyed, Biamby said.
"We are trying to get a count, but we estimate about a thousand dead" just among the 3,500 people of Mapou, said U.S. Lt. Col. Duane Perry, who commanded Marines as they ferried emergency supplies and aid workers in helicopters Friday.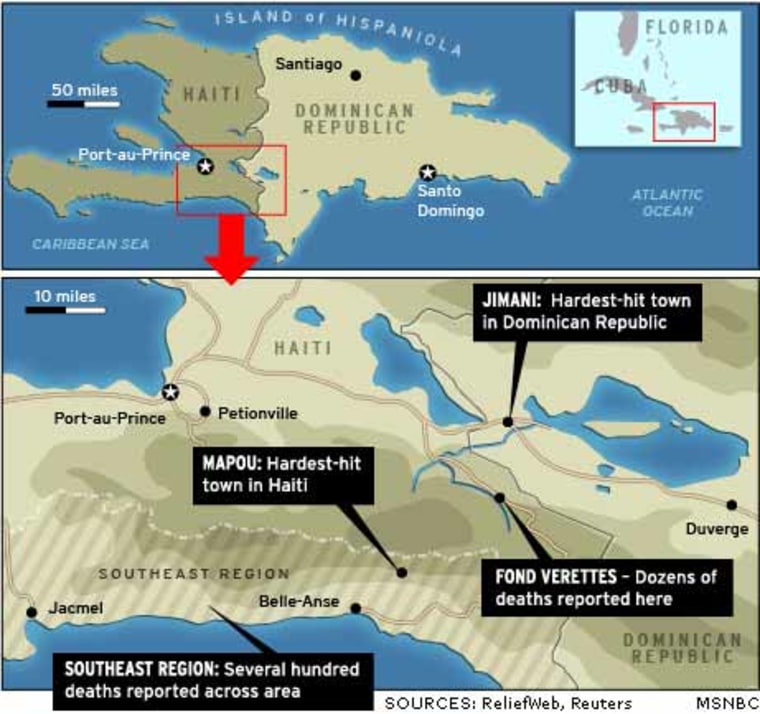 'The water was moving too fast'
The aid workers treated people with broken limbs and gashes from aluminum roofs that broke off when the torrents of water descended Monday after three days of heavy rains.
Hundreds gathered in Mapou as World Food Program workers handed out bags of rice and beans and bottles of water meant to provide their first meal since Monday. Each family got only two quarts of water to quench their thirst and cook their rice and beans.
In the crowd was Jean-Claude Germain, 25, a farmer, who said he and his wife escaped the floods "by the grace of God."
"I had to watch everything I love and own washed away by the waters, but I never even saw my children being taken." He said he lost two boys and two girls along with his sister-in-law and her two children.
Ivse Toussaint, 35, lost his wife and his six children, aged 2-16.
"I tried to get my kids up on the roof, but the water was moving too fast," he said. "When it reached my head, I couldn't see the children and pulled myself through a window and up to the roof."
He said neighbors in a canoe rescued him six hours later as the water went down.
Gavreau said the World Food Program distributed food to about 1,000 families Friday in Mapou. "But we need four or five times that amount here, much more than can be carried in by helicopter, he said.
He said they also would have to help survivors for far longer than expected because crops of corn and other vegetables were destroyed and the soccer field-size lake created by the floods carried corpses of pigs and goats.
The United States has provided $50,000 each in immediate relief to Haiti and the Dominican Republic, State Department spokesman Richard Boucher said.
More rain predicted
Four days after the floods, rain was falling Friday and weather forecasters said three more inches was expected over the weekend. Aid workers handed out plastic sheeting to shelter survivors.
With many areas inaccessible, the death toll was impossible to estimate.
The official Haitian governmental toll climbed to 579 Thursday as 165 people, 45 of them children, were declared dead in Fond Verrettes, a town of 40,000 people.
At least 442 bodies have been recovered in the Dominican Republic, a number of them Haitian migrants who had crossed over to work as sugar cane cutters or market vendors.
Perry, the U.S. Marine, said a U.S. helicopter flying to Fond Verrettes happened upon the disaster at Mapou, which is just 30 miles southeast of Port-au-Prince but is totally cut off except by helicopter.
"We discovered this when we were flying over Wednesday," Perry said. "We looked down and said: 'It looks like there was a town there. Let's see what's going on.'"
U.S., Canadian and Chilean troops arrived Friday in helicopters loaded with water, food, medical supplies and aid workers, along with shovels and pick axes to try to recover bodies.
With few roads passable and only 14 helicopters, troops were trying to find other ways to reach the needy, said Lt. Col. Dave Lapan, a spokesman for the U.S.-led multinational force that was sent to Haiti after rebels ousted President Jean-Bertrand Aristide on Feb. 29.
Haiti is a hazardous place for flooding and mudslides because its impoverished people constantly fell trees to make charcoal, removing roots that hold back the soil and leaving the country almost entirely deforested. In Mapou, which is in a valley surrounded by 2,000-feet denuded mountains, the rains carried soil, boulders and gravel into the town, then swept away roofs, furniture and people.