I have to begin by giving CeBIT organizers credit. In this, their second year of operating a show in the United States, they have made CeBIT America a bigger and better show than last year.  It's nowhere as big or as complex as their massive yearly undertaking in Hanover, Germany each March, but for what it is –- it's improving.
That's not to say CeBIT America is for everyone.  "CeBIT America is the leading Information & Communications Technology (ICT) event for the Enterprise Business Marketplace – combining a broad-based mix of products and services to provide insight, information and answers to all of your enterprise technology needs," their literature boasts.  What that means is there are booths to help you protect your networks, others to make configuring multiple hard drives easy –- and a nearly endless stream of business software.  This is not a computer show for the masses.
There were areas dedicated to businesses from South Korea and Germany and a large area set aside for educational purposes -– where a number of New York high schools had booths in front of a life-sized robot/basketball court. Those involved looked like they were having a lot of fun interacting with technology they can actually understand.
My favorite booths were some of the little ones on the outside edges of the show.  Like those hawking USB storage watches that actually look like watches, MSN Direct's booth showing off their SMART watches, the U.S. Postal Service business services and the ones for Montgomery County, Maryland and Bismarck-Mandan, N.D. boasting just how technology business friendly their locations really are. (MSNBC content is distributed by MSN. MSNBC itself is a Microsoft - NBC joint venture.)
New goodies
It took a lot of work to find other interesting things to tell you about.  A number of companies took advantage of the show to demonstrate to the press some of their new and upcoming items: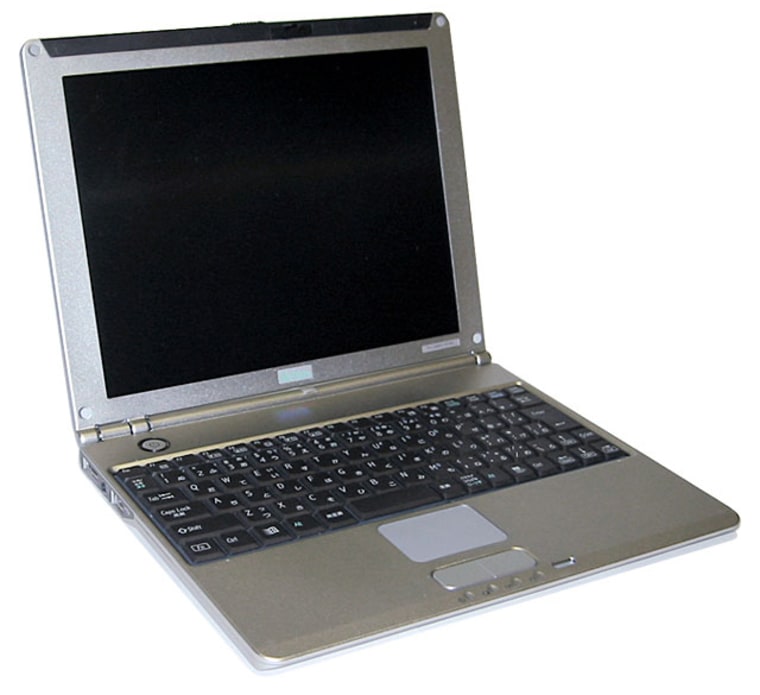 Transmeta Corporation was eagerly revealing some of the new devices which will be sporting the Efficeon, energy efficient processor — such as the Sharp MM10 ultra-small laptop computer (a half-inch thick); and the product I was drooling over at CES back in January, the OQO, a pocket-sized, Windows XP computer. The Sharp is on the market now and the OQO should be available this fall.
PalmOne used the occasion to announce a Bluetooth GPS navigation system for their Tungsten T3 and Zire 72 handheld computers.  From the quick demo I received, I can say the device's voice instructions were easy to hear (and to follow) and the 3-D maps were very cool to watch (but not while you're driving).  Palm will price the GPS Navigator system at $299 when it goes on sale in the middle of June.
Samsung was showing off a very cool point-of-sale device for businesses. It uses their Windows Mobile-based SPH-i700 Pocket PC Phone/PDA as a portable sales device and a small, slide-on cradle. It enables salespeople to perform secure credit card transactions, capture digital signatures and print receipts from the field.  The handheld uses the Verizon Wireless data network to do its thing.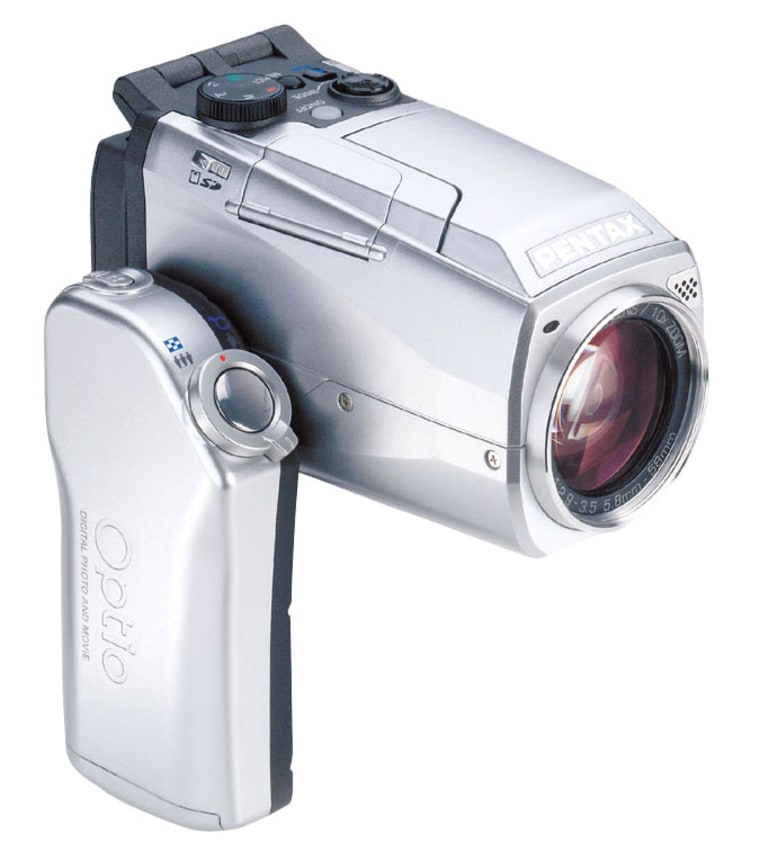 Pentax is making some very nice looking cameras.  One is a second-generation immersable digital camera called the Optio 43WR.  It features 4.0 effective megapixels, a powerful 2.8X zoom lens, a movie mode and a JIS Class 7 waterproof rating that keeps it watertight even when the camera is rinsed, splashed or submersed in water.  The 43WR retails for $349.95
And there was the OptioMX which Pentax calls two cameras in one.  It has a 3.2 effective megapixel still camera, a 10x optical zoom lens and a high resolution (VGA) MPEG-4 video camera (recording on a SD card) with zoom capabilities.  The MX lists for $399.
A company called PhoneLabs was introducing their Unity phone.  Basically, it's a regular land line desk phone that also allows you to plug in your cell phone so you can have two lines going at once.  If your cell phone has Bluetooth you don't even have to plug it in – the Unity phone can take an optional Bluetooth plug-in card.  The Unity will sell for $199.99.  The Bluetooth module will sell for $69.99 and cables go for $14.99.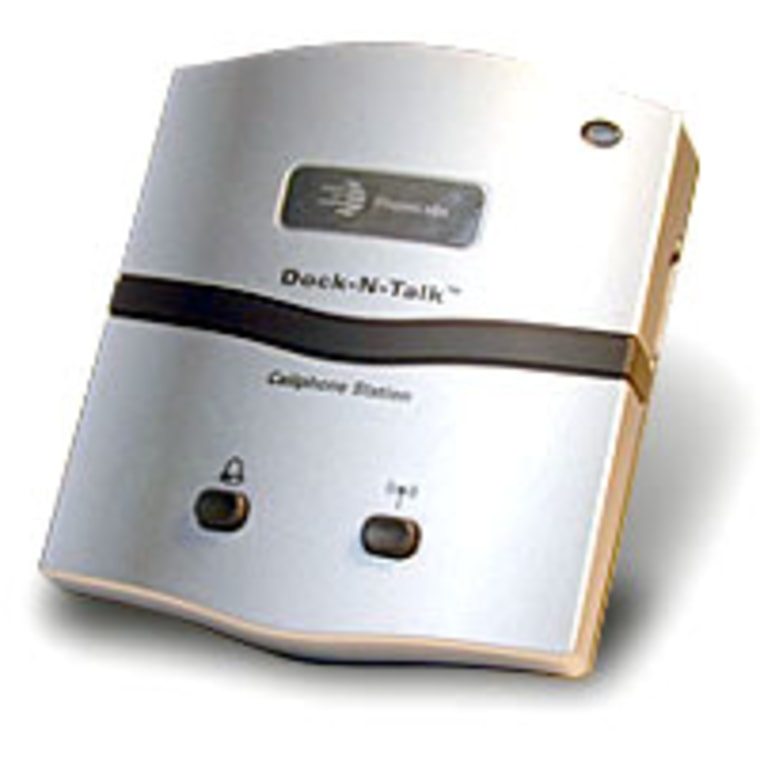 Don't want to buy an extra desk phone?  PhoneLabs markets the Dock-N-Talk which allows you to make and receive cell phone calls with normal land-line phones.  The Dock-N-Talk docking station/charger sells for $139.99.
I saw some other interesting stuff – including a very small desktop computer which feels like it's made by the people who built Fort Knox.  But many companies with upcoming products have asked me to wait until they release the items before I tell you about them.  All I can tell you is that overall, it looks like it will be a very interesting summer and fall.
CeBit America runs through Thursday, May 27 at New York's Javits Center.