A Web site that promised prescription drug discounts tried to drain $10 million out of checking accounts belonging to 90,000 consumers, and move that money to a private bank account in Cyprus, the Federal Trade Commission alleged Thursday. In a lawsuit filed in federal court in Nevada, the FTC alleges PharmacyCards.com regularly withdrew the funds from consumers' bank accounts without their knowledge, $139 at a time.
MSNBC.com and KNTV, in a joint investigation, first reported on the alleged scam back in March.
U.S. District Court Judge Robert Clive Jones on Wednesday issued a temporary restraining order to stop the alleged scam and freeze the defendants' assets while the FTC pursues additional legal actions.
Consumers from all around the country were hit with the scam, the FTC says. Account owners told MSNBC.com that they'd never even heard of PharmacyCards.com until they spotted the transaction on their bank statements. When they went to the firm's Web site, they found what appeared to be a drug discount program, including logos from Kmart, Wal-mart and Target, suggesting PharmacyCards members could earns drug discounts at the major retailers. Adding to the air of legitimacy, the claims may have benefited from consumers hearing about genuine Medicare-sanctioned drug discount cards which are about to take effect.
But none of the firms authorized use of their brand names on the PharmacyCards site, according to the FTC. The Web site and drug discount plans were apparently just faked to allow the alleged con artists to turn a list of consumer bank account numbers into millions of dollars in cash.
"What the defendants did was unfair and deceptive, and that's why we're suing them," said FTC staff attorney Tracy Thorleifson.
PharmacyCards.com is no longer operating, and the phone number which once offered customer service for the Web site is out of order. Other attempts to reach the company were unsuccessful.
The PharmacyCards Web site listed a bogus address in Vancouver, British Columbia and a telephone number which reached operators in Montreal. When MSNBC.com called the toll-free customer relations number in March, an operator there, who wouldn't give her name, said she was taking complaints and offering dissatisfied consumers refunds within 15 days. She said PharmacyCards.com was a legitimate company, and had many satisfied customers, and said the consumers who are complaining are probably just confused. She insisted they must have given their account information to a PharmacyCards.com affiliate.
Little-known bank procedure used
Starting in January, consumers began to complain about unauthorized withdrawals from their checking accounts. Many who followed up with their banks discovered checks had been fabricated using their account information, and in the space for their signature, a stamp had been placed indicating "signature not required." Other checks were signed by a person named Susan Walker. Many consumers were surprised that banks would cash the checks, but industry experts said the practice was common. 
Thorleifson said the PharmacyCards withdrawals actually took advantage of a little-used bank procedure called a "demand draft," in which a third-party can provide a paper check and present themselves to a bank as an authorized agent to make a withdrawal. There is nothing a consumer can do to prevent a demand draft, Thorleifson said. And unlike electronic withdrawals or ATM card debits, the account activity is not governed by federal law. Each state has its own rules covering demand drafts. That's why the FTC advises consumers to check their bank statements carefully for unexplained charges, and to inform their banks immediately if anything suspicious appears.
"It's important to file a dispute with the bank in writing and to file a complaint with the FTC," Thorleifson said. "For some percentage of people who don't check their accounts carefully, they may lose rights under state law to get their money back."
Complicated shell game
To the victims, the scam was simple -- someone used their bank account information to print phony checks, then cashed them. But behind the scenes, a complicated string of shell corporations was used to move the funds out of the country and into Cyprus, the FTC says.
The FTC alleges two companies were behind PharmacyCards.com. One, HelmCrest Limited, was based in Nicosia, Cyprus. The other, 3rd Union Card Services, Inc., was based in Delaware.  The complaint also cites David Graham Turner, a London resident, as an officer or director of Helmcrest and Steve Pearson, another HelmCrest officer. Pearson's residence is unknown, but he provided a U.K.-based driver's license to one payment processor while filling out an application. 
The FTC says that when the firm's banking transactions required a U.S. presence, 3rd Union Card Services' address was used; but when it was time for payment, the funds were wired to HelmCrest's account in Cyprus.
It's not clear how the parties behind the alleged scam obtained the list of consumer bank accounts, but according to the FTC's Points and Authorities Memo in the case, HelmCrest claimed to have obtained the list from an unnamed partner with whom it had just formed a "joint venture."
The FTC says the people behind PharmacyCards provided consumers' checking account numbers to third-party payment processors, which then debited their accounts. One processor alone debited 72,240 checking accounts, generating more than $10 million in attempted debits, the FTC said. More than 50,000 of those transactions were cancelled or returned, but many other consumers were unaware of the transactions or unable to have them reversed. In all, the FTC suspects at least 15,000 consumers have yet to receive refunds -- including some who were refused refunds by their banks, the FTC says.
About $3 million was successfully debited from consumer accounts, according to court documents. Meanwhile, the various banks and payment processors used in the scheme netted about $1.5 million in the scheme, court documents say.
Thorleifson said it was not clear why Turner and Pearson operated under both corporate entities, but the FTC's investigation offers a hint: a fax sent by Turner on 3rd Union letterhead to a payment processor suggests a U.S. address was needed to allay suspicions.
'(To) help prevent any further confusion or over active imaginations, to any person or people involved or affected through our business relations, please note that for your records you can use our United States Delaware corporation as the merchant of record, as naming our International company, could set imaginations running wild," Turner said in the fax, according to the FTC.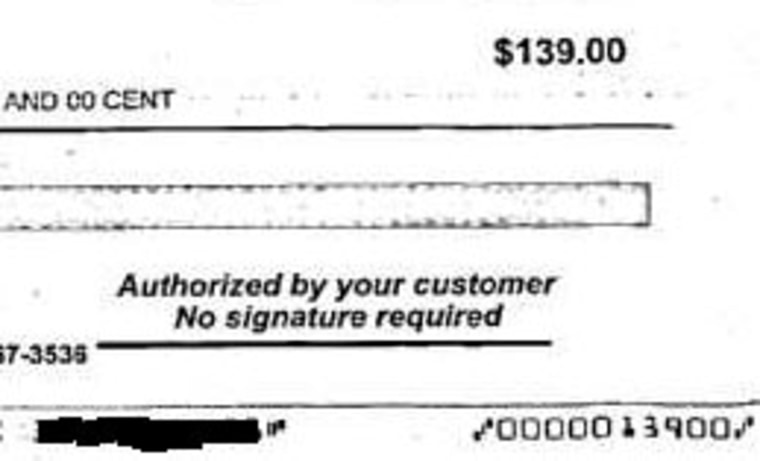 Suing international firms that have scammed U.S. citizens is generally a long shot, Thorleifson conceded.  But the PharmacyCards case has a "likelihood of success," because it was filed soon enough to freeze $2 million gleaned in the alleged scam before it was moved out of the country. The money is still sitting in a bank in Nevada, she said.
"Any money outside of the United States, if we could get it even if we found it, that's a question yet to be answered," she said.  "But the key thing about this case is there is money within our borders that we can freeze, and seek to return to injured consumers."