/ Source: msnbc.com news services
Gunmen attacked a car carrying two Japanese journalists in Iraq and the vehicle burst into flames, Japan's Foreign Ministry said Friday. Two bodies were found at the scene, and hospital officials identified them as Japanese. Separately, three NBC journalists and an Iraqi freelancer were released Friday, three days after the group was captured in Fallujah.
The bodies have not been positively identified as the missing freelance journalists, Shinsuke Hashida, 61, and his nephew, Kotaro Ogawa, 33, said Yu Kameoka, a spokesman for Prime Minister Junichiro Koizumi.
But workers at a hospital in the area told Japanese Embassy officials that the dead were Japanese, Kameoka said.
Earlier, Japanese national broadcaster NHK cited unidentified government officials as saying they feared one of the journalists had died and one was injured, but the government said it was unable to confirm any details.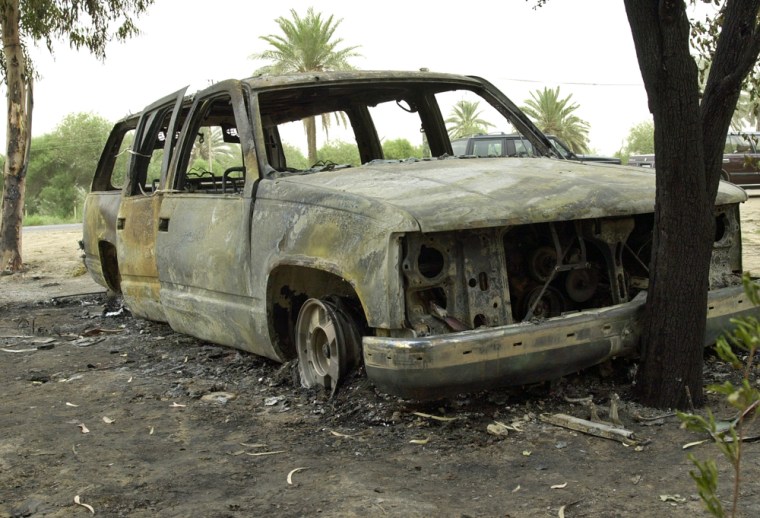 "We still don't know what happened to them ... so we need to investigate," Chief Cabinet Secretary Hiroyuki Hosoda told reporters Friday morning.
The attack happened about 20 miles south of Baghdad while the journalists were on their way to Baghdad from the southern city of Samawah, where Japan has deployed hundreds of troops, a Japanese Foreign Ministry statement said.
The driver was treated for injuries at a hospital near Baghdad, it said.
The attack on the journalists follows the kidnapping of five Japanese civilians by armed militants in Iraq in April. Some of the kidnappers threatened to kill their captives unless Japan withdrew its troops. The government refused, and all the hostages were released within a week.
Two Japanese diplomats were killed in November when their unarmed car was ambushed near the northern Iraqi city of Tikrit.
Three NBC journalists released
Meantime, NBC said that Iraqi gunmen released three veteran NBC journalists and an Iraqi freelancer Friday, three days after the group was captured in Fallujah.
(MSNBC is a joint venture of NBC and Microsoft.)
The statement said local Iraqi leaders helped mediate with "armed Iraqis," who let the reporters go "after their identities as working journalists became clear."
NBC identified the four as correspondent Ned Colt, cameraman Maurice Roper, soundman Robert Colvill and freelance Iraqi journalist Ashraf Al Taie. It said they appeared to be in good health.
The group's Tuesday capture was never announced for security reasons, NBC said.