/ Source: The Associated Press
Hybrid tankers that can power an entire airfield. Electric chariots that can take soldiers to their destinations. Fuel cell-powered all terrain vehicles that can move in near silence.
These are among alternative energy vehicles being developed by the Army, which showed off a dozen prototypes Thursday at Elmendorf Air Force Base.
The Army hopes the vehicles will reduce its fuel consumption on the battlefield, and other military branches are watching closely. In fact, the Air Force has assigned a representative to the Army's Detroit-based National Automotive Center, which is developing the vehicles through partnerships with manufacturers.
"Our intention is to find common-use items that work not only commercially but with the military," said Army spokesman Eric Emerton.
The open house was the show-and-tell portion of a four-day symposium co-hosted by the Army to explore clean energy sources for and from Alaska.
Iraq use: 750,000 gallons a day
Military and industry engineers and others led visitors around vehicles both ready for use and under development.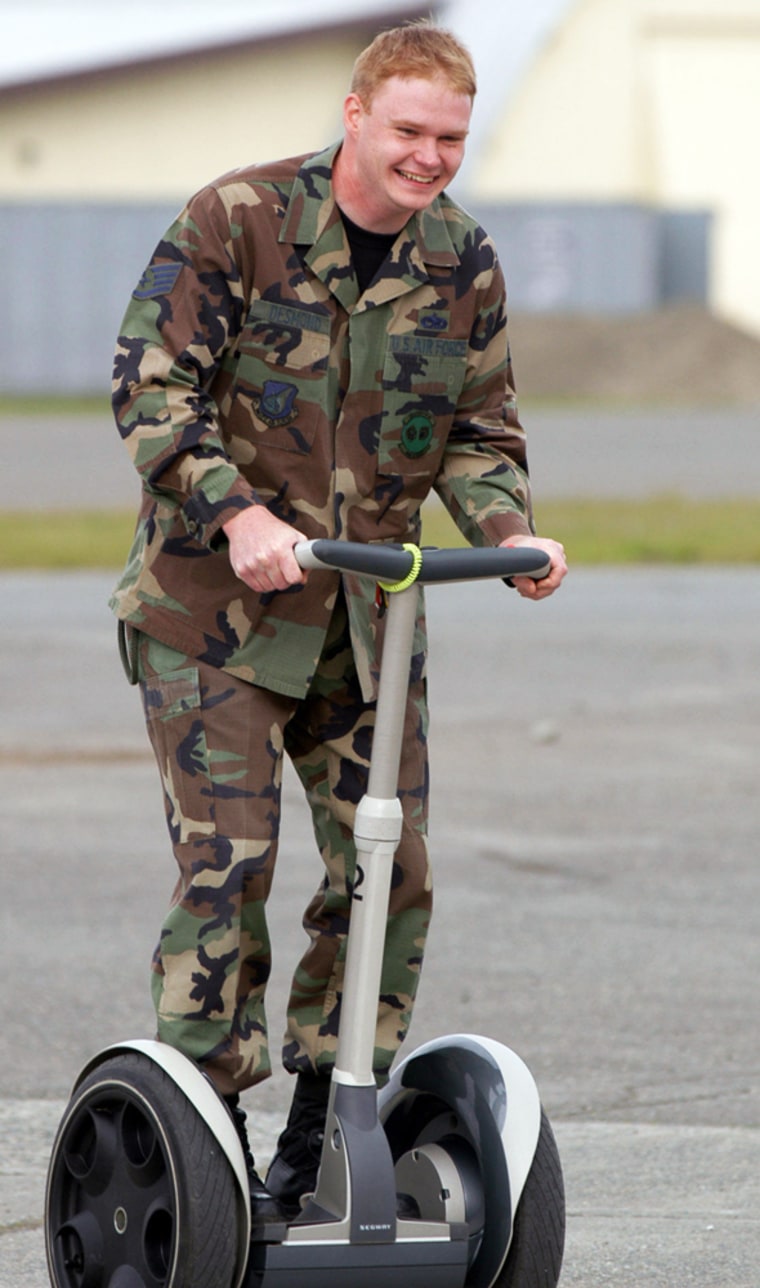 All represented the virtues of energy-saving technology that's so crucial at a time when the Army burns 750,000 gallons of fuel a day in Iraq alone, said NAC Director Dennis Wend.
Reality, however, is three to five years away for the more advanced equipment, Wend said. The automotive research center, created a decade ago, has intensified its alternative energy development only in the last few years.
Besides corporate money, the center receives $100 million in federal research and development funds.
Hybrid truck that's a power station
Among the vehicles on display was the tanklike hybrid-electric diesel truck developed with Oshkosh, Wis.-based Oshkosh Truck Corp., which builds the Army's large off-road vehicles as well as civilian fire and refuse trucks. Painted in camouflage tones, the Oshkosh HEMTT hybrid consumes less fuel and puts out reduced emissions compared with its traditionally fueled counterparts.
The vehicle also can produce 350 kilowatts of electricity while its 505 horsepower engine idles. The company tested the vehicle's onboard generator at the Whittman Airfield in Oshkosh, providing lighting for the control tower and a 14,000-foot runway for two hours. It was a hit — signifying numerous applications for the military and civilians alike, said company engineer Chris Yakes.
"It can be used for anything from natural disasters to homeland security," Yakes said.
Background on the Army's program is online at www.tacom.army.mil/tardec/nac.