/ Source: The Associated Press
America dedicated a memorial Saturday to the fast-thinning ranks of World War II veterans, a poignant last hurrah drawing together tens of thousands of old soldiers, sailors and heroes of the home front.
Frail now, full of spunk then, they were thanked for service that "helped save the world."
The National Mall, where huge numbers usually gather in protest, instead offered a last-of-a-lifetime scene of commemoration as veterans assembled by the sweeping monument of granite and bronze that was more than a decade in the planning.
"We have kept faith with our comrades from a distant youth," said former Sen. Bob Dole, a driving force for the memorial. An Army lieutenant in the war, Dole lost the use of his right arm when a shell hit him while he served in Italy.
"What we dedicate today is not a memorial to war. Rather it is a tribute to the physical and moral courage that makes heroes out of farm and city boys, that inspires Americans of every generation to lay down their lives for people they'll never meet," Dole told a crowd estimated at 140,000 by police.
Many veterans gripped canes. Others sat in wheelchairs. The hardiest among them grabbed their wives and danced in the aisles when 1940s swing music wafted over the crowd. Young people came up to old people and said thanks.
"I figured this would be the last time to wear a uniform," said William E. Ryan, 80, a retired colonel from Fairfax, Va., who fought in France and Germany with the Army's 3rd Infantry. He was in full-dress whites, a Purple Heart among his chest decorations.
Covering seven landscaped acres, the World War II Memorial was built with a sense of urgency once Washington resolved to go ahead with it. Veterans are in their late 70s and in their 80s. Of the 16 million who served, only about 4 million are still alive and veterans from that war are dying at a rate of 1,056 a day.
"These were the modest sons of a peaceful country," said President Bush. "They gave the best years of their lives to the greatest mission their country ever accepted."
Many veterans lamented that the nation's tribute came too late for their comrades.
"I wish they would have done it much sooner because there's a lot of people from that generation who are gone," said Don LaFond, 81, a Marine Corps veteran from Marina del Rey, Calif.
Dole, 80, called the gathering "our final reunion."
Cool temperatures and bright sunshine greeted the dedication, a relief to emergency crews prepared for large numbers of medical problems. Authorities said they treated about 20 people, some for dehydration, in advance of the dedication.

At a morning service at Washington National Cathedral, a few miles north of the Mall, dignitaries spoke of celebration and thanksgiving.
Former President George Bush, a Navy pilot shot down over the South Pacific in 1944, said the World War II generation was remarkable for the challenges it faced, but that Americans today, as in any point of history, can rise to the same level of commitment.
"These were average men and women who lived in extraordinary times," said Bush, who turns 80 on June 12. "No matter the danger or hardship, they responded with exceptional bravery." Singling out the D-Day invasion of June 6, 1944, he paid tribute to the millions of fighters who "helped save the world."

Retired Gen. John W. Vessey Jr., former chairman of the Joint Chiefs of Staff, said the monument was built to recognize the defining event of the 20th century. He, too, took note of the passing of so many veterans.
"We the World War II generation are thinning both in our hairlines and our ranks," he said, "and probably everywhere but our waistlines."
Coast Guardsman Wilbert Huebner, 84, of Readlyn, Iowa, spent two years on the destroyer USS Lansing, sailing off North Africa and Europe. "So many are gone and for those of us who are still alive, some can no longer travel because they have medical problems," he said.
Raymond Veley, 80, of Marysville, Ohio, fought in Italy with the Army and spent 17 months as a POW. Running into other ex-prisoners in Washington was a powerful experience, he said, because "we all know what the other one went through."
Bush and his Democratic presidential opponent, Vietnam veteran John Kerry, used their weekly radio addresses hours before the ceremony to praise the service of those honored.
Kerry said of World War II veterans: "Because of them, liberty did not perish from this Earth. When the future hung in the balance, they stood on the edge of tyranny and devastation and
risked their lives for a future and a hope bigger than themselves."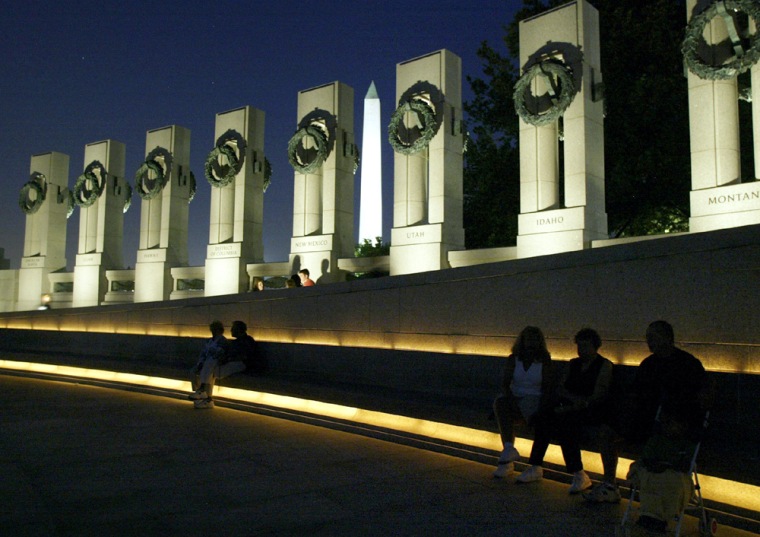 The president, born a year after the war ended, concluded his speech by asking "every man and woman who saw and lived World War II, every member of that generation, to please rise as you are able and receive the thanks of our great nation."
They rose slowly, as they were able, some in tears, American flags in their hand or tucked into camera straps.
The idea for the memorial came nearly two decades ago, but it was only in 1993 that Congress authorized construction. Critics complained its large-scale design would spoil the vistas long enjoyed by visitors to the Mall. Courts eventually rejected the challenge.
The memorial features 56 granite pillars, each 17 feet high and representing the states, territories of that time and the District of Columbia, and two arches more than twice that height -- Atlantic and Pacific -- symbolizing the two theaters of the war. A wall with 4,000 sculpted gold stars commemorates the more than 400,000 Americans killed.