/ Source: NBC News and news services
Violence erupted again Wednesday in Saudi Arabia, where two Americans were fired on in the capital and police killed two men who were suspected of ties to an attack last weekend that left 22 people dead.
NBC News' Charlene Gubash reported that shots were fired at two cars carrying U.S. personnel about 8 a.m. (1 a.m. ET) on a Riyadh highway. One of the cars was hit and its driver was slightly wounded.
Both cars quickly returned to Iskan Village, where a U.S. training unit working with the Saudi National Guard is based.
The U.S. Embassy said later that the wounded driver was a U.S. military officer and that his arm was grazed by a bullet. But Saudi officials said the wounded man was Saudi, a discrepancy that could not immediately be resolved.
Most-wanted militant killed?
In the remote western mountainous area of al-Hada, meanwhile, two men were shot dead by police after a 12-hour chase on foot, a Saudi security official said. The Interior Ministry later issued a statement saying they were tied to the hostage-taking incident last weekend in Khobar, 700 miles away on the other side of the country.
The two militants, one of them dressed as a woman, were stopped in their car at a military checkpoint on the Taif-Mecca highway Tuesday evening. The militants refused to show their identity cards, the official said.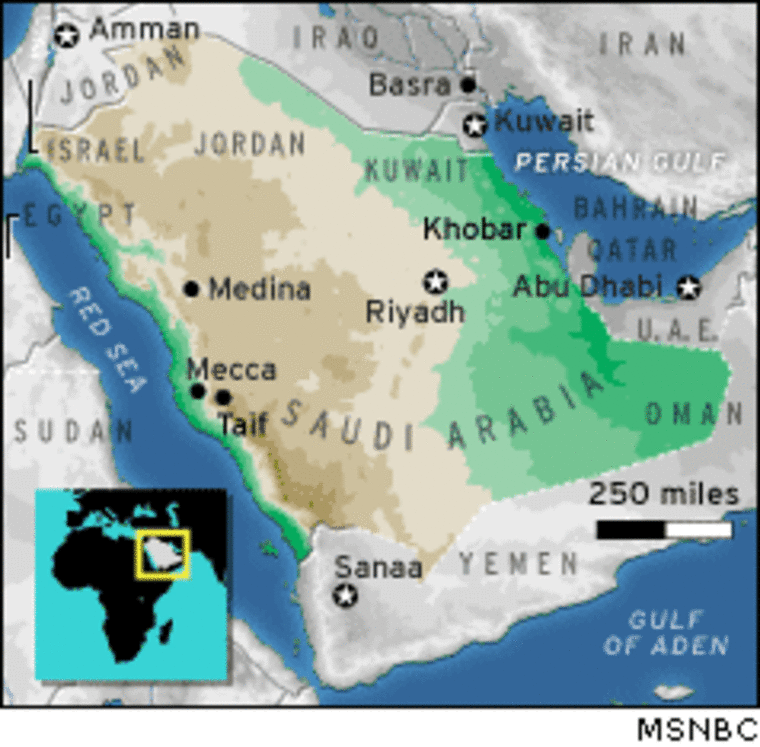 The two got out of their car, pulled out machine guns and started firing at the soldiers, according to the official, who spoke on condition of anonymity. The soldiers pursued the men up the mountains and killed them 12 hours later Wednesday morning, he said.
Saudi television showed videotape of what it said was the Taif operation, with a transport helicopter landing in a desert plain and two bodies covered in bloodstained white sheets and thermal reflective blankets being carried away on stretchers by security forces.
Three militants escaped the Khobar standoff, and one other was wounded and arrested, according to Saudi officials.
Officials said the two men who were killed Wednesday were not among the attackers. But one of them suggested that their telephone numbers could have been found on the attackers' mobile phones or that they may have aided the men by providing shelter, money or other assistance.
The Interior Ministry's statement did not identify the two men. Another Saudi security official identified one of them as Abdul Rahman Mohammed Yazji, No. 25 on a list of Saudi Arabia's 26 most-wanted militants.
Details of Khobar siege
The past six weeks have seen an escalation in attacks in Saudi Arabia, despite an aggressive government campaign against terrorism. The U.S. State Department reiterated its advice Tuesday that the 35,000 Americans in Saudi Arabia leave the country.
Saudi officials have linked the violence to al-Qaida or to other groups believed inspired by al-Qaida leader Osama bin Laden. The terrorist network has vowed to destabilize the Saudi government, which the Saudi-born bin Laden views as insufficiently Islamic.
In Washington, Saudi Embassy officials said the Saudi government was dissolving a large Riyadh-based Muslim charity, the Al-Haramain Islamic Foundation, along with other Saudi charities in continuing attempts to prevent donations from being siphoned off to bankroll terrorism.
On Sunday, Saudi commandos and security forces ended a 25-hour shooting rampage and hostage siege at a hotel in the eastern oil city of Khobar in which 22 people were killed, most of them foreigners working in the oil industry.
A Saudi official revealed for the first time that four Americans who were staying at the hotel took refuge on the roof without the knowledge of the gunmen and were rescued a few hours before the siege ended.
The official, who spoke on condition of anonymity, did not say how the Americans were rescued or where they are now, but he said that they were in contact with security forces by telephone and that the main concern was keeping their presence a secret from the militants.
The Khobar attack sparked increases in already high global oil prices, amid fears that the Saudi government, which controls the world's largest proven crude reserves, could not protect its oil installations.
In Lebanon, Saudi Oil Minister Ali Naimi said his country was taking adequate steps to safeguard its most important facilities. Saudi Arabia is already boosting its own production to try to bring down prices, and Naimi said he would urge OPEC to raise its output ceiling by as much as 2.5 million barrels a day, or 11 percent.