A small gray balloon hanging from the speaker's podium bore a simple message, "Free Paul Johnson."
That plea, repeated countless times in the shore communities north of Atlantic City where Paul Johnson Jr. grew up, set the tone for a somber candlelight vigil Thursday. Residents were hoping for the safe return of Johnson, who was kidnapped in Saudi Arabia last week and held hostage.
Then came the grim news that he was .
But on Thursday, when hope was still alive, approximately 100 residents gathered on a damp field outside Eagleswood's volunteer fire department. It was a muggy, uncomfortable evening for so many reasons. But at least the thunderstorms stopped long enough for people to come together.
They held American flags and pinned yellow ribbons to their chests. A community united as a family, in prayer, in song, with hope in their hearts.
'World turned upside down'
Mayor Jim Pine said what everyone was probably feeling, "Our world has been turned upside down."
Most people here didn't really know Paul Johnson personally. He left here long ago and lived in Saudi Arabia for more than a dozen years.
But after horrible images of him in captivity flashed across their TV screens, this community learned he had graduated from the regional high school back in the early '70s.
Some longtime residents and former classmates recalled a polite, clean-cut kid, who liked chess, ran track and had a passion for fast cars.
"You feel bad for Paul, for his family, for the country," said resident Lena Wohlfarth. "All you can do is pray." 
The kidnappers released a video tape on Tuesday night saying they would kill Johnson, an employee of the U.S. defense corporation Lockheed Martin, unless the Saudi government released all the militants in its prisons within three days. The Saudis rejected the demand.
Another attack on small town America
More than a few folks here said Johnson's kidnapping rekindled much of the anger and rage of September 11.
This is small-town America. It's not a military town used to sending soldiers off to war, but that's what it felt like after Johnson was taken hostage.
Yellow ribbons and American flags adorned telephone poles and porches everywhere. The volunteer fire department's Chaplin Dennis Seeley said this place is kind of like Mayberry, where the old Andy Griffith TV sitcom was set.
"If your neighbor needs help, you'll get five people there to help," he said. Seeley quickly organized the candlelight prayer vigil for Johnson's family because like so many other people here, he felt he had to do something.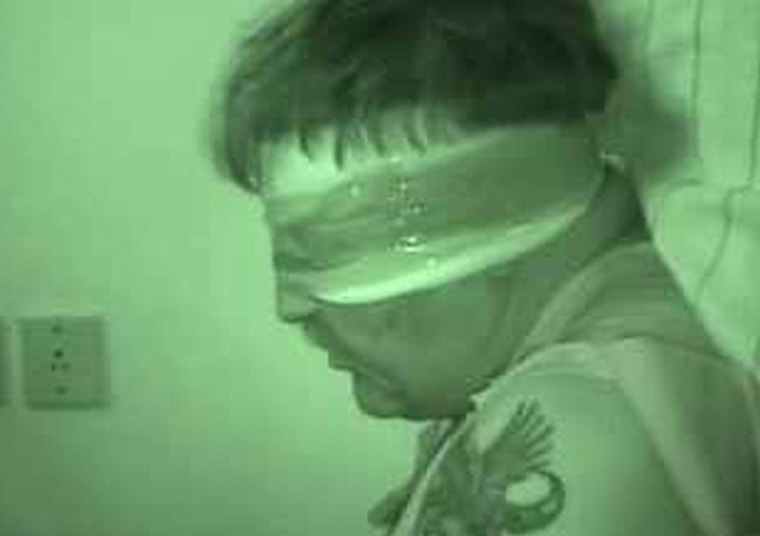 The outpouring of frustration and helplessness echoed the tragedy of another community only about 100 miles away. West Chester, Pa., home of Nicholas Berg, the private contractor kidnapped and beheaded in Iraq.
It wasn't that long ago when that town also rallied behind a family in desperate need of support. Hundreds came together at a memorial service at a local synagogue when international terrorism delivered a deadly blow.
It all makes a lot of people worry some other small American town will be next.
At the vigil for the Johnson family, they sang the "Battle Hymn of the Republic" and "Amazing Grace." Sobs and tears mingled with the melodies.
Then, Paul Johnson's young niece Angel Roark appeared before the crowd. She composed herself and said, "I would just like to say on behalf of my family that your love, prayers and support are appreciated."
The crowd joined in the Lord's Prayer. Johnson's loved ones were whisked back to the undisclosed location where they had endured a very private and painful vigil.
Eagleswood's residents left the volunteer firehouse and returned to their lives, hoping and praying good news would finally arrive, but it didn't.