With a triumphant thumbs-up and a broad grin, the pilot of the SpaceShipOne rocket plane celebrated becoming the first private-sector astronaut to steer his ship into space — by less than a tenth of a mile.
"I feel great, I really do!" pilot Mike Melvill exclaimed after emerging from his craft on the runway of the Mojave Airport here.
Melvill's exultant comments capped SpaceShipOne's wildest ride since its rollout a year ago. During the flight, he had to cope with a serious glitch with the flight control system that knocked the plane 22 miles off course in a matter of seconds. Melvill switched to a backup system that he said "saved the day."
But the problem meant the 63-year-old South Africa native had to cut his spaceward rise short — and the plane's designer, Burt Rutan of Mojave-based Scaled Composites, said the unofficial data indicated that the craft reached a top altitude of 328,491 feet (100.12 kilometers). That's just 408 feet (124 meters) above the internationally recognized boundary of outer space.
On the way down, Melvill experienced 5 G's of acceleration — more than shuttle astronauts feel during their descent.
"I was not afraid all the way up, but I was a little afraid on the way down," he told journalists at a postflight news conference.
New page in history books
Despite the white-knuckle moments, Melvill, Rutan and the rest of the Scaled Composites team wrote a new page in the aviation history books — marking an era in private suborbital spaceflight that some hope will open the final frontier to regular tourists.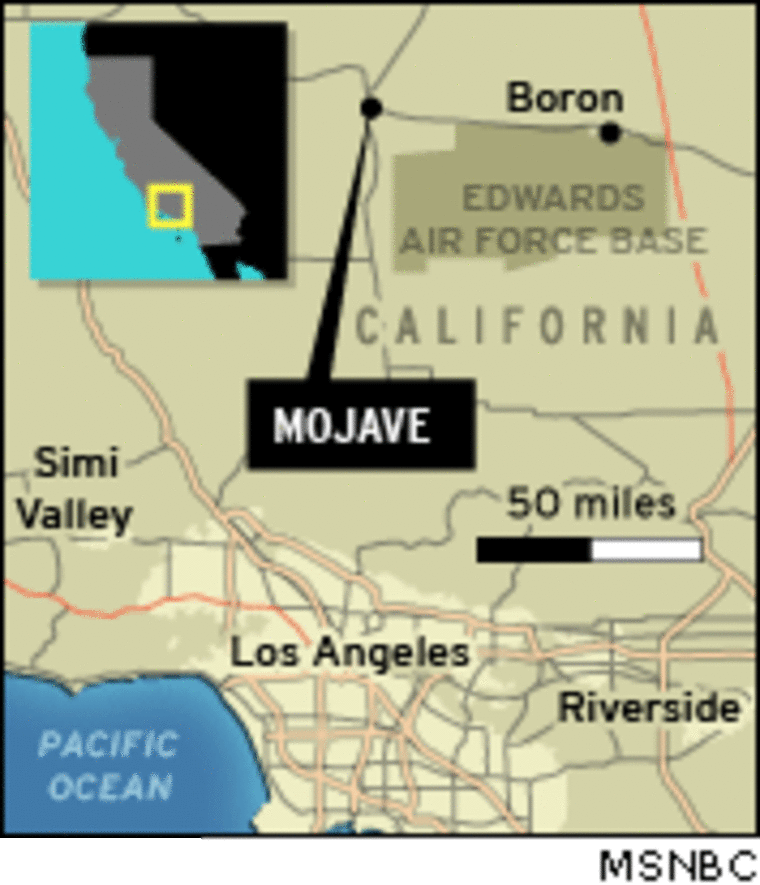 "It may take many decades," said California millionaire Dennis Tito, who became the first paying space passenger in 2001 when he took an orbital flight on a Russian spacecraft to the international space station. "It may take 50 to 100 years. But it's going to lead to a new industry."
Melvill's flight has turned him into the new star on the space scene, and he was being courted by late-night and morning news TV shows. He showed off a lucky horseshoe that he had pinned to his flight suit, a gift he made for his wife while he was courting her, more than four decades ago.
"I've worn it on my shoulder every flight, and so far it's kept the luck for me," he said.
A representative of the Guinness Book of World Records, David Hawksett, officially recognized Monday's effort as the "first-ever privately funded manned spaceflight." And Patti Grace Smith, the Federal Aviation Administration's associate administrator for commercial space transportation, awarded Melvill the first astronaut wings ever granted by the FAA and the Department of Transportation.
After Smith gave Rutan a certificate celebrating the achievement, Rutan gave Smith a peck on the cheek, then quipped: "Now, don't ever say that Burt Rutan doesn't kiss up to the FAA."
Cheers going up and down
An estimated 11,000 spectators whooped as SpaceShipOne's contrail zoomed almost straight up in the desert sky, and cheered again when Melvill and his ship were rolled past the reviewing stands.
After greeting Melvill with a bear hug on the runway, Rutan said he was filled with emotion several times during the roughly 90-minute flight. "I just can't tell you how pleased I am," he said.
Melvill, a veteran test pilot who holds several world aviation records, got a taste of the suborbital experience felt in the 1960s by early NASA astronauts and X-15 pilots. He almost gushed over the sight of the curving Earth beneath the blackness of space.
"You really do get the feeling that you've touched the face of God," he said.
The flight wasn't all seriousness: "When I got to the top, I released a bag of M&Ms in the cockpit," he told the crowd from the runway. "It was amazing -- the M&Ms were just flying around."
'Fairly wild ride'
But serious concerns arose after an initial review of the flight data. Rutan said SpaceShipOne would not fly again until the source of the flight control problem was identified and fixed.
"The anomaly we had today is the most serious flight system safety problem we have had in the entire program," he told reporters.
In addition, Melvill had to deal with a roll of the rocket plane during its ascent, and was surprised by an unexpected booming sound. Afterward, Melvill and Rutan said the boom was apparently caused by the buckling of a fairing that was added to the rocket plane's engine nozzle for this record-setting flight.
"Sounds like it was a fairly wild ride," said Dick Rutan, Burt's brother, who set a record of his own in 1986 by flying the Voyager aircraft around the world nonstop without refueling.
The project was funded by Microsoft co-founder Paul Allen, a billionaire who says he spent "in excess of $20 million" on SpaceShipOne.
"I had my heart in my throat when I watched this," he said of Monday's flight. "And I hope everybody had a good time."
Carnival atmosphere
The Mojave Airport's sprawling grounds took on the atmosphere of an air show, with some fans arriving two days early and setting up camp in a freshly graded stretch of sandy desert. Cars streamed into the parking lot starting Sunday night and continued nearly up to takeoff time at about 6:45 a.m. PT (9:45 a.m. ET). Space celebrities such as moonwalker Buzz Aldrin milled around a VIP area, while regular folks thronged the souvenir stands and viewing areas.
"This is bigger than Kitty Hawk," said one of the onlookers, Tim Reeves, 60, who had driven to Mojave from Los Angeles the night before. "At Kitty Hawk they didn't have visions of 747s dancing in their heads. Here, everybody knows what this portends for private spaceflight."
Five-year-old Vinnie Gionta had a more personal reason for watching the launch. Vinnie, whose father Matthew is a top engineer at Scaled Composites, said he came to watch "my daddy's rocket ship" take off.
"When it goes up, then it makes a big cloud," he said.
SpaceShipOne had a large supporting cast for the main show: For takeoff, the rocket plane was nestled beneath its alien-looking White Knight carrier airplane, another of Burt Rutan's creations. Several chase planes followed along. About an hour after sailing into the clear desert sky, at an altitude of almost 50,000 feet, the White Knight released its companion craft, and Melvill lit up his rocket engine for the nearly straight-up blast, lasting about 70 seconds.
During descent, SpaceShipOne's wings folded into a high-drag configuration — turning the craft into a self-stabilizing shuttlecock. In the final stage of the 25-minute descent, SpaceShipOne straightened its wings again and glided to a landing.
Eyes on the prize
Monday's test flight represented a step toward winning the $10 million Ansari X Prize, which would be awarded to the first team to send a spaceship carrying a pilot and the weight of two passengers to an altitude of 100 kilometers twice within two weeks.
This flight won't qualify for the prize, because SpaceShipOne carried only Melvill. Rutan said he had hoped to start a 60-day countdown toward an X Prize attempt within a matter of days, but the investigation into the anomaly may affect that hoped-for timetable.
Rutan has been reticent about his post-X Prize plans, saying he always tries to avoid talking about future projects.
"One of our lessons learned from doing this program is that it is a very good idea to not reveal to the media what we're doing until we have to," Rutan said Sunday, "because if I had to do this even occasionally, we'd be a year behind."
But Allen has indicated that the technology developed for SpaceShipOne could be applied in future suborbital space tourism ventures. Over the weekend, Allen said the technology was jointly owned by Mojave Aerospace, a corporation that was set up with Allen. Rutan said he had a share in the corporation by virtue of his intellectual property, but "the majority value is the funding that Paul brought to it."
Allen said that once the X Prize is won, "that opens up a whole host of opportunities to do other things."
Rutan and other experts have suggested that such seats could go for $30,000 to $100,000 initially, and drop to the price of a sports utility vehicle as larger commercial space vehicles are built.
"It's fair to say as you scale up the number of passengers, the price goes down dramatically," Allen said after Monday's flight.