/ Source: The New York Times
Matthew Schrier was helpless. An American photographer held in a rebel-controlled prison in the Syrian city of Aleppo, he and a fellow prisoner had been caught trying to gouge a hole in their cell's wooden door. The captors took his cellmate, he said, beat him, and brought him back with blood-streaked ankles and feet.
Now was Mr. Schrier's turn.
Wearing masks, his jailers led him out, sat him down and forced a car tire over his knees. They slid a wooden rod behind his legs, locking the tire in place. Then they rolled him over. Mr. Schrier was face down on a basement floor, he said, legs immobilized, bare feet facing up.
"Give him 115," one of his captors said in English, as they began whipping his feet with a metal cable.
When the torture ended Mr. Schrier could not walk. His captors, he said, dragged him to his cell. He remembers their parting phrase: "Have you heard of Guantánamo Bay?"
For seven months, Mr. Schrier, 35, was a prisoner in Syria of jihadi fighters opposed to President Bashar al-Assad. Held in bases and prisons run by two Islamist rebel groups, he said, he was robbed, beaten and accused of being an American spy by men who then assumed his identity online.
His captors drained one of his bank accounts. They shopped in his name on eBay. They sent messages from his e-mail account to his mother and his best friend assuring them he was fine, but had extended his trip to do more work.
"I'm doing good man," read an e-mail to the friend on Feb. 2. "I have access to Internet for like 5 minutes or so, and I will not be able to log in my e-mail for at least the next few weeks."
Mr. Schrier escaped on July 29, he said, by squeezing out of a basement window and wandering, in shoes too small and with the long beard he had grown in captivity, through Aleppo until he found other rebels.
These men protected him and drove him the next day to Turkish authorities at the border. American diplomats soon whisked Mr. Schrier away.
Now in the United States, Mr. Schrier has returned with a firsthand account of the descent by elements of the anti-Assad forces into sanctimonious hatred and crime. His experience reflects the sharply deteriorated climate for foreigners and moderate Syrians in areas subject to the whims of armed religious groups whose members roam roads, staff checkpoints and occupy a constellation of guerrilla bases.
Mr. Schrier's detention is one of more than 15 cases of Westerners, mostly journalists, being abducted or disappearing in Syria this year. The victims range from seasoned correspondents to new freelancers, like Mr. Schrier, who was covering his first war.
Some were abducted in 2012, others a few weeks ago. Many are thought to be held by two Al Qaeda-aligned groups. At least one is believed to be a captive of Mr. Assad's intelligence services.
For many cases there are few leads. The victims have vanished — a pattern that makes Mr. Schrier's account exceptional and rare.
His experience also suggests the difficult choices for foreign governments that in principle support the rebels' goal of overthrowing a dictatorship accused of using chemical weapons against civilians, but in practice fear aiding opposition factions that embrace terrorist tactics, intolerant religious rule or the same behaviors — abduction, torture, extralegal detention — that have characterized the Assad family's reign.
Mr. Schrier said his captors were mostly members of the Nusra Front, a group aligned with Al Qaeda and designated a terrorist organization by the United Nations and the United States.
But as he was moved from prison to prison, he said, he and his main cellmate, another American, were also held by a unit of Ahrar al-Sham, an Islamist group that works closely with the Free Syrian Army, a rebel umbrella group recognized by Western and Arab governments.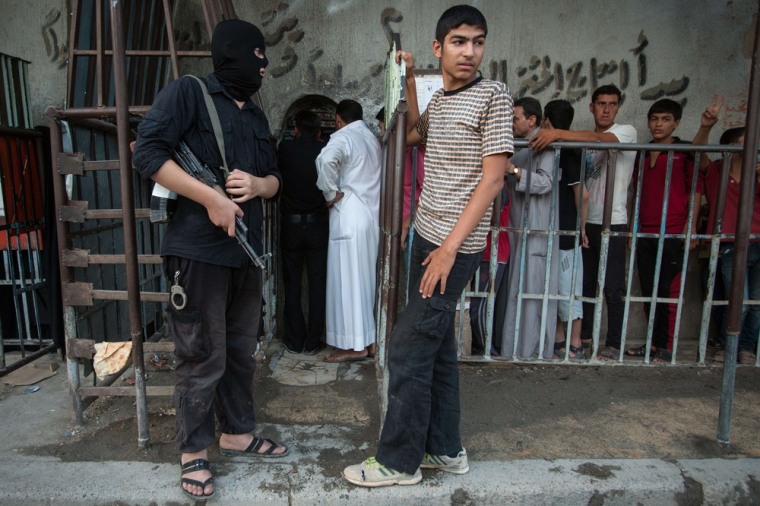 His captors, Mr. Schrier said, held other prisoners, including Syrian soldiers and military officers, members of loyalist militias and a Syrian legislator.
These men, he said, were held in anticipation of a prisoner exchange. Others were locked up in civil disputes the Islamists intended to adjudicate, including a mechanic accused of defrauding a man with a shoddy car repair.
The reasons behind the foreigners' detentions were murkier. Mr. Schrier said his captors accused him and his cellmate of working for the C.I.A., and coerced them into making false confessions, once while wearing orange jumpsuits and being videotaped.
Their captors neither publicly acknowledged holding them nor issued any demands. Their abductions were also not disclosed by their families or the American government.
At his family's request, The New York Times is withholding identifying details of the other American prisoner, who did not escape and whose whereabouts and condition are unknown.
When he set out for Syria last year, Mr. Schrier was new to war photography. Born in Syosset, N.Y., he had attended film school at Hofstra, but found no job in his field and opted to work for nearly a decade in the health care industry, negotiating rates and claims.
The travel and artistry in photography appealed to him, as did the chance at a fresh start. "I wanted to enjoy my work for a change," he said.
His plunge into the story was swift. He traveled in November from New York to Turkey and Jordan, where he photographed convalescing rebels and ventured across the border to an encampment of displaced Syrian families.
After an activist offered to take him to Aleppo, Mr. Schrier returned in December and was brought to a small rebel group fighting in a neighborhood and at the siege of an Air Force intelligence compound.
Mr. Schrier spent 18 days in Syria. His photographs were strong, he said. He was eager to return to Turkey and publish them.
But there was a complication. His expected driver did not arrive. After waiting for more than a day, his hosts arranged a taxi with a driver they said he could trust.
Their ride out began at midday on Dec. 31. As they left Aleppo, rebels halted the taxi at the Sheikh Najjar industrial area, through which journalists frequently passed.
They forbade the taxi from crossing. The driver tried a route through Muslimiyah, and was passing a recently captured military school, Mr. Schrier said, when a silver Jeep Cherokee forced the taxi to stop.
At least three men stepped out. One wore a black scarf over his face.
They escorted Mr. Schrier out. "They were so nonchalant," he said. "They didn't point a gun at me, and moved me very gently."
Mr. Schrier said he expected that they would look at his photographs, confirm his work and release him. They directed him to the back seat of their S.U.V., pulled his knit cap over his eyes, leaned him forward and pressed a rifle muzzle to his head.
His captivity had begun.
(The driver later resurfaced with widely shifting tales of what had happened, according to people familiar with his accounts. Mr. Schrier said the man probably participated in his abduction.)
The kidnappers drove to a compound in Aleppo and moved Mr. Schrier to a basement. They were incongruously polite. When he was offered tea, an elderly man warned him the glass was hot.
Someone handed Mr. Schrier his iPhone and asked him for its security code, so they could read his call log, contacts, text messages and e-mail archives.
One man, whose name Mr. Schrier learned was Mohammad, spoke broken English and gave him a nickname: Juma, the Arabic word for Friday. A man who used the name Abdullah arrived.
"We have information that there are C.I.A. agents in the area," he said.
Mr. Schrier said he risked an argument. "My socks don't match and you think I'm in the C.I.A.?" he said.
His captors put him in a lightless room. Mr. Schrier paced — 22 foot lengths one way, 12 the other.
The next day, Jan. 1, Mr. Schrier heard other prisoners screaming while being beaten. The sounds continued intermittently for hours.
"I was just pacing back and forth waiting for my turn," he said.
When his captors came for him, they told him they had seen his photographs. Mr. Schrier explained his work and gave references among the rebels.
Abdullah said that if his story was accurate they would release him.
Mr. Schrier waited several days. Guards brought him food and water, and escorted him to a spotlessly clean toilet. They sometimes joked, he said, calling him Juma playfully.
On the fifth day, he said, another jailer appeared holding Mr. Schrier's credit cards and demanding his PIN codes.
By now, Mr. Schrier said, he worried that keeping calm might convince his jailers that he had training. He pounded on his cell door and shouted. Abdullah arrived and told him he was in an Islamic court.
He asked what the charges were. Abdullah would not tell him.
Instead, Mr. Schrier said, he suggested "business propositions," including that Mr. Schrier help solicit a $3 million ransom from an American embassy in exchange for a 5 percent cut, or that Mr. Schrier agree to be a courier and transport materials for his captors' group.
Abdullah put him back in his cell. Mr. Schrier said he banged on the door until Abdullah returned, angry.
"In your country you have a saying: You are innocent until proven guilty," Abdullah said. "Here we have the opposite. You are guilty until proven innocent. We do not know who you are."
Later that night the guards moved Mr. Schrier to a cell with many prisoners, including Alawite soldiers and officers he would eventually befriend.
In late January guards brought Mr. Schrier to a different cell. Inside, Mohammad said, was another American.
Mr. Schrier looked in and, he said, could not believe that the man was a Westerner. He was filthy, with a long unkempt beard. Mohammad told Mr. Schrier to move in and shut the door.
"Why do they have you?" Mr. Schrier asked. The man swore in English, and said he was accused of being in the C.I.A.
As the two grew acquainted, the man said young Syrians had invited him to rebel territory in 2012 but had handcuffed him after he crossed the border. He had been jailed, he said, following a secret Islamic trial in which he was not told the charges.
The man was terrified. He said Mohammad, who had not yet struck Mr. Schrier, often beat him.
Mr. Schrier suspected that his transfer meant that he would not be released. "I think they hadn't let me see him because they hadn't decided what to do with me," he said. "But now it didn't matter that I knew about him, because they had decided not to let me go."
Back in New York. Mr. Schrier's mother, Lois, had grown deeply worried over her son's silence. On Jan. 31 she reported him missing to the State Department.
The same day, Mr. Schrier's interrogations resumed. He was brought before three young men in masks who spoke perfect English, and who he suspected were Canadian.
They asked Mr. Schrier if he had ever served in the military and demanded his Social Security number, credit card information, e-mail and Facebook passwords and the PIN for his personal bank account.
They returned two days later with a laptop and said the passwords had not worked. They ordered him to log in.
His captors soon were pretending to be Mr. Schrier online. They e-mailed his best friend and used his eBay account to purchase laptop and tablet computers, camera equipment and Mercedes parts.
On Feb. 2, Mr. Schrier's mother wrote him a five-word e-mail: "Matt, I WILL FIND YOU!"
His lot was growing bleaker. His jailers discovered gouges on the cell door on Feb. 6. They tortured the two Americans as punishment and afterward beat him intermittently, he said. Sometimes they zapped him with a Taser.
His captors replied to his mother on Feb. 10. "Hi mom, sorry for not giving news before," the e-mail read. "I'm working a lot here and having a lot of fun, think I'll stay here for a while."
As the weeks passed the captives were moved between makeshift jails, in and near Aleppo, and sometimes kept with more than 15 other prisoners. Defying the clichés of prison narratives, he said, his relationship with his cellmate soured and the two quarreled.
In March a Moroccan man who had lived in the United States was put in their cell, too. The man became abusive, Mr. Schrier said, taunting the Americans and once beating Mr. Schrier's cellmate, bloodying his eye.
(A brother of this prisoner, reached in New York, confirmed that the man had been deported a few years ago during a period of marital and legal troubles, and had moved back to Morocco before heading to Syria last year. He vanished in December.)
Mr. Schrier converted to Islam in March, he said, which improved his relations with the kidnappers and brought an added benefit: His jailers gave him something to read, an English-language Koran.
In April, he said, the prisoners were moved to a rural villa, also run by Mohammad, where a boy who appeared to be 12 was allowed to beat some of the prisoners and shock them with Tasers.
In May, he said, they were moved again, this time to a base run by Ahrar al-Sham, where an elder took an interest in their plight. He ordered them to give written statements about their torture by the Nusra Front, and said their cases would be re-examined and that they might be released.
Instead they were transferred to cells in two other bases, also run by Mohammad and the Nusra jailers. In mid-July, the jailers removed the Moroccan and later a dentist they had detained, leaving the Americans alone.
This allowed a fresh opportunity to try to escape. Their cell was in a basement; the mesh and welding on one window was damaged and had been only partially repaired.
Mr. Schrier said he stood on his cellmate's back and unraveled wires, opening a hole large enough to fit his head and one arm. But he got stuck and had to return inside and rewire the mesh.
He and his cellmate argued over whether to try again. After a few days, he said, his cellmate agreed. Mr. Schrier opened a larger hole.
After the morning prayer, just before dawn, Mr. Schrier said, he pushed both arms out and followed with his head.
He passed through. He said he reached in, pulled his cellmate up. The man had a slightly heavier build than Mr. Schrier. He led with one arm, then his head, and stopped.
He was stuck. He slid back and tried leading with two hands. He was stuck again.
The street was silent, Mr. Schrier said. A light shone in their jailers' first-floor office, directly above their cell.
His cellmate dropped back into the basement. Mr. Schrier said, "I'll get help."
His cellmate looked up, Mr. Schrier said, and told him, "All right, go."
This story, "," originally appeared in the New York Times.