/ Source: The Associated Press
A papal emissary investigating suspected homosexuality and child pornography among student priests shut down the seminary at the center of the scandal Thursday, acknowledging his probe had bared "very painful" revelations of sexual misconduct.
The move by Bishop Klaus Kueng came three weeks after his appointment by Pope John Paul II to look into allegations that seminarians were hoarding child pornography and had snapped photos showing them fondling each other.
"A new beginning is necessary," Kueng told reporters, in remarks broadcast on state-run ORF television during a news conference. "I am closing the seminary right away."
Kueng later qualified his remarks, saying the closure would be "temporary." But he gave no indication of how long the baroque seminary in the city of St. Poelten, which had trained young men for the priesthood for more than 200 years, would remain shuttered. And he did not elaborate on what his investigation had revealed, beyond saying it appeared "active homosexual relationships took shape."
Vatican pledges 'brisk investigation'
The Vatican inspector had promised a "brisk investigation" and pledged to do whatever it took to restore credibility to Austria's scandalized church.
Since the first discovery of pornographic images late last year, authorities have found about 40,000 photos and numerous videos, including child pornography, on computers at the seminary in the diocese of St. Poelten, about 50 miles west of Vienna.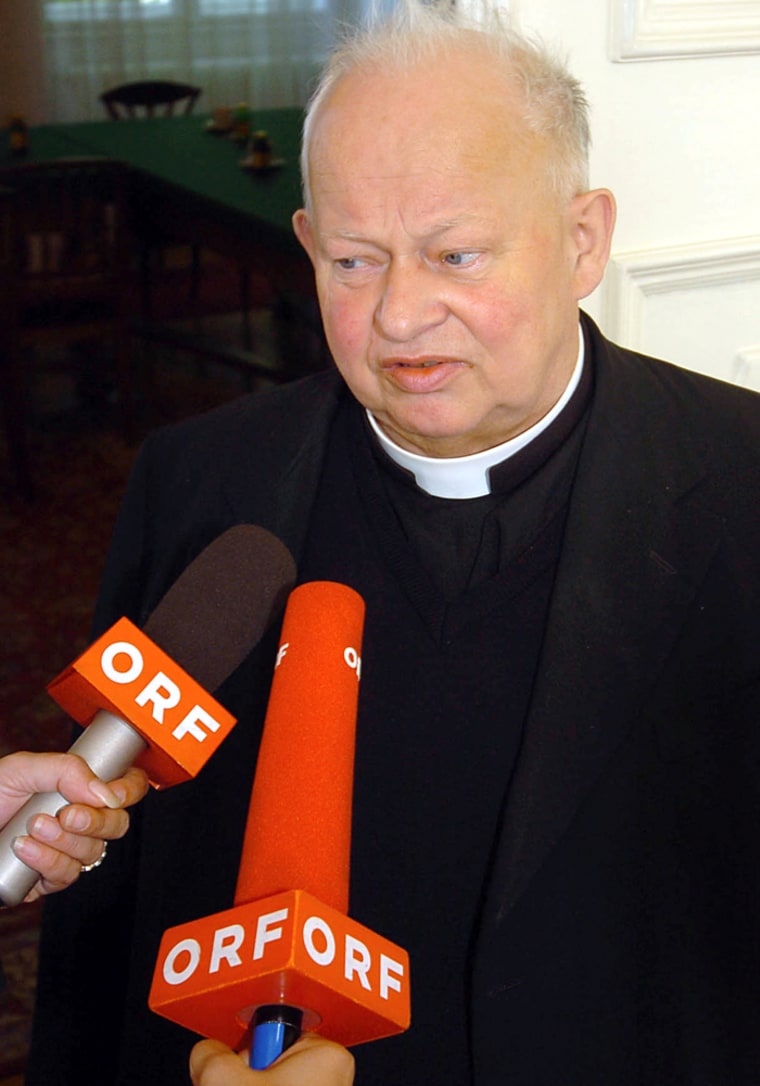 Other photographs of seminary students kissing and fondling each other and their older religious instructors at the seminary also have been found. Some of the photos were published in Austrian media and triggered a public uproar that prompted Pope John Paul II to dispatch Kueng as an "apostolic visitor" to contain the scandal.
Two of the institution's 36 students left the seminary earlier this summer. Those who want to continue studying for the priesthood will have to undergo a fresh screening process, Kueng said.
Prosecutors investigating the child pornography aspect of the case have charged a 27-year-old former seminary student from Poland with possessing and distributing illicit material, a federal offense punishable by up to two years in prison. He goes on trial Friday.
Bishop refuses to step down
Local Bishop Kurt Krenn, whose close ties to the Vatican led to a papal visit to his diocese in 1998, has refused to resign despite mounting pressure. The church ordered him to stop speaking to the media after he described the photos of priests kissing and fondling as "childish pranks," and made other comments downplaying the affair.
Kueng, of Feldkirch, Austria, is a member of Opus Dei, the conservative Catholic organization. His diocese is in the southwestern Austrian province of Voralberg.
He said the decision to close the seminary had been made with the full knowledge of the Vatican and Krenn.
The Vatican appoints an apostolic visitor when it receives allegations of "grave irregularities" at an institution of a diocese.
This happened before in Austria. In 1998, an American Benedictine monk was sent on an inspection tour of a monastery where an Austrian cardinal, Hans Hermann Groer, was accused of sexually molesting young boys.
The American's findings were never made public, but Groer later relinquished all his duties in the church and left Austria.
Krenn was criticized at the time for defending Groer and insisting the cardinal was innocent of the pedophilia charges.