/ Source: Santa Maria Times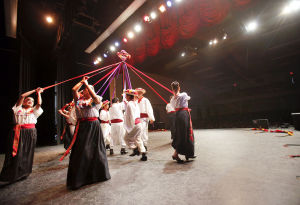 Angel Hoyos, an artistic director at Santa Maria High School, said the "jarabe" in Jarabe Tapatio — a mix of Mexican folk dances — is like a mixed drink.
He explained that Jarabe Tapatio performers blend different parts of dance or "sones" like a person making a mixed drink blends different types of alcohol and ingredients.
"All of the sones are put together in one dance," Hoyos said.
Students from Sanchez Elementary School watched what organizers described as a marriage of cultural expression in the first Ballet Folklorico event that Santa Maria High School students performed specifically for their elementary-school counterparts Thursday.
Yvonne Duran, an outreach consultant at Sanchez, said she would like to work with Santa Maria High to organize the performances annually for Sanchez students who might one day become Santa Maria High students.
"I think that's important for them to start thinking about what they're going to do when they get here," Duran said.
Hoyos said the partnership could be an opportunity to introduce younger students to a potential hobby.
"They're not all going to fit into soccer or baseball," he said.
Adriana Bernal, a performer Thursday, said Ballet Folklorico became a release for her to escape everyday problems and homework and dance. She said her favorite number Thursday is a slower dance from the state of Nuevo León in Mexico.
"You have time to enjoy it," she said. "It reminds me of little kids playing."
Santa Maria High students danced to numbers performed from the northern parts of Tamaulipas, Mexico, to the southern part of Tamaulipas known as the Huasteca Region. The dances represented states in Mexico such as Querétaro, Puebla and Jalisco.
In the final number, the song El Jarabe Tapatio and muffled harmonies of toe taps and heel clicks replaced the silence in a hallway outside of the Ethel Pope Auditorium.
Inside, dancers spun in purple, baby blue and yellow ankle-length skirts. With flicks of wrists, girls tossed the ruffled fabric of their skirts and formed half-circles like feathered fans.
Gabriel Perez, a third-grader at Sanchez, said El Jarabe Tapatio was his favorite of the performances Thursday.
His mother, Lupe Varela, said she used to dance to the song when she was little. It was one of several that her grandparents, from Guanajuato, Mexico, played.
"I grew up around those songs," Varela said.
She explained her family's history as Sanchez students began to file out of the auditorium Thursday.
She said her grandfather, who migrated to America from Mexico for work, helped build railroad tracks that stretched along the borders of California and Texas.
"I'm the first one in my generation to be born here," Varela said.
She added that for her the dances students performed Thursday are traditions she wants to pass on to her son.
"It's just part of our culture," Varela said.