/ Source: Santa Maria Times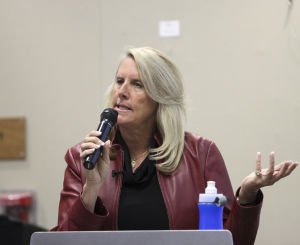 George Allan Hancock drilled 72 successful oil wells in the Los Angeles area. He donated the La Brea Tar Pits to the public and played as a first chair cellist of the Los Angeles Symphony. He owned the Santa Maria Valley Railroad, established a local flight school during World War II that trained 8,000 cadets for the military and owned the first plane to make a nonstop trans-Pacific flight from the mainland United States to Australia.
"To talk all about (him), what he did over time, would take much more time than we have to listen," said Jane Brennan, his great-granddaughter, on Saturday at the Santa Maria Public Library.
Brennan spoke to a crowd of people, many of whom had family history related to Hancock's various endeavors, as part of The Valley Speaks program, hosted monthly by the Santa Maria Valley Historical Society.
She spoke not only of Hancock, who she calls "papa," but also of her other ancestors, whose accomplishments include building the first jail in San Diego, establishing small towns in other states and starting the oldest commercial winery in California.
Brennan said she speaks about her family because of its place in the state's history as well as for her encounters with other people when she does. On Saturday, several members of the audience shared various tidbits about how their parents had worked for Hancock or how they had met the man when they were younger. Brennan said such experiences add to her knowledge of her family's story.
"I just keep adding to the family history and the stories, because if you don't keep those stories alive they go away," she said.
Jon Gudmunds, for instance, spoke up after Brennan had finished to relay that he once rented an office Hancock owned.
He said he comes to The Valley Speaks often.
"I know a lot of the people who are speakers," he said.
Laura Dias, who grew up in Guadalupe, said she and her husband also attend often because of the ties they have to much of the subject matter. Dias' father once worked in a dairy operation for Hancock, she said, and took practices he learned from the man when he later established his own business.
"So many of these people are part of our history," Dias said. "My husband grew up here and I grew up here."
Today, Hancock's legacy remains in Santa Maria and Los Angeles. Allan Hancock College, the site of the former Hancock College of Aeronautics, was named after him and a museum bears his name at the University of Southern California. The Santa Maria airfield also is named Capt. G. Allan Hancock Field.
Just like Hancock owned and built property in Santa Maria during his life, his family is developing a 200-unit apartment complex on Boone Street.
"We're the largest property owner downtown still," Brennan said. "So where the apartments are, where the railroad used to be — all that's still ours."
Brennan said one thing that stood out about her great-grandfather was his philanthropic spirit. Though he inherited the La Brea Tar Pits, he didn't keep it for himself.
"A lot of people inherit lots of money, and they're out traveling around the world, they're doing stuff for themselves," she said. "The special people are the ones that decide to do something for their community, for the environment, for science."