/ Source: Santa Maria Times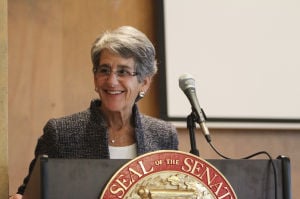 With the deadline for enrolling in California's health insurance program approaching, state Sen. Hannah-Beth Jackson held a town hall Saturday to educate Santa Maria residents about the federal mandate and what new laws mean to them.
The event, which drew a small crowd to the United Domestic Workers Hall on South Miller Street, explained the new laws, answered questions about different people's circumstances and offered enrollment services. Jackson said that California leads the nation in health care enrollment and said she hopes the state can continue being ahead of the curve.
"We will show the nation that not only were we the first to implement this health care program, but we will lead in its successful rollout," said Jackson, D-Santa Barbara.
Santa Maria resident Patricia Flores said the event helped her understand more about the changes to health care policy because she had very little information before Saturday.
"(I've) never seen a presentation, I never heard any information except for what I heard on TV," she said.
The mandate means that any U.S. citizen or lawful permanent resident must have health insurance or they will be penalized when they file taxes in April, Visión y Compromiso Certified Educator Alejandra Gonzalez told the crowd. Exceptions to that rule include Native Americans, people in prison and people who don't make enough money to pay federal taxes.
"The mandate says that we have to get insurance," she said. "(Just like how) we have insurance for our cars in California, we have to have health insurance."
Because they aren't legal U.S. residents, undocumented immigrants won't have to have insurance, she said. If they have children who were born in the country, however, they will need to meet the requirements.
"We know that a lot of people that don't have documents have children that are born here," Gonzalez said. "So those children have to have insurance no matter what … so Covered California is offering a plan that is called Child Only."
Another change is that health care companies are no longer allowed to deny coverage based on pre-existing conditions.
"Before if you had maybe asthma (or) diabetes and you wanted to buy a plan, a lot of companies would tell you no because you had a pre-existing condition," she said. "Now, they can't do that."
While the deadline to enroll in California's public health insurance ends March 31, people with certain circumstances such as losing their employment-based insurance after the deadline will be able to enroll, Gonzalez said. The penalty will kick in when residents file their taxes. For 2014, penalties will be either $95 per adult and $47.50 per child or 1 percent of the person's income — whichever is larger. The penalty will increase during the next two years.
While the state-based plans can look expensive, she said many people will qualify for subsidies based on their income. The state's website, coveredca.com, has a calculator available to tell people how much they will be paying and what kind of coverage they qualify for.
Jackson said the purpose of the law is to reduce the number of uninsured people in California.
"We can't lose sight of the visionary goal of this notion of California reform and that is that health care is a right and not a privilege," she said.