/ Source: The Associated Press
Rival groups of scholars excavating this dusty plateau overlooking the Dead Sea are arguing over who lived here in biblical times — ordinary farmers or the Essenes, a monastic sect seen by some as a link between Judaism and early Christianity.
The Essenes were the authors and collectors of the Dead Sea Scrolls, an assembly of more than 1,000 ancient texts found half a century ago in the caves above Qumran, one of the most significant discoveries in the Holy Land.
But some Israeli archaeologsts now say this doesn't mean the Essenes actually lived at Qumran, and that they have found evidence that the plateau near the caves was a plantation inhabitated by seasonal workers.
The dispute has been simmering for several years, with a majority of scholars backing the Essenes theory.
But it has been given new impetus by recent excavations.
"The old consensus is not valid anymore," said Yizhar Hirschfeld, a professor of classical archaeology at Hebrew University in Jerusalem.
Artifacts tell two stories
Yuval Peleg, who has been excavating at Qumran for 10 seasons with fellow archaeologist Itzhak Magen, said artifacts such as coins and pottery they had discovered indicate the community at Qumran "lacks any uniqueness."
"No one can say if they were the Essenes," he said, adding that he had not completed his analysis of the finds and therefore couldn't say more.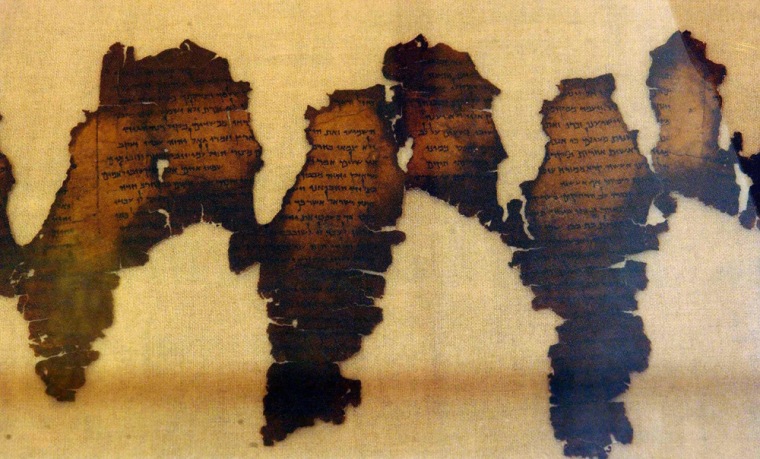 However, Randall Price, an adjunct professor at Trinity Southwest University in New Mexico, said his five-week dig at Qumran yielded "new evidence to support old ideas" — that a special Jewish sect lived at Qumran.
Price said he has found animal bones and a well-preserved clay pot. He said the arrangement of the bones — carefully placed together, sometimes along with pieces of pottery — "make it quite clear that this was a religious ritual."
Price said the inhabitants likely held some sort of communal meal. Price, an evangelical pastor, said the meal may have been a precursor for a ritual that later became the Christian eucharist.
He said the pot, roughly 2 feet (60 centimeters) tall and still intact, is the same type of pottery found in the nearby caves that held the original scrolls. This is further evidence of links between the Qumran inhabitants and the scrolls, he said.
Were scrolls written in Jerusalem?
However, Hirschfeld said findings cited by traditionalists as evidence of a cultlike community, such as ritual baths, were not unusual for the Second Temple period 2,000 years ago.
He said other finds indicate that the scrolls were not written at Qumran and were probably hidden there by people from Jerusalem, 20 miles (35 kilometers) away.
Stephen Pfann, one of the scholars deciphering the scrolls, said that over a period of about 900 years, starting in 750 B.C., Qumran may have changed hands nearly a dozen times, and that this could explain the conflicting evidence.
He said the Essenes apparently lived at Qumran during two periods, starting in about 130 B.C. and ending in A.D. 66. In between, they are believed to have spent 25 years in Jerusalem, at the invitation of Herod, ruler of the Holy Land, and to have written some of the scrolls there, he said.
During the Essenes' absence, date farmers apparently lived at Qumran, Pfann said.
Hershel Shanks, editor of the Biblical Archaeology Review in Washington, said that while whoever lived at Qumran remains a matter of debate, he believed the scrolls were not written at the site.
"I personally find it hard to believe that it was a factory of scroll writing," he said. "The better case can be made that this was an Essene library from Jerusalem."
However, Pfann said several scribal tables and ink wells were found in the ruin of Qumran, indicating that scribes were employed there and that at least some of the scrolls must have been written there.
Price said the animal bones he discovered will be sent for DNA analysis. He hopes the tests will link the animal remains to parchment on which the scrolls were written.
"If you can say the scrolls themselves are from sheep that were eaten here and buried here, there's a great likelihood they belong to the same community," he said.