/ Source: Arthur Frommer's Budget Travel
Everyone loves a road trip, and we're no exception. But it's not the driving that makes for great memories, it's the stops. Here are 59 of our favorites.
Connecticut
Louis' Lunch
As the story goes, in 1900 a man requested that the luncheonette's owner make him something to eat on the go—the result was a broiled beef patty in between two slices of bread. Voilà! America's first hamburger. Louis' still serves them the same way, and don't even think about ketchup—condiments are forbidden. 261-263 Crown St., New Haven, 203/562-5507, louislunch.com, hamburger $4.25.
Delaware

Your hog need a tune-up? Pull into this Harley-Davidson service station, then head into Mike's Warehouse Grill for a bowl of Mike's Famous chili, served with jalapeño corn bread. At I-295 and Rte. 9, south of the Delaware Memorial Bridge, Mike's is also home to the Museum of the American Road. Don't miss the tribute to Dave Barr, a double-leg amputee who rode his Harley around the world. 2160 New Castle Ave., New Castle, 800/326-6874, mikesfamous.com, bowl of chili $4.25.
Maine
Desert of Maine
Geologists say that nearly 11,000 years ago, a glacier deposited sand that was only discovered when poor farming techniques led to topsoil erosion. The result is a 44-acre desert with 12-foot dunes—not exactly the standard New England attraction. Guided safaris and gemstone hunts are available—the staff throws semiprecious gems in the sand daily, so the odds are good. Open May–October. 95 Desert Rd., Freeport, 207/865-6962, desertofmaine.com, $7.75, teens $5.25, kids $4.25.
Maryland
The National Great Blacks in Wax Museum
To save money, founders Elmer and Joanne Martin originally purchased white mannequins and added black heads and hands. Today, over 120 figures are on display, including Dred Scott, Billie Holiday, cowboy Bill Pickett, Osborne Payne, and Harriet Tubman—all now proudly custom-made for the museum. 1601-03 E. North Ave., Baltimore, 410/563-3404, greatblacksinwax.org, $6.80, seniors and college students $6.30, kids $4.80.
Massachusetts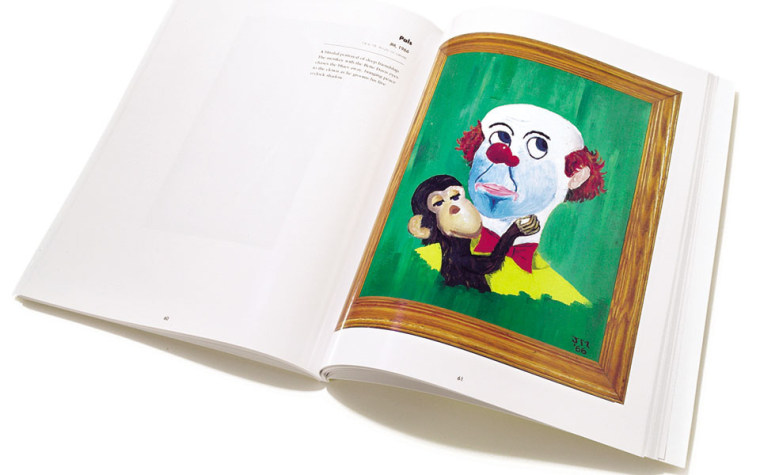 Museum of Bad Art Clashing colors and poor perspective—described in tongue-in-cheek captions—are on display in a museum "dedicated to the collection, preservation, exhibition, and celebration of bad art in all its forms." Much like fine art museums, the curator at MOBA—eight miles south of Boston—selects paintings that are original in style and content, like Sunday on the Pot With George, an Impressionist view of an overweight man on a toilet. As the title of the museum's book says, it's Art Too Bad to Be Ignored. 580 High St., Needham, 781/444-6757, museumofbadart.org, donations accepted. Book: $15.
New Hampshire
Strictly Moose The moose lover in you will want to spend a long time browsing this store. There's a wide selection of moose-related products, such as moose nuggets—balls of moose dung implanted with biennial flower seeds. To see the real thing, the store can tell you how to sign up for a three-hour bus tour organized by the Gorham Parks and Recreation Department. 129 Main St., Gorham, 603/466-9417, strictlymoose.com, tour $15, kids 5–12 $10, kids 4 and under $5. Pet "Moose" Nugget: $2.99.
New Jersey
Lucy the Elephant
Sixty-five feet tall and constructed entirely of wood and tin, Lucy the Elephant is so, well, elephantine that she was once converted into a four-bedroom summer home. Built in 1881, the
pachyderm was intended to draw developers to South Atlantic City and has since withstood demolition, hurricanes, and countless visitors poking around the inside of her stomach. 9200 Atlantic Ave., Margate, 609/823-6473, lucytheelephant.org, $4, kids $2. Colorful elephant erasers: $1 each.

New York
Jell-O Museum
Long before Bill Cosby starred in the company's advertisements, Jell-O was paving the way for modern American merchandising. To build his brand, patent owner Orator Woodward advertised in Ladies' Home Journal in the early 1900s, gave free samples to housewives a few years later, and even had it served to immigrants on Ellis Island. Among other items, the gift shop sells boxer shorts ($16) that read watch it wiggle see it jiggle. 23 E. Main St., LeRoy, 585/768-7433, jellomuseum.com, $3, kids $1.50 (includes box of Jell-O per family). Spoon: $4.50.
Pennsylvania
The Shoe House
This three-bedroom, ankle-high-shoe-shaped house was built in 1948 by Mahlon Haines—a self-made millionaire nicknamed the Shoe Wizard of York County. The Shoe House is open Thursday through Sunday for tours explaining its construction. No old women reside there, in case anyone was wondering. 197 Shoe House Rd., Hellam, 717/840-8339, jarrettsville.org/family/shoehouse.htm, $3, kids $2.
Rhode Island
World's Largest Bug
A 59-foot-long termite named Nibbles Woodaway sits atop the three-story New England Pest Control building in Providence (and is easily visible from I-95). Nearly 1,000 times bigger than an actual termite, Nibbles often gets dressed up for holidays. Fans of Dumb and Dumber may recall the bug's big-time movie debut. 161 O'Connell St.
Vermont
Ben & Jerry's Flavor Graveyard
For every popular flavor—Cherry Garcia, Chunky Monkey—there are those that don't survive, and the folks at Ben & Jerry's have given at least some of them a proper burial. The cemetery in Waterbury features headstones for flavors such as This Is Nuts and Miz Jelena's Sweet Potato Pie. Still awaiting burial: Hunka Burnin' Fudge and Economic Crunch. Rte. 100, 866/258-6877, benjerry.com, free.
Continued: