/ Source: Arthur Frommer's Budget Travel
Simple is the way to go on the French Polynesian islands of Tahiti, Moorea, and Huahine: All you really need is a thatched hut with friendly owners and a beachfront location
Tahiti
On Tahiti, the namesake of the French Polynesian islands, pleasure lies in hiking magnificent green peaks and verdant valleys; browsing markets for beach wraps, exotic fruits, and carvings; and wading far from shore in warm, gently lapping water
All international jets land in Papeete, the hectic capital of French Polynesia's 118 islands. Although many tourists quickly switch planes (destination: isolation), the island of Tahiti is worth more than a layover. To begin with, it's the most populated spot in the island nation, which gives visitors the clearest insights into modern Polynesian life.  The Gauguin Museum and the Museum of Tahiti and Her Islands, both on the west side, shed light on the free-spirited tribalism that seduced generations of artists and voyagers—and scandalized starchy missionaries.
Tahiti's sea-facing hotels all have the same noisy defect: They're on the busy main road, which hustles along the prime coastline and ruins the serenity. Hiti Moana Villa, on the southwest coast 40 minutes from Papeete, feels mostly removed from the hubbub because of its position on a large lagoon. The Brotherson family runs the establishment with exactitude. Son Steve keeps the 10-year-old property looking no older than two; mom Henriette, in her girlish flowered dresses, tends the vibrant courtyard gardens and koi pond. Three garden bungalows, done in polished wood and vibrant colors, are within earshot of the loud morning traffic, but they come with furnished porches suited to sundowners and journal writing. Upgrading to one of the four ocean-facing bungalows near the pool and the boat ramp yields a quieter space with a kitchen and picture-window views of the lagoon—which, many days, is used for training by rowing teams in canoes. For cheap meals, there's a supermarket a mile down the road, and, a quick stroll away, a few roulottes (evening-only food stands serving $9 dinners). Don't leave the islands without trying a bowl of cold poisson cru, a traditional raw-fish dish that's made with fresh coconut milk.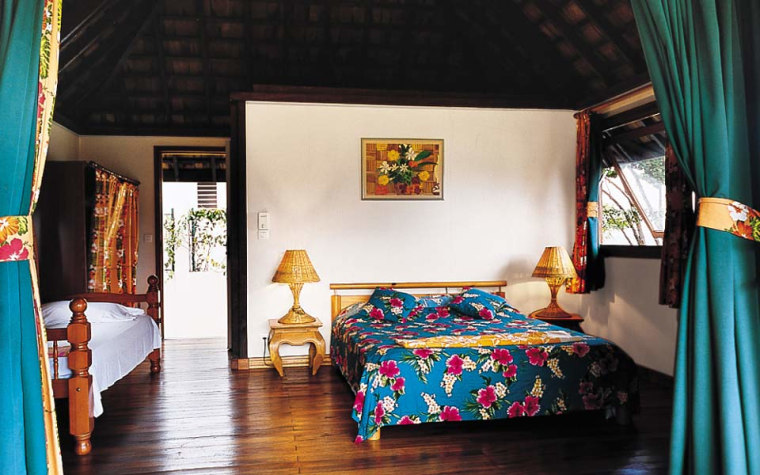 Granted, Papara Village Family Resort's mountainside site requires a short car trip for any activity except jungle hikes. But having to drive five minutes to the beach is a minor penalty when you consider the serenity and the stirring view: miles of surf, wee pink churches in the distance, and a valley speckled with a thousand shades of green. It feels like sacred land, and it is; several stone marae slab altars dating to the 1700s, before missionaries arrived, dot the property (along with a few cows). The resort is owned by Noel Chave, a young Polynesian whose family has lived on the spread for three generations. Noel routinely finds tiki statues in his lawn, which the local archaeology museum subsequently comes in and takes away. Two bungalows and three family-size houses, all made of concrete, have fully equipped kitchens, ceiling fans, TVs, and narrow balconies but aren't remarkable for much more than their good value. Still, guests are free to eat any fruit they can pick from the many trees—lemon, mango, and grapefruit among them. Few properties on Tahiti are as tranquil, and few on any island provide closer access to both bygone and modern Polynesian life.
Punatea Village counters the Tahitian norm in many ways. Its rooms are sheltered from the road; it faces bracing surf rather than a peaceful lagoon; and it's big enough for kids to roam around, with a swimming pool in a garden grove and a private waterfall nearby. A live-in cook prepares full dinners for $25 (try the tuna steaks with vanilla sauce) in a pavilion beneath the towering palms. The four simple beach bungalows—bed, sofa, porch, no kitchen—are spaced for maximum privacy. As is often the case with family-owned properties, there are also a few smaller, cheaper, motel-style rooms sharing a building set back from the sea, but they can't compare with the romance of renting a private hut. The young, attractive Bordes family, who lives on the property with a menagerie of cats and dogs, built everything from scratch three years ago. It's an hour's drive from Papeete, near the village of Pueu, and a 15-minute drive from Teahupoo beach, where the waves are cherished by surf pros.
The tight-budget choice in ritzy Punaauia is Taaroa Lodge, on the main road 20 minutes west of Papeete. The owner, Ralph Sanford, is a middle-aged surfer who wanted a place where both his international surfer friends could hang out and paying guests would feel comfortable. Three years ago, he ordered a few prefab chalet kits from New Zealand and set about creating his casual clubhouse on a grassy plot overlooking a good snorkeling lagoon. The inspiring, jagged profile of Moorea looms on the western horizon like something Bloody Mary enticed the Seabees to visit. Big windows, solar power, a shared open-air kitchen, and a much-used barbecue grill give Taaroa the kind of laid-back vibe usually only found on the outlying islands. Ralph happily loans out kayaks and sailboards to guests, and as an added bonus, water at the lodge is potable (drinking untreated tap water isn't recommended anywhere in French Polynesia). For the most dedicated shoestringers, there's a $24 dorm.
Hiti Moana Villa P.K. 32, Papara, 011-689/57-9393,

Papara Village Family Resort B.P. 12379, 011-689/57-4141, from $100
Punatea Village P.K. 4700, Afaahiti, 011-689/57-7100, punatea.com, room $55, bungalow $90
Taaroa Lodge P.K. 18, Punaauia, 011-689/58-3921, taaroalodge.com, room $50, bungalow $106
Moorea
Removed but not too remote or rustic, Moorea is a heart-shaped island fringed with sandy-bottomed lagoons and languid  resorts where honeymooners swim with stingrays and dissolve into Mai Tais
At first sight, Moorea evokes a storybook illustration of Peter Pan's Neverland. The interior is a jagged jumble of cloud-crowned crags, while the coastline is encircled with placid coral reefs ideal for snorkeling and lazy boating. Just 30 minutes from Tahiti by ferry, Moorea is the easiest of the outlying islands to reach. A car ride around the coast takes about an hour.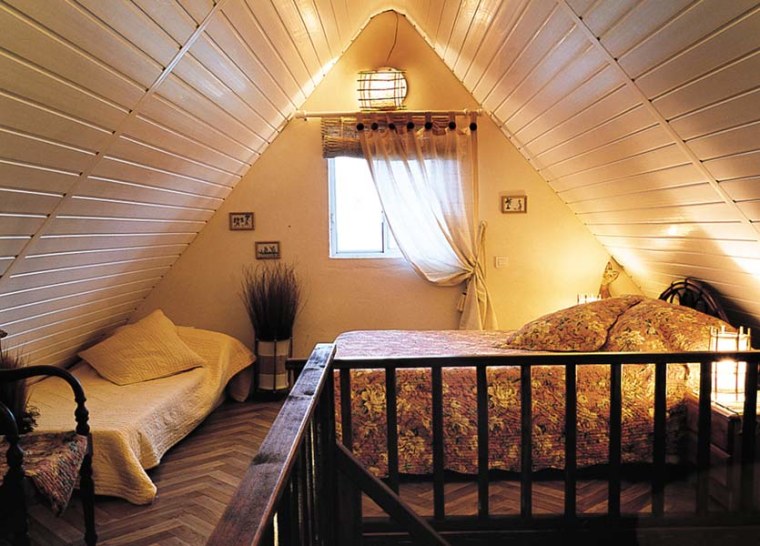 The Kindynis daughters are gone. Learn that now, because when you tell any male Moorean that you're staying at La Baie de Nuarei, the first thing he'll ask is if you've seen the owners' beautiful offspring. To the frustration of single men across the island, the girls are attending college in Europe, leaving French-born papa Tamagna and mama Tamara (a beauty herself) to pour their energies into their inn. They've spared no expense. Liberally embellished with whimsy—full-size mermaid frescoes in bathrooms, metal dolphin sculptures springing from showerheads—the lush enclave of three secluded wooden homes feels more like an artist's retreat than a pension. Each home comes with a kitchen, TV, and a cozy sitting area. Guests can borrow boats and books or indulge in a treatment at the best-equipped spa outside the resorts, operated by the Kindynises as a sideline. The gated property is on a clear, shallow lagoon a few feet from Moorea's most popular public beach, Temae, and a 10-minute drive to the excellent restaurants at Cook's Bay—and it faces the same massive, underwater coral garden fronted by the Sofitel Ia Ora, which charges $230 more a night.
For more than a decade, Patrice Coucuret ran a popular B&B in Provence. In 2002, he tired of unexpected midnight appearances by weary road-trippers and, with his wife and his poodles, decamped to a hillside in southwest Moorea, where guests always arrive announced and excited. At first glance, Fare Arana is très tahitienne: Each guest gets a furnished patio and deck overlooking a lagoon, with the fragrance of flowers wafting about. But Patrice brought the French bonheur and pastis cocktails with him, which he uses to fuel lingering conversations in a poolside cabana. Faraway Provence, precious and countrified, fills the rooms. Each bungalow has a crockery-stocked kitchen with lace curtains and sea views, wood and wicker decor tastefully accented with dried flowers, trim painted in periwinkle and cinnamon, and—most unusual—air-conditioning. It's adorable and inviting. The inn's name should have been the first clue: In parts of French Polynesia, arana means "nest."
On the north coast's Opunohu Bay, Fare Vaihere is a tiny outfit that strives for the dignity and service of a large resort. Cyril and Florence Morize, the French owners who opened the place 18 months ago, can even be spotted chauffeuring guests in their Land Rover on free restaurant runs each evening. Their five smart bungalows, looking barely used, come with porches, electric kettles, little fridges, and towels monogrammed in orange and white, the house motif. The one waterfront bungalow can be windy, but three others are safely inland on the clipped lawn.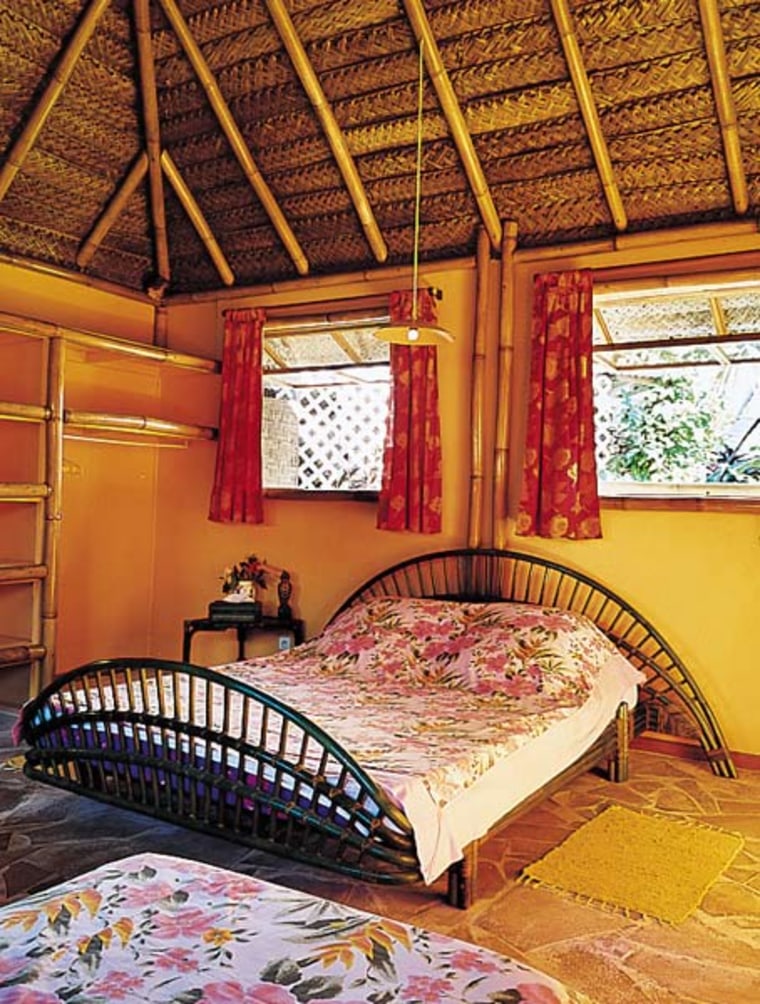 A fifth bungalow, with three bedrooms, has a full kitchen for do-it-yourself petit-déjeuner (the four smaller rentals include continental breakfast). The Morizes' three good-natured kids periodically scamper by with their goofy family dogs. Just off the slender, 130-foot beach are the waters where Captain Cook anchored when he first landed in 1769; today you'll see mega-yachts and boutique cruise ships. Kayaks and snorkels are free, and you can fish off the private wooden pier. Or sneak into the pools at the fancy Sheraton, a short walk up the road. (Everyone does it.)
Village Temanoha is one of the few Polynesian hotels—at any price range—to colonize the bush. Just a five-minute drive from the tourist zone down an unpaved track, Temanoha's six low-slung cabins have kitchenettes, terraces, wooden furniture, and bathrooms walled with rustic stone. They're scattered on a plant-studded lawn with a central swimming pool, trees dripping fruit and flowers, and fern fronds the size of shower curtains. The Castellani family, who owns the property, keeps a few chickens running around to gobble up intruding centipedes (a stinging pest that visitors may hear called "hundred legs").
La Baie de Nuarei B.P. 605, Maharepa, 011-689/56-1563, labaiedenuarei.pf, from $154
Fare Arana P.K. 19.5, Atiha, 011-689/56-4403, from $140
Fare Vaihere P.K. 15.5, Opunohu Bay, 011-689/56-1919, farevaihere.com, double $150, for six $250
Village Temanoha 94 Maharepa, 011-689/55-2500, from $107
Huahine
Relatively few outsiders come to Huahine, an unspoiled paradise of vanilla plantations, thick jungles, wide lagoons, and world-class surf
Actually two islands linked by a short bridge, Huahine has only 5,700 residents and two isolated resorts. Flights from Papeete take about 45 minutes, and once the planes land, Huahine's sleepy airport often shuts down for the afternoon.
The only decent place to stay on the southern end of Huahine, Pension Mauarii proudly grooms a castaway vibe. Door handles are fashioned from branches, buffed tree trunks act as pillars, tubby tikis stand guard in the courtyard. Capped by thatched roofs rigged with flap doors to catch the breezes, the chalets are twice the size of their competitors; some even have interior lofts. All have giant bathrooms done in inlaid coral, cracked tile, and, in a nod to honeymooners, the odd fertility totem standing at attention. The young owner, Vetea, entertains guests over meals like a surfer-boy version of Fantasy Island's Mr. Roarke. He's respected for transforming a once-tired pension into a handsome, full-service resort. Unlike anywhere else in this price range, the Mauarii aims to provide everything a visitor needs—convenient since Fare, the island's only real town, is a half-hour drive away. There's an activities concierge (wakeboarding, scooter rental, and so on) and a gourmet restaurant, which, unusual for this island, serves all three meals. The restaurant's prices are a little more than they have to be, but the food's good. Note: Rooms book up early.
Huahine Vacances, located where the two islands join on Maroe Bay, sells a package deal extraordinaire: For one price, you get a house of your own, plus use of the compact car and the 13-foot speedboat that come with it. Bordeaux-born Michel Sorin arrived here on vacation in the early '80s and never left. He had a vanilla plantation that got obliterated by a nasty—and extremely rare—storm in 1998. So he built three suburban-style ranch homes and opened them as a pension. Two have three bedrooms, one has two, and all come with spacious living/dining areas and giant terraces with views of the water. Each could easily please a family of six, what with niceties like hairdryers, washing machines, cribs, ovens, and grills. Jacqueline, Michel's Polynesian wife, will even babysit for $50 a day. A few doors west, a competing outfit, Villas Bougainville, provides much the same package, only with more space and a position set back in greenery, hidden from the water.
Huahine's consistent waves attract die-hard surfers who stay for months, subsisting on nearly nothing. How do they do it? They stay at places such as Chez Guynette, a.k.a. Club Bed. By day, it's Huahine's unofficial nerve center for backpackers, who swat flies and nurse cold Hinano beers on the patio. By night, it's a long-running, eight-bed crash pad operated by New Jersey–reared Marty Woolston and her teddy bear of a Polynesian husband, Moe. So what if it's dark and needs renovations? Who cares if you don't get more than an efficiency-style room and a shared kitchen? It costs just $18, and it's right at the port in Fare, a few doors up from the only supermarket on the island, so you won't need a car. The best surf breaks are a short paddle away. At these prices, Guynette is what dropout fantasies are made of.
Pension Mauarii B.P. 473, Fare, 011-689/68-8649,

Huahine Vacances P.K. 10, Maroe Bay, 011-689/68-7363, iaorana-huahine.com/en/huahine.html, two-bedroom house, car, and boat from $205 a night for two or three people
Villas Bougainville B.P. 258, Fare, 011-689/60-6030, iaorana-huahine.com/en/bougainville.html, two-bedroom house, car, and boat from $255 a night
Chez Guynette B.P. 87, Fare, 011-689/68-8375, iaorana-huahine.com/en/guynette.html, $18