Two weeks after Hurricane Charley nearly wiped this small fishing village off the map, Manuel Camacho was still trying to salvage a few of his meager possessions.
After unearthing his bed from under a fallen royal palm tree, he carefully arranged his mattress stuffing on a cracked bedframe lying under Cuba's broiling August sun.
He left smaller items baking on the roof of a neighbor's house — two pairs of sopping sandals, a child's black school shoes, and a rusty iron.
Nearby, his wife Marlen crouched over an open fire, frying a simple meal of plantains and fish. They still haven't located their small gas stove.
All worldly possessions gone
Like thousands of other Cuban families, the Camachos lost all their worldly goods on Aug. 13 when Hurricane Charley rattled their low-lying coastal town.
Sandwiched between a river and the sea, Cajío was immersed in over 5 feet of floodwaters for a day and a half after the storm hit.
That flooding swept Manuel Camacho's rustic fishing boat, moored behind his house on the riverbank, into an open field a mile away. He hopes the army will help him tow it home.
While most of the village's 1,225 residents were evacuated to government shelters, the Camachos stayed with relatives living in Havana, some 45 miles inland.
Early warnings allowed the island's Civil Defense to evacuate a quarter of a million people across western Cuba before the storm hit.
The unimaginable awaited the Camachos when they returned home.
"I couldn't believe my eyes when I saw we had lost everything — our three beds, the TV set, the refrigerator, our stove and my fishing nets," Manuel Camacho.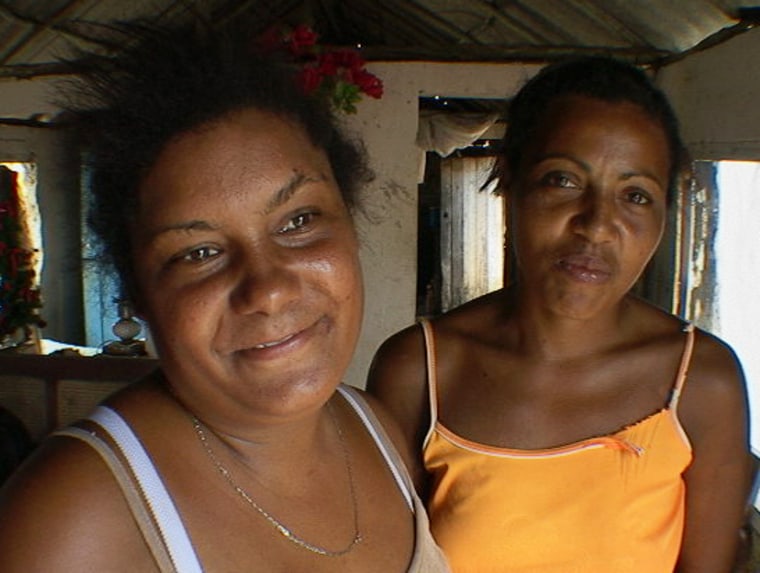 At first, the 53-year-old fisherman just held his wife and cried.
Their tears stopped when neighbor America Blanco, a 26-year-old single mother, opened her home to the Camachos and two other families left homeless by the most devastating storm to hit Cajío in 90 years.

Miraculously, her humble wooden shack withstood Charley's 125-mph winds. "I told them it could be worse. We all could be dead," said Blanco.
Out of Cajío's 325 houses, only 14 survived along with the local grocery and the cement block primary school. The rain combined with lethal winds ripped apart thatch roofs, toppled huge palm and ceiba trees, and downed power and communication lines for miles, including two high-voltage transmission towers feeding the province.
Wreckage across western Cuba
During its two-hour sweep of western Cuba, Charley killed four, left over $1 billion in damage, and wrecked 70,000 homes.

Thousands are still homeless, some remaining in sparse government shelters but most staying with family.
The night of the storm, over 50 rundown buildings collapsed in the colonial section of Havana; afterward, housing inspectors condemned dozens more with falling structures.
Meantime, Caijo still lacks running water, so children old enough to help filled buckets of water from government tanker trucks.
Ironically, a severe drought on the other end of the island forces millions there to count every drop of water they consume. Residents here, who counted themselves lucky to have escaped the drought, now must do the same.
At night Blanco piled 10 people into her three narrow rooms. Between the heat and the mosquitoes, few slept. Camacho didn't care. He was just grateful for the company. "The only thing that keeps me going is the fact we're in this together," he said.
Expecting a long road to recovery
No one would dispute that. More than 170,000 Cubans are still without lights, running water or telephone service. 
Evelio Saura, president of the Havana provincial government, had 11 of the province's 19 districts declared official disaster areas, qualifying for help from Cuba's Council of State.
Saura said it could be late October before all services are restored in isolated places like Cajío. Trying to speed things up are 30,000 soldiers, truckers, linemen and construction workers brought in from across the island and working 16-hour days — or as long as daylight lasts.
The good news for the residents of Cajío is that help seems on its way.
"Government policy is to rebuild people's homes and help people replace their personal belongings free or at subsidized prices," Saura said.
This week he sent in the first truckloads of roofing material along with architects and builders. Fairly dilapidated before the storm, Saura admits the new housing will be much better than what Charley pummeled.
But this all comes at a price. Saura said that Havana's districts not battered by Hurricane Charley will burden some of the cost and that recovery will take time — at least 18 months.
People are beginning to complain about food shortages linked to Hurricane Charley punishing Cuba's southern food belt. The storm destroyed 95 percent of the region's banana crop and thousands of acres of basic crops. Tens of thousands of fruit trees were either uprooted or left bare.
"I usually have at least 15 different products," said Lonnie Valdez, who sells produce at the Boyeros farmer's market. "Look what it's come down to," he commented, pointing at one bin of bruised squash and another of garlic.
U.N. warning
Officially, the Cuban government has not issued an appeal for international aid, although it facilitated U.N. experts' tour of the damage.
Completing a preliminary study, the United Nations warned that power and water shortages could spark outbreaks of disease. As in past natural disasters, the local U.N. office is expected to ask member nations for donations, although it hasn't released an independent monetary assessment of the damage.
Catholic Relief Services out of Baltimore, the official humanitarian arm of the U.S. Catholic community, is collecting blankets, medicines and mattresses for immediate aid and plans to rebuild homes with Caritas Cubana, their local partner.
Meanwhile, Cuban-American organizations are also amassing food and medicines in a south Florida warehouse to send to families in need.
Earlier this week the Cuban government rejected $50,000 in U.S. disaster aid as "totally unacceptable," calling the amount an "insult" to the hundreds of thousands of Cubans hit by the storm.