/ Source: msnbc.com news services
The United States continued Thursday to pound what it said were militant positions in Fallujah and said about 100 militants were killed in the previous day.
The U.S. military said eight Americans were killed in combat Tuesday and Wednesday, pushing the U.S. military death toll in Iraq to 1,003. That number comprises 1,000 U.S. troops and three civilians, two of them working for the Army and one for the Air Force. The tally was compiled by The Associated Press based on Defense Department records and AP reporting from Iraq.
Although the milestone was surpassed during a particularly violent surge in fighting, which has killed 17 U.S. service members in just four days, President Bush declared Wednesday that the United States was making good progress in the war on terrorism. "We mourn every loss of life," he said. "We will honor their memories by completing the mission."
With Bush under sharp criticism from Democrats for invading Iraq without support from major allies, the death toll milestone has focused new attention on the administration's decision to oust Iraqi President Saddam Hussein in March 2003.
In Cincinnati on Wednesday, Sen. John Kerry of Massachusetts, the Democratic presidential nominee, , saying Bush had made a series of "wrong choices" in Iraq that had cost the U.S. public. Kerry voted for the 2002 war resolution and both for and against funding the war.
U.S. warplanes fired missiles on a building used by an al-Qaida-linked militant group in the rebel stronghold of Fallujah early Thursday, the U.S. military said.
The military said intelligence showed that three associates of Jordanian-born militant Abu Musab al-Zarqawi were in the area when jets unleashed a precision strike.

Dr. Ahmad Thair of the Fallujah General Hospital said five people were killed, including two women and a child, and nine others injured in the strike. The U.S. military had no information about casualties.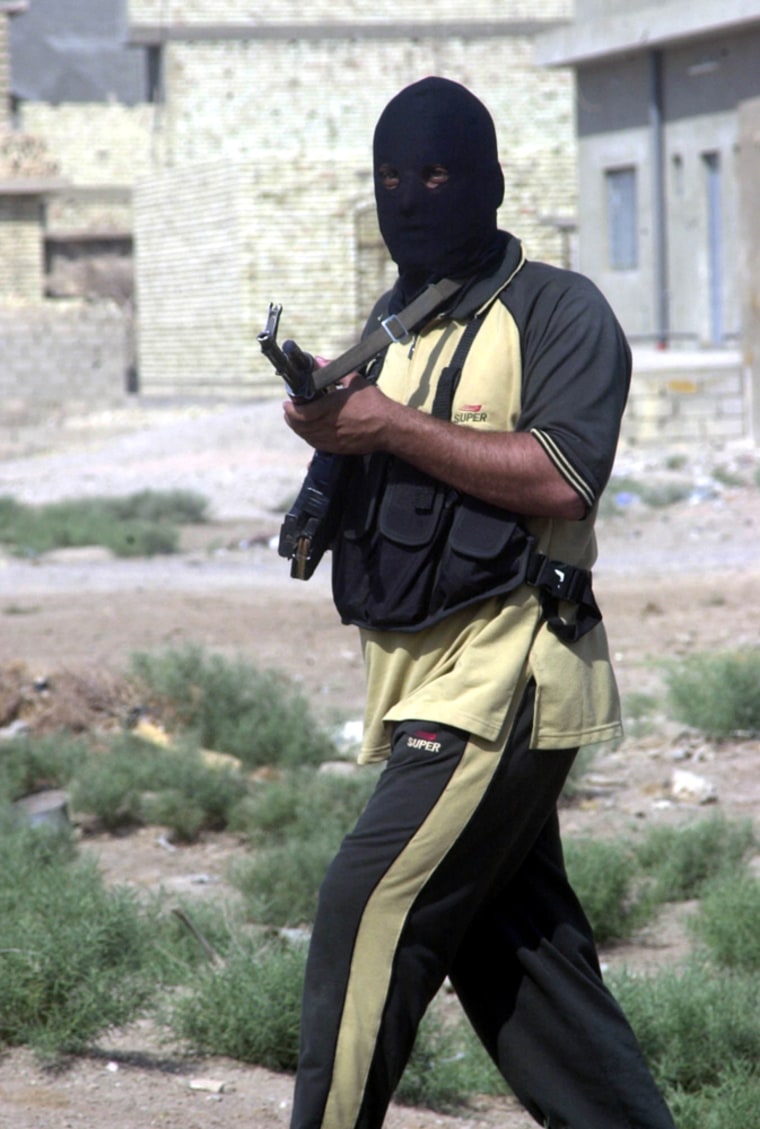 "The cooperation of the Iraqi people that lead to this and other precision strikes continues to break apart the Abu Musab al-Zarqawi network and deny foreign fighter support and safe havens," the military said in a statement. It gave no details of what kind of help Iraqis were providing.
It was the third straight day that U.S. jets have been in action over Fallujah, a hotbed of Sunni Muslim insurgents bent on driving coalition forces from the country.
Also Thursday, U.S. and Iraqi security forces launched attacks flush out insurgents in northern Iraq, killing 12 people, the military and Iraqi officials said.
The operations are intended to restore interim government control in Tal Afar, about 30 miles west of Mosul, the military said.
The military said the attacks were launched after negotiations between Nineveh Gov. Duraid Kashmoula and local leaders failed to bring stability to the region.
At least 12 people were killed, said Col. Adnan Abdel-Rahman, a spokesman for the Iraqi Interior Ministry. U.S. officials did not offer a figure for the number of dead in attacks in the agricultural region near the Syrian border.
U.S. and Iraqi forces clashed with insurgents earlier this month in the northern Iraqi city after launching an operations to destroy an alleged militant cell. Those clashes killed at least nine people and injured 50 others, hospital officials said.
No count of Iraqis
The past week has been especially deadly in Iraq:
A U.S. soldier was killed early Wednesday when a roadside bomb struck a convoy near Balad, 35 miles northeast of Baghdad.
Two soldiers died in clashes Tuesday with militiamen loyal to a rebel Shiite Muslim cleric, Muqtada al-Sadr.
Five other Americans died Tuesday in separate attacks, most of them in the Baghdad area.
Seven Marines were killed Monday in a suicide car bombing north of Fallujah.
Two soldiers were killed in a mortar attack Sunday.
The count of U.S. deaths in Iraq includes the number from hostile and non-hostile causes since the United States launched the Iraq campaign in March 2003 to topple Saddam's regime. All but 138 of the U.S. deaths came after Bush declared an end to major combat operations May 1, 2003, after Saddam fell.
The U.S. military has not reported overall Iraqi deaths. The Iraqi Health Ministry started counting the dead only in April, when heavy fighting broke out in Fallujah and Najaf. However, conservative estimates by private groups place the Iraqi toll at at least 10,000.
"It is difficult to establish the right number of casualties," said Nicole Choueiry, Middle East spokeswoman for Amnesty International, the human rights watchdog group. "It was the job of the occupation power to keep track of the numbers, but the Americans failed to do so."


Iraqi officials under fire
Insurgents continued to target Iraqi officials Wednesday as gunmen kidnapped the deputy governor of Anbar province, the Interior Ministry said.
Gunmen opened fire on Deputy Gov. Bassil Ahmed's car and seized him after the vehicle stopped, said Col. Adnan Abdel Rahman, a spokesman for the ministry. Ahmed's son was injured during the shooting in Anbar, a stronghold of Sunni insurgents.
In Baghdad, gunmen killed Col. Ismail al-Ayal, assistant director of the Interior Ministry's criminal investigation department, after opening fire on his car as he headed to work, Rahman said.
A U.S. military helicopter crashed Wednesday west of Baghdad, but all four personnel aboard survived, the U.S. command said.
A terse statement from the Marine base at Camp Fallujah gave no precise location or time of the crash and did not say what type of helicopter was involved, nor whether it was downed by hostile fire.
However, residents of the area said the crash occurred about 20 miles south of Fallujah, which is controlled by Sunni Muslim militants.
"The helicopter is still burning, and warplanes are flying over the area," one resident, Ahmed Mosleh, told the AP. "A military convoy is heading in the direction of the crash."
Rebuilding to get a boost
Despite ongoing fighting, the United States is aiming to accelerate its Iraq reconstruction spending from the roughly $300 million a month it disbursed in July and August, a senior U.S. official said Wednesday.

Washington has been accused of being slow to spend $18.4 billion in reconstruction funds Congress approved, and U.S. officials say the fierce Iraqi insurgency and kidnappings of foreigners have made it harder to disburse aid funds.

Dozens of international aid agencies considered quitting Iraq after the abductions of two Italian female aid workers who were snatched in broad daylight Tuesday in central Baghdad.

The U.S. ambassador to Iraq, John Negroponte, wants to shift $3.4 billion that had been set aside for water, sewer, power and other large infrastructure projects to improve security, boost oil output and create jobs through smaller-scale rebuilding work.

According to State Department figures, U.S. reconstruction spending had risen from $400 million at the end of June to $1.02 billion in early September, implying spending of about $300 million in July and August each.

Powell urges patience
Secretary of State Colin Powell made the rounds of the morning network news shows Wednesday , defending the U.S.-led war and urging patience as the war-torn nation struggled with a transition to democracy.
Powell said on ABC's "Good Morning America" that people must "remember what the stakes are" in Iraq."
"The stakes are whether or not freedom and democracy triumph or whether or not we fall from the rule of law, whether people can simply kill others, innocent people, in order to impose their will, in order to take us back to the past, take us back to the days of a Saddam Hussein-like regime," he said.
U.N. Secretary-General Kofi Annan said Tuesday in a report to the Security Council that violence in Iraq could threaten elections scheduled for January. Postponing the vote would be a severe blow for the U.S.-backed interim government.