/ Source: The Associated Press
Builder Jim Sargent paused on the staircase of the model home, sweat glistening on his forehead as the temperature outside rose into the 90s.
"Feel that breeze?" Sargent said. The draft's cooling effect didn't happen by accident. Sargent pointed out large casement windows that swing out, catching the prevailing southern winds, and the skylight that can be opened to let warm air escape.
Sargent's house is designed to produce as much energy as it uses. The U.S. Department of Energy estimates that the average family spends $1,400 a year to run its house, with about half going for heating and cooling. The agency provides technical help to builders like Sargent to encourage energy-efficient and "green" home construction, or "zero energy" houses.
The Energy Department estimates that homes and commercial buildings consume about one-third of all energy used in the United States.
"If you don't do something now, these homes are going to use more energy for the next 50 years," said Tim Merrigan, a senior program manager with the National Renewable Energy Laboratory in Golden, Colo. "If you can make them more efficient, we can reduce our energy use and reduce dependence on foreign fuels."
Merrigan estimated that there are about 20 zero-energy homes around the country, mostly in California. None produce all the power they need, but a few come close, he said.
Metal roof reflects sun
Sargent is showing his 3,800-square-foot house, with a $950,000 asking price, during an annual parade of homes sponsored by Dallas builders. The two-story house in this fast-growing Dallas suburb features a collection of designs and gadgets, from new insulating materials to a device that recycles hot air from the gas fireplace through the heating and air conditioning system.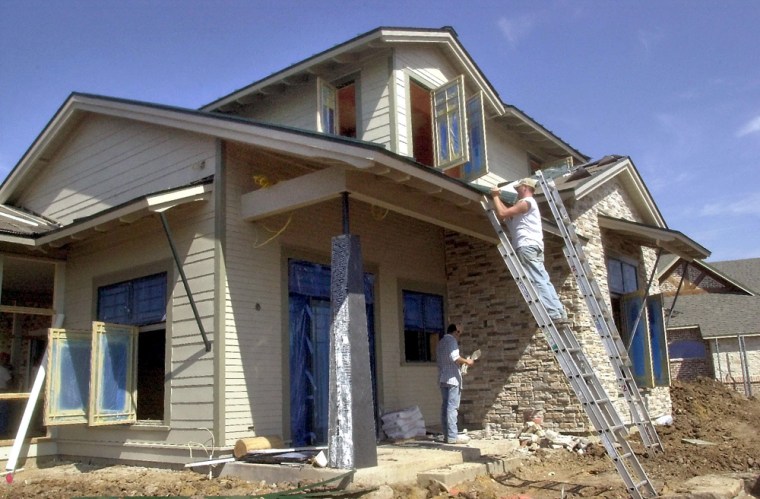 The exterior walls are made of 10-inch thick blocks of recycled softwoods and concrete. The metal roof reflects most of the sun's rays, helping keep the attic cooler.
"Our purpose in building this house is to demonstrate what can be done," said Sargent, a custom home builder from Waxahachie, a community south of Dallas. "It's possible to build a house that is comfortable to live in, is architecturally pleasing, and doesn't have a utility bill."
Sargent said the house also uses new construction materials that are less environmentally harmful to produce than the products they replace.
For example, by using fly ash, a byproduct of coal-fired power plants, instead of some of the cement in concrete piers, slab and walls, the house will reduce the need for highly polluting cement plants, Sargent said.
Insulated panels
Sargent isn't the only builder on the block thinking green.
Across the street, Diane DeSimone, a small-volume custom builder from Argyle, uses energy-efficient structural insulated panels — factory-made sheets of wood and foam — instead of conventional framing for walls. The insulated panels go up faster and result in less wasted wood, she said. A 1999 study by Oak Ridge National Laboratory in Tennessee found that the panels also insulate a home better than many wood-framed walls with fiberglass insulation.
Both Sargent and DeSimone use tankless water heaters that provide instant hot water by igniting gas-fired burners when the faucet is turned on instead of using more energy to constantly heat a tank full of standing water.
Down the street, Bob Priest, a Dallas-based custom builder, is finishing a steel-framed house. Steel framing has been around for years in commercial buildings and some houses, but has suffered from higher prices. Priest said it will gain favor partly because it can be made from recycled steel instead of cutting down trees for wood framing.
Despite the push by the Energy Department and a few developers, energy-efficient homes are "still an experiment" and not likely to become common anytime soon because consumers don't want to pay for them, said Gopal Ahluwalia, an economist at the National Association of Home Builders.
"Energy is very important, but consumers also want a whole lot of features that are not very energy-efficient," he said. "They want bigger windows, high ceilings, two-story entrances, more fireplaces."
Incentives in some areas
Ahluwalia said his group's surveys indicate consumers are willing to make a smaller investment — say, $5,000 to $6,000 — to shave hundreds off their energy bill. For that reason, he said, more consumers look for appliances with the government's Energy Star seal and houses with energy-saving features.
Sargent said it will take more incentives, such as those offered in California and Arizona, where subsidies and government regulations offset some of the higher green construction costs, such as solar panels. He put $75,000 worth of solar panels on his model home.
"From a feel-good standpoint, I can do it," he said, "but can I justify it from an economic standpoint? Not until the rebates get better."
Sargent has more about his model home online at www.zeroenergyhomedallas.com.