/ Source: The Associated Press
Sen. John Kerry accused President Bush on Thursday of failing the Biblical test set by the Good Samaritan, saying, "He's seen people in need, but he's crossed over to the other side of the street."

In a speech that blended political rhetoric with Biblical references, Kerry told the National Baptist Convention in New Orleans that Bush ignores issues facing black America and refuses to meet with their leaders.

"I also know that George Bush has asked the question, 'Does the Democratic Party take African American voters for granted?"' Kerry told the country's largest predominantly black denomination. "Well, here is my answer. The book of Matthew reminds us: Beware of false prophets which come to you in sheep's clothing.

"The president who turns away from African American needs across the school districts and the communities of our country, who scorns economic justice and affirmative action, who traffics in the politics of division and then claims he is a friend of black America cannot conceal his identity no matter what clothes he wears," Kerry said.

Scalia, Thomas draw fire
The Democratic presidential candidate also branded Supreme Court Justices Antonin Scalia and Clarence Thomas as out of the mainstream and said Bush will appoint more like them if re-elected.

"My friends, we have fought too hard and we've come too far to let George W. Bush roll back generations of progress," Kerry said. "John Edwards and I know that the whole future of civil rights and affirmative action may hinge on a single Supreme Court vote."

Kerry took a break from a steady diet of campaigning in battleground states to speak before the convention, part of an effort to energize black voters.

"Four years ago, George Bush came to office calling himself a compassionate conservative," Kerry said. "Well, in the story of the Good Samaritan we are told of two men who pass by or cross to the other side of the street when they come upon a robbed and a beaten man.
"They felt compassion, but there were no deeds. Then the Good Samaritan gave both his heart and his help."

Before speaking, Kerry said he'd spoken earlier with Bill Clinton and that the former president, who is recuperating in a New York City hospital following heart bypass surgery, said to say, "Hello." The audience cheered the mention of Clinton's name.
President cites Clinton administration
Bush on Thursday blamed the Clinton administration for the loss of hundreds of thousands of manufacturing jobs and warned against backing the Democratic ticket in November because of a "hidden Kerry tax plan."
"In the last six months of the prior administration, more than 200,000 manufacturing jobs were lost. We're turning that around," said Bush, who cited the addition of 107,000 manufacturing jobs this year.
According to the Labor Department, the number of payroll jobs has grown by 1.7 million in the past 12 months, but the economy still has lost 913,000 positions since Bush took office in January 2001.
In manufacturing alone, the number of job losses under Bush stands at 2.67 million, though factory employment has risen by 107,000 since January.
Kerry has criticized Bush's economic record, including the job losses, a projected budget deficit of $422 billion for the year, increasing health care costs and poverty rates. Bush responded that Kerry will try to increase taxes.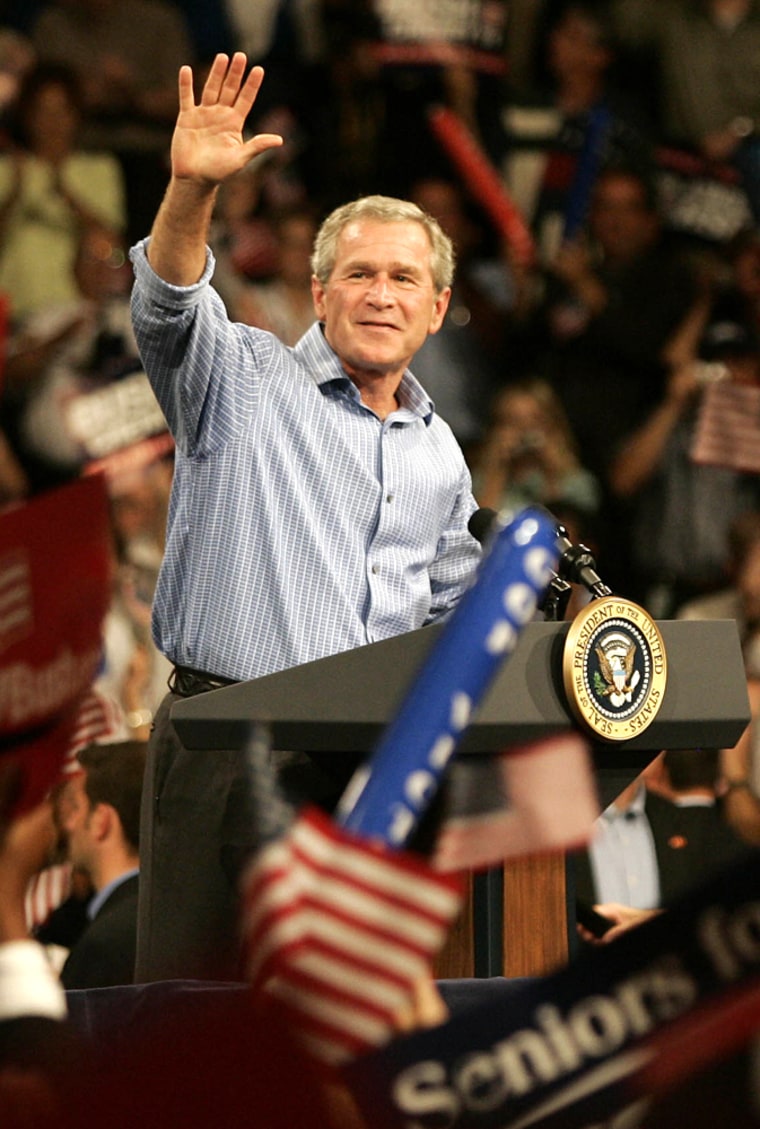 "America will reject the hidden Kerry tax plan," Bush said. "Raising taxes will be bad for our economy. Raising taxes will be bad for the small business sector of America."

The president spoke at a Christmas figurine factory in Colmar, near Philadelphia. Bush appeared at Byers' Choice, a company Robert and Joyce Byers started in their kitchen in the late 1970s, to target suburban swing voters in two counties near Philadelphia that Democrat Al Gore captured in 2000.
Bush reiterated economic themes he laid out in his acceptance speech at the Republican convention, saying that he believes the proper role of the federal government is to help people improve their lives by creating more opportunities for ownership.

Bush's opening remarks in Colmar were disturbed by the shouts of a handful of hecklers, all of whom were forcibly removed from the event, one pulled out by her hair. Two of the demonstrators held signs that appeared to call for more money for AIDS.

Bush smiled as the protests erupted. His supporters roared, "Four more years!"

Earlier, in Des Moines, Kerry accused Bush of playing politics with the war on terrorism in a "shameful and irresponsible" effort to scare voters into re-electing him.

In an interview with The Associated Press, Kerry responded to a statement Vice President Dick Cheney made in Des Moines earlier this week that if voters made the "wrong choice" in November it could lead to another major attack by terrorists.

"George Bush and Dick Cheney are engaging in shameful and irresponsible and outrageous behavior in trying to play the politics of fear and exploit the war on terror," Kerry said in the interview. "I think the American people are fed up and tired about that kind of campaigning."

Shift to health-care issues
Noting that he had won Iowa's precinct caucuses in January after trailing earlier, he said "we can win this election the same way."

The AP interview followed a public round-table discussion in which he sought to turn the campaign focus to health care issues that he said are crucial to the lives of most voters.

At that event, he said Bush has failed to hold down rising health care costs during his four years in office, citing a new report that showed a for the fourth year in a row.

Kerry has proposed rolling back tax cuts only for those earning more than $200,000 a year, or about 2 percent of taxpayers, and has rejected claims by Bush that middle-class taxpayers would see a rise in taxes under Kerry's economic plan.

At the same time, Kerry's campaign was running new TV ads tailored to Philadelphia and Johnstown, Pa., accusing Bush of breaking his promises to strengthen Medicare and curb rising health care costs.

Bush lost Pennsylvania to Gore in 2000 by 4.2 percentage points. A CNN-USA Today-Gallup poll released Wednesday showed a tight race in the state, with 48 percent support for Bush and 47 percent for Kerry.