Cubans called it the "one-two punch." After Hurricane Charley battered the island less than a month ago, decimating 70,000 homes and racking up a billion dollars in damage, Ivan was fast approaching on Friday, packing deadly Category 4 winds and rain.
Cuban Civil Defense authorities have divided up the island in red and yellow zones, the colors signifying different phases of alert and response.
Evacuations began Friday in six eastern provinces, placed on red or full alert.
Some 100,000 people have fled their homes and authorities expect to order the evacuation of up to half a million people before the monster storm makes landfall sometime on Sunday. Thousands of cattle are being evacuated as well.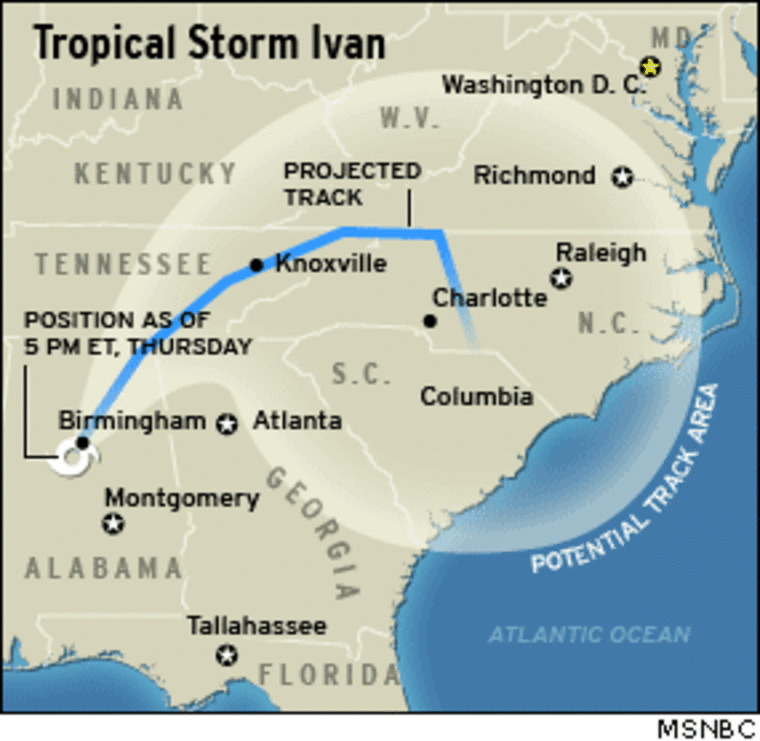 The western provinces of Pinar del Rio and Havana, including the capital city, are on yellow alert where residents of low-lying areas are being told their evacuation order could be issued with just a few hours notice.
Over 300,000 boarding school students were sent home early so that authorities could convert their schools into government-run shelters. Many of these schools are large enough to house as many as 5,000 people.
Radio Reloj, the island's all-news radio station, is broadcasting around-the-clock emergency hurricane updates from Cuba's National Meteorological Institute and orders from the Army's Civil Defense unit.
Castro: 'Remain calm'
Despite the gravity of this storm, Fidel Castro appeared on national television late Thursday, straining to remain optimistic. He urged people to "remain calm and disciplined."
The Cuban president added, "The number one thing is to protect lives. We'll work out the rest. It may take time but we will recover."
As Castro showed maps downloaded off the U.S. government's National Weather Service internet web site, he voiced every Cuban's biggest fear: Ivan would sweep across Havana, the vulnerable Cuban capital.
No money for hurricane proofing
The historic city of 2 million people is not prepared for a hurricane.
Unlike the scenes in Florida, only 90 miles away, there are no big hardware stores stocking emergency supplies, no special steel shutters or planks of disposable plywood.
Instead, some glass windows have a few strips of masking tape that will do little to shield anyone from a shattering wind. Most windows are made of wood.

This is the Caribbean and a country of poor people. Homes here are open — normally to catch the slightest breeze to offset the tropical heat. Roofs are weak, many buildings crumbling.
No one is flocking to the grocery store or gas stations. In general, people don't have the cash reserves to stock up on groceries, nor is there a variety of goods available.
For example, car batteries are the most sought-after consumer product at the moment. But they are only available on the black market at double the normal price.
While a small generator locally costs as much as $900 — a fortune for your average Cuban — innovative people power their homes with $50 car batteries. But they sold out after Hurricane Charley smashed into the island's power grid and shut off the lights. Some southern coastal towns are still without power.
No one doubts that a direct hit on Havana will cause the maximum damage, especially if Ivan stalls over the city.

Dr. José Rubiera, the island's top meteorologist and an expert at predicting hurricanes, described the storm as "relentless."
He fears Ivan will pummel Cuba for as long as 12 hours, leaving tens of thousands homeless.
One location that will likely be spared, however, is the U.S. Naval Base in Guantanamo Bay.
Located on the eastern tip -- and away from Ivan's projected path -- the base currently holds 2,000 American troopers and hundreds of their detainees with alleged links to the al-Qaida terror network.
According to base officials, plans do not include evacuation since the recently constructed camp buildings are all hurricane-proof. Everyone however has been issued emergency provisions that include dried meals and flashlights.