Pull up a chair at a friendly poker game in a buddy's den and you probably know the other players and have some idea of their card-playing weaknesses – like Big Al's habit of fingering his chips when he's itching to raise. But take a seat at a table in one of the rapidly multiplying online card rooms and there's no telling who's sitting to your right – or if the player is even human.
Concern is growing in online chat rooms and news groups devoted to poker that sophisticated card-playing robots – known as "bots" in the nomenclature of the Web – are being used on commercial gambling sites to fleece newcomers, the strategy-impaired and maybe even above-average players.
"It is pretty much a certainty that bots are playing online," said Gautam Rao, a 43-year-old Canadian poker pro who regularly plays three high-stakes Internet games simultaneously. "… What we don't know is how strong they are."
Widespread use of bots capable of beating your average player would pose a significant problem for the red-hot online poker sector, which has grown exponentially in recent years and is expected to top the $1 billion revenue mark this year. Without some way of verifying the identity – and humanity – of players, the business could be significantly undercut.
Many don't see a threat
But skeptics – and there are many – argue the complexities of the game and the changing strategies ensure that creation of a program that can "read" opponents' cards using screen scanning techniques and respond in real time is years away at best. They point to the handful of commercial products that purport to give online players significant advantage, which they roundly deride as woefully inadequate, as proof today's bots are no match for humans.
Rao and his fellow believers have a ready answer: A bot capable of playing against the best humans already exists.
The University of Alberta's Computer Poker Research Group has developed an artificially intelligent automaton known as "Vex Bot,"  capable of playing poker at the master level, though as yet it can only apply its gambling genius to two-player games. Vex Bot has been used by researchers to test the frontiers of artificial intelligence – and as the basis for a commercial poker tutorial program, Poki's Poker Academy -- but some fear it may become a blueprint for programmers with more sinister motives.
Darse Billings, lead designer of the Vex Bot said he believes the odds are better than 50-50 that other programmers have secretly unleashed bots on commercial poker sites, apart from the commercial bots. But he throws his chips in with the skeptics, saying it is unlikely they would be anywhere near as capable as the Vex Bot – so named for its ability to frustrate human opponents – which is the result of more than a decade's research by the University of Alberta team.
"The strategy of the game is difficult and to sit down and write a program that can beat a table of experienced human players is no trivial task," he said.
While bots have been used to play the optimal strategy in other online card games, like blackjack, poker is a different animal. The biggest obstacles lie in the amount of information unavailable to the player and the need for the program to be able to employ a variety of strategies at different times, such as bluffing and laying traps for opponents, explained Billings, a doctoral student and master poker player.
'A program that can think'
"With chess – I don't want to trivialize it – but it's just a matter of calculation," he said. "With poker, you really need to write a program that can think about the game and reason."
The solution, in the case of the Vex Bot, was adding a layer of artificial intelligence over its ability to calculate probabilities.
"It will show you things that no human player has ever shown you before," Billings said of the latest incarnation of the bot, which also has the ability to model its opponent's behavior. "… One of the biggest advantages that programs have is that they have no fear, no shame. Humans can be intimidated. They will back off in the face of a very aggressive player. A bot will not. It has no compunction about doing whatever it will take to win. It will raise you with any two cards if it thinks that it has a very slight advantage based on your history. And it can induce a lot of anger and emotional upset. These things are 'tilt monsters.'"
Rao, who served as one of the testers of Vex Bot, attests to its skills.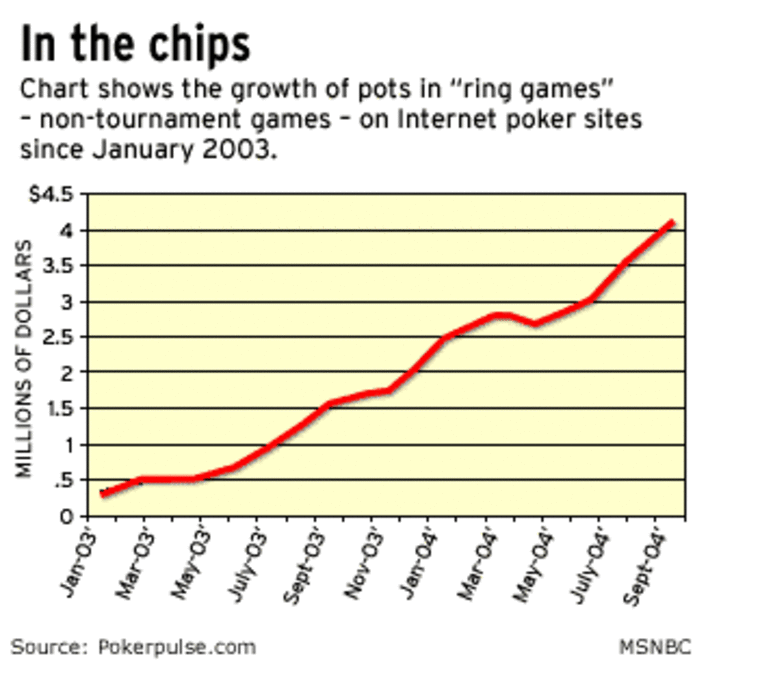 "It was a formidable foe," he said of his initial encounter with the bot, before the addition of its new feature. "I can see that (the improved) bot, given enough hands, will become an absolute world beater."
While the Vex Bot is undeniably at the head of its class, the mere existence of bots is a sensitive subject for operators of poker sites, all of which appear to have policies prohibiting their use.
"I can't imagine that any good can come of this interview," Bob Wolf of TiltWare LLC, a Los Angeles-based software developer that licenses its poker game to a company that operates the Fulltiltpoker.com site, wrote in rejecting to an interview request.
Operators of other poker sites and creators of poker software interviewed by MSNBC.com said they have been able to defeat bots by monitoring the sites for suspicious patterns of play and tweaking software to foil the commercial bots.
A game of cat and bot
"There are a few commercially available programs which people have tried to use," said Vikrant Bhargava, general manager of Partypoker.com, the biggest poker site on the Internet. "We make a change and these guys again try to beat the system. With our last update, I believe we have rendered the commercially available bots useless."
Bhargava, whose site hosts more than 50,000 players at upwards of 5,000 tables during peak hours, also said playing against the existing class of bots is an opportunity rather than a hazard.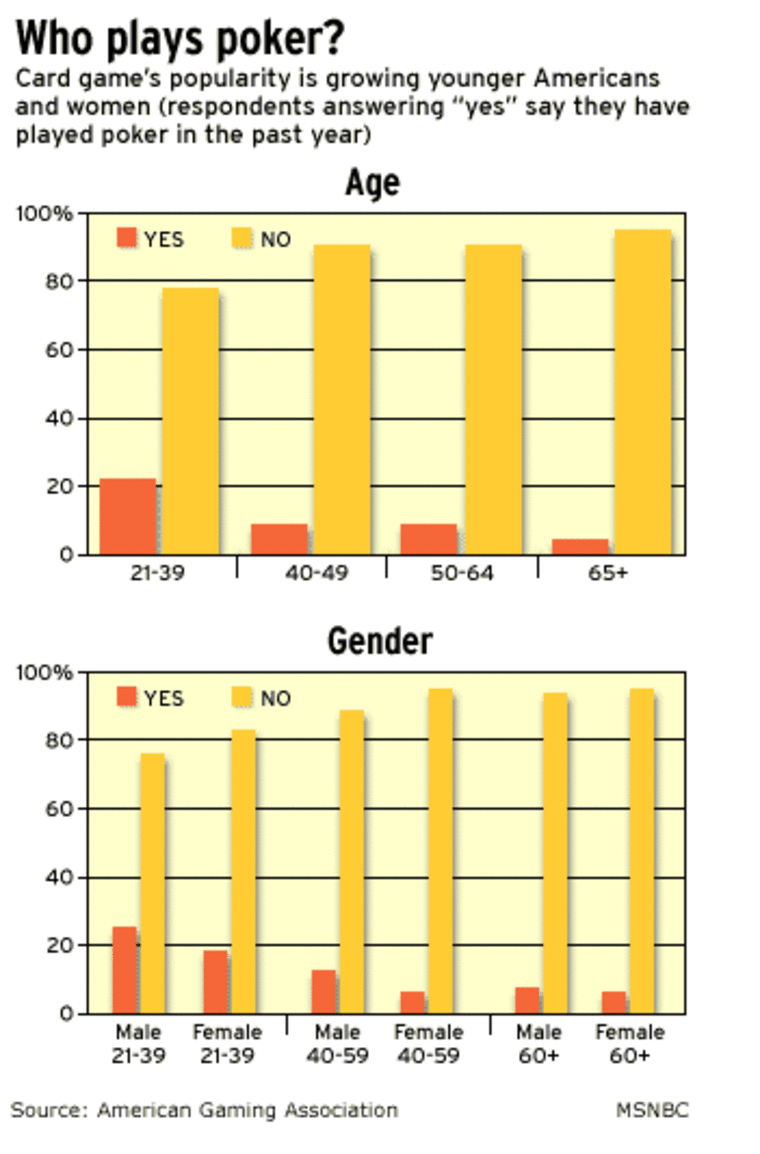 "If I were a player I think I would like to play against a bot. … I would take the bot's money."
Nancy Chan-Palmateer, a spokeswoman for Canadian software maker CryptoLogic, which oversees the online card room used by its eight poker licensees on the Caribbean island of Curacao, said some players have been banned from the member sites for suspicious patterns of play that could indicate use of bots.
"Sometimes you don't know if it's specifically (bots) … but certainly we've blocked players that have shown unusual activity," she said.
But Ray Bornert II, whose company makes WinHoldEm, billed as "a programmable pokerbot," said his company developed a two-computer strategy to foil attempts to block its users.
Selective enforcement charged
Bornert criticized poker sites for singling out his firm's products – which includes a "Team Edition" that allows players to see one another's cards, in violation of rules against collusion -- while failing to ensure that others also are playing by the rules.
"We take issue with the poker sites because they do not do enough to communicate the fact that it is impossible to physically secure their no-bots, no-teams policies in an online environment," he wrote in reply to an e-mail question. "... If the poker sites cannot physically secure their no-bots, no-teams policies then they need to cease their persecution of players who are resorting to such measures in order to adequately defend themselves against opponents that have already seen the light. Players should be free to fight fire with fire without being bullied by the poker rooms."
He also quarreled with those who say the software is ineffective, maintaining that it increased its original bankroll by 35 percent in a five-day test in January in which it was used to play 7,000 hands. He acknowledged, though, that its ability to beat human players depends on the user's skill in setting the formula that it uses to play.
Rao, the professional player, also expressed doubts about the poker sites' professed zero tolerance of bots, though for a different reason. He said site operators make for bad cops when it comes to policing bots since they still collect the house "rake" – the percentage taken from each pot – whether the player is human or software.
"They'll turn a blind eye as long as it's trivial … as long as that bot pays its rake for every pot and as long as it doesn't undermine the confidence (of the other players)," he said.
Proliferation of sites presents opportunity
Moreover, Rao said, the proliferation of poker sites presents an excellent opportunity for anyone with a bot that can eke out a slim profit to fly under the radar of those looking for unusual playing patterns.
"If you've got a bot that can play 25 casinos, two tables apiece, even if you're playing a (mid-level) $10/$20 game … that's $1,000 an hour," he said.
And if such a bot is created, how long will its author be able to keep it secret?
"It's only a matter of time before a talented poker player who also happens to be a good developer decides she or he wants to be remembered as the author of the first bot that changed online poker forever," an author who goes by the screen name "loic" lamented recently in the Twoplustwo.com poker forum.
But Billings, creator of Vex Bot, expects online poker to continue to thrive in spite of efforts to develop the "killer bot." In fact, he added, it may grow even faster.
"I don't foresee a danger of bots killing the game in any sense," he said.  "More likely, there will be a large contribution of cash from people who try to create bots and fail."