Viewers and readers shared some of their stories, fears, and prayers with MSNBC. Below is what some of you wrote, and reports from some NBC/MSNBC correspondents:
To send us pictures or e-mails, .
Shock and devastation
My name is Ashley Jernigan and I am currently a student at Florida State University but I am from Pensacola (the Cantonment area).  I had not heard a word from my family since the hurricane hit, and I was very worried.  So my dad's boss, Doug Smith, flew me to Pensacola in his private plane so I could reunite with my family.  We were very fortunate however, that our house sustained no damage.  Our neighborhood was actually one of the least damaged neighborhoods that I saw. I was in shock upon arriving in Pensacola.  The damage I saw was so severe that I can hardly put it into words.  Trees (thousands) were snapped in half like toothpicks.  The trees that were left standing were leafless; it looks like the middle of winter in P'cola. T he I-10 bride was crumbled in pieces.  Sign's of businesses were torn, ripped, or obliterated beyond recognition.  Every other house I saw had a tree on top of it or through it.  Huge metal poles that hold up billboards were bent in half.  Stop lights were down all over the place, and if they weren't down, they were mangled, hanging by a thread.  The ironic thing about this is that I did not even get to see Pensacola Beach or downtown Pensacola which are supposed to be the worst damaged areas.  I can't imagine devastation any worse than what I saw. –Ashley Jernigan
Dome Home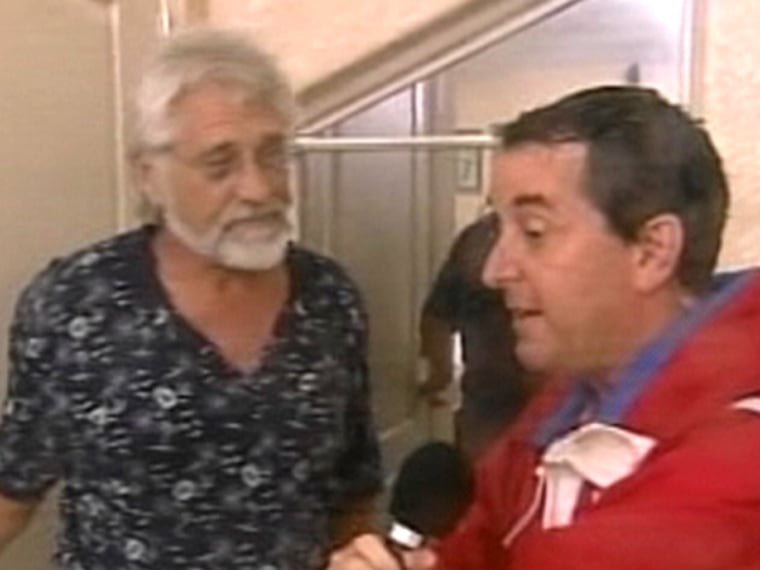 From NBC's Kerry Sanders' reporting:
First light revealed that the "Dome Home" made it through the night and did exactly what it was designed to do -- survive even the worst hurricane. I've been hunkered down with an NBC News team in a "Dome Home" right on Pensacola Beach, directly in the path of Hurricane Ivan.
The shape of the home is what you might suspect from its name. It was designed by Mark Sigler to withstand winds up to 300 miles per hour and a direct hit from a hurricane. Click here to read more.
A wedding postponed?
"We are on Pensacola Beach, Florida right now and are currently being evacuated.  Our wedding is supposed to be this Saturday the 18th on Pensacola Beach but unfortunately thanks to Hurricane Ivan there may not be a wedding.  All of the groom's family were supposed to fly in on Wednesday but have rescheduled to fly in on Friday and we are all keeping our fingers crossed that we may still be able to have the wedding if the hurricane hits far enough away and we do not have major damage to the area.   Everyone has been calling us to find out what our plans are, guests and vendors included, and for now it's still up in the air.  We still have hope, but won't know for sure until Ivan has made landfall.  Of course by then we may have no phone lines to call everyone and tell them its canceled but thats another story...

As far as current conditions the surf is picking up and there were many sightseers on the beach today; including surfers trying to catch the big ones.  Many homes and condos are boarded up on the beach.  We were hit by Hurricane Erin and Opal in 1995 and the beach had major damage.  Opal buried many houses in sand and the beach roads were washed out.  Almost all homes and hotels were damaged and we expect wide damage again if Hurricane Ivan hits anywhere near here.  Wish us luck!" —Angel Amargo & Billy Malsch, Sept 14, 2 p.m.
From Iraq to Ivan
"My son is a NAVY SEABEE.  He is at their main base is in Gulfport, Mississippi! Their base is 5 blocks from the Gulf! Most of the personnel have been evacuated, but a few had to stay on to man the phones. My son, 19 years old, is just back From Iraq where they have been building schools, community centers, and housing for the Fallujah Brigade. He came home in August...Now has to face Ivan! I pray for the troops who are manning the bases down in the gulf. There are quite a few!" —Pat Moore, Franklinville, NJ, Sept. 15, 1 p.m. ET
Frances' aftermath
"There was 12,000 homes destroyed in Fl from the 'little' storm Charley, only a million without power for days or weeks. Frances was more disasterous to us in Central Florida. Our schools were closed a total of 12 days between the two storms, our power was out 2 weeks, we had to ration water so the sewer systems wouldn't back up into the streets. We are at sea level so there are pumps that pump the sludge into the water purifying stations. There was a shortage on diesel fuel to do that. People fought for the last bag of ice or to get a cold bottle of water from a truck handing out precious supplies before the rescue trucks could get here. Charley taught us a lot, we were more prepared for Frances. Truckloads of ice was ordered by the governor as was electric repair trucks from at least 5 other states was on standby waiting for the all clear to enter the state and begin the long 16 hour days to turn on the power for 5 million people.  I was one of the lucky ones whose was out only 6 days. We were so hot, so hungry, and so eaten by mosquitoes. There was no food in the stores, no gas to travel to another town, curfews, and floods.
I don't think telling people in the wake of Ivan that billions was lost, that's too uncomprehensible!  Tell them that they will hear the storm pass over for 36 hours, two days after you think it's over, you still have the outer bands of sudden rains and wind shears of 120mph, actually stronger than the storm when it hit. Tell them to evacuate, please." -Donna Ross, Casselberry, Fl —Sept. 15, 1 p.m.
Freight train
"Shortly before 4:00 PM central time today we were watching the local storm coverage on television.  I heard what sounded like a freight train outside our home.  The power went out and the wind picked up.  A tornado went right over our home in Bay Point (Panama City Beach) and proceeded to damage homes and businesses on Thomas Drive.  Known damage at this time, Hamilton's Restaurant, Capt. Anderson's Restaurant, Waffle House, the bridge over Grand Lagoon, also homes in the same area.  One known death.  Thomas Drive is now completely shut down and we are all secured in our homes and unable to get out to survey the damage. One police officer was injured.

At least 6 more tornados have damaged Bay County since that first one.  Several homes and businesses downtown Panama City and surrounding cities have been damaged.  We are not even in the hurricane strike area and we are being hammered! Hurricane Ivan is a nightmare we will never forget!" —Teresa Jones, Panama City Beach, FL, Sept. 15, 7:30 p.m.