Bel Canto's eVo2i integrated amp sounds like nothing. That's all I have to say. I really have a lot more to say, but I wanted you to know that this beautiful, powerful, digital hi-fi masterpiece really has no sound of its own -– and that's a very good thing.
First, a little background. A few months ago I told you about a wonderful little USB interface made to get high-quality music signals into and out of computers -– both Macs and PCs.  Griffin Technology's $100 PowerWave also has a tiny, little, 10-watt stereo amp inside based on these amazing chips from a company named Tripath.  Some people who own very high-efficiency speakers people began using the great-sounding PowerWave as component in their home stereos.
Then, I wrote about the Sonic Impact's Tripath-based (Class-T digital amp), the TA2024.  The popular little device runs on AA batteries and also puts out about 10 watts per channel.  List price is $39.  If you look hard enough you can find it for something like $25 on the Web.  At that time I wondered what a full-blown, cost-no option Class-T amp would sound like.  Now I know. 
The eVo2i Gen II is a 2-channel integrated amplifier – which means it not only amplifies signals to power loudspeakers (power amp sections) but also controls the volume and balance and which input you'd like to hear (pre-amp).  Bel Canto also makes some highly regarded multi-channel amps based on Class-T circuitry if you're into building a top-of-the-line home theater system.

The eVo2i is 17.5 by 14.5 by 4.5 inches and weighs in at 36 pounds. There are 4 inputs with RCA jacks and one set of balanced inputs.  As for outputs – one set of 5-way binding posts for the speakers, a tape out and a line out to use the eVo2i solely as a preamp.  The amplifier puts out 200 watts per channel into 4 ohms and 120 watts per channel into 8 ohms.  This is anything but a toy!   
It's also a beautiful piece of equipment to look at – as well as listen to.  As you can see from the picture, it's elegant in its simplicity.  The supplied remote control is made from a solid piece of metal and just feels perfect in your hand.  Everything about the eVo2i screams high class. 
But any piece of equipment made to reproduce audio has to be graded on how it sounds.  A perfect piece of gear would have no sound of its own -- it would just reproduce the sound exactly the way it was recorded.  Nothing is perfect but the eVo2i comes close.
The only way to describe how it sounds in my system (with a Sony 555 CD/SACD deck and DeVore Gibbon 8 loudspeakers) is not at all.  The eVo2i barely made itself known.  It sounded clear and clean with no portion of the musical spectrum sounding louder or softer than any other – all the while making the music sound – well, musical.
I know I'll get complaints from some that $2,990 is too much to spend for a stereo component but the price is quite small for a piece of equipment this good.  Heck, if you compare Bel Canto's magnificent separate PRe2 preamp ($3,490) and eVo2 power amp ($3,290) to the integrated eVo2i, you're getting a bargain.  This is highly recommended listen for any Tripath aficionado.
Better LP and digital sound
I have to tell you about two more Bel Canto items that were sent for me to listen to: the PHONO1 phono preamplifier section ($890) and the DAC2 digital-to-analog converter ($1,290).
The eVo2i integrated amp can't play LPs right out of the box.  You need a phono preamp to boost the output from the needle/cartridge combination.  Bel Canto's PHONO1 does just that – and it does it well.  It sounded great with any phono cartridge I threw at it – and that includes everything from a moving magnet (Grado, Shure) to a moving coil (Sumiko Blue Point) and even a Decca London from the early 1970's.  Smooth, clean sound.  Never harsh.  Always musical.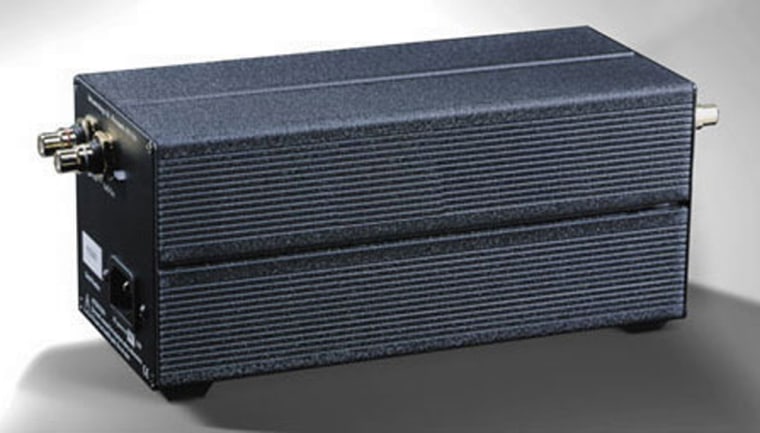 Finally, I have to tell you about Bel Canto's DAC2.  It ruined my stereo for me.  I was very used to listening to CDs through my Sony 555 deck.  Sound was always crisp, clean and real.  At least it was until I plugged in the DAC2.
CD players have digital-to-analog circuitry built-in.  Some circuits are better than others.  But, I thought that my CD player (which had been awarded Class-A status in a leading audio magazine) sounded great   Bel Canto's magic box changed all that.  After an hour listening to familiar CDs through the DAC2 I couldn't go back.
The DAC2 took away any hint of glare from the sound – made the high end of the spectrum (cymbals and above) sound very real, extended the bass to what I never thought was possible in my living room while freeing both male and female voices from any boundaries – real or imagined.  This little box is good.  It even makes Sirius radio streams from my Kenwood satellite tuner sound good.
So, my Sony 555 will soon be for sale.  Now I'm listening to CDs through the Pioneer DV-578A DVD player I told you about in my report on a home theater system under $1,000 - and I'm enjoying every minute of it.  Bel Canto's DAC2 is very highly recommended.  I'm planning to buy this one.