/ Source: The Associated Press
A roadside bomb hit a convoy carrying an Afghan vice president and a Cabinet minister in northern Afghanistan on Monday, injuring one of their bodyguards but not harming the politicians, police said.
The attack follows a failed assassination attempt last week on President Hamid Karzai and warnings that violence could surge ahead of Oct. 9 elections.
Separately on Monday, two American soldiers were killed during a firefight with insurgents in the troubled southeastern province of Paktika, a military statement said.
Two other Americans and six Afghan government troops were wounded in the battle. The names of the dead soldiers were being withheld until relatives could be informed, the statement said. It gave no further details of the incident.
Bodyguard slightly injured
Police said Nayiamatullah Shahrani, one of four Afghan vice presidents, and Urban Development Minister Gul Agha Sherzai were on their way to inspect a road project in a northern province.
The bomb, hidden by the roadside in Khanabad district of Kunduz province, damaged a car in the 20-vehicle convoy that was carrying Shahrani's bodyguards, police chief Mutaleb Beg said.
"It was detonated by remote control," Beg said. "It damaged one of the cars and one of his guards was slightly hurt by the flying glass."
Beg blamed "enemies" for the attack, but didn't elaborate. No one was immediately arrested.
The convoy was able to continue to Takhar province, where the officials were to examine the construction project.
On Thursday, Karzai aborted his first major campaign event when suspected Taliban fired a rocket at the U.S. military helicopter bringing him to a school opening in southeastern Afghanistan.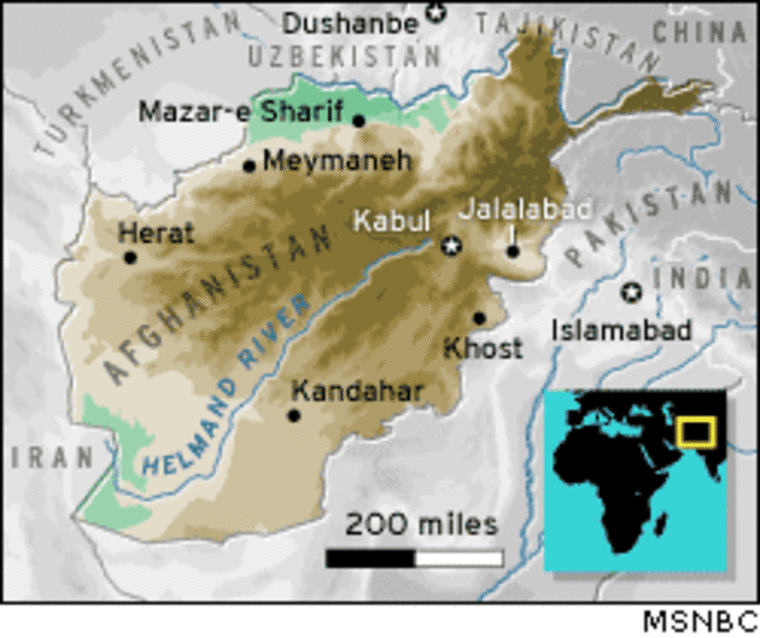 Word of Monday's attack came only hours after a U.S. military spokesman said that leaders of al-Qaida and the Taliban have held a series of meetings in Pakistan to discuss how to disrupt Afghanistan's upcoming elections.
"Relatively high-ranking" members of both groups, as well as rebel Afghan faction Hezb-e Islami Gulbuddin (HIG), have held several meetings on how to derail the Oct. 9 vote, spokesman Maj. Scott Nelson said.
Citing intelligence reports, Nelson said the meetings were marked by growing alarm at intensifying efforts on both sides of the Afghan-Pakistani frontier to root out their activities.
"There have been several meetings between Taliban, al-Qaida and HIG members in Pakistan where they've raised serious concerns" about efforts to track them down as well as how best to attack the election, Nelson said.
Participants 'relatively high-ranking'
Nelson said the participants in the meetings were "relatively high-ranking" but wouldn't elaborate, nor specify where they took place.
He said it was "certainly" possible that Osama bin Laden and other leaders of al-Qaida were in the rugged border region.
Maj. Gen. Eric Olson, the operational commander of the U.S.-led force in Afghanistan, said this month that he had no fix on where bin Laden or his deputy, Ayman al-Zawahri, were at.
But he said he believed that the al-Qaida leaders were still pulling some of the strings in the stubborn Afghan insurgency.
Olson cited a car bombing that killed about 10 people, including three Americans, at the office of a U.S. security firm in the Afghan capital last month.
Election workers also have been targeted, with 10 killed so far in a string of bombings and shootings, but the violence has failed to prevent millions of Afghans from registering to vote.
Strategic divisions reported
Nelson said the militants were divided over how best to thwart the election, which Karzai is widely expected to win.
"They talk, but I don't know how cohesive their strategies are," he said.
He said militants were also debating how to counter muscular operations by both the Pakistani military and Afghan and U.S. forces.
Thousands of Pakistani forces have carried out a string of bloody offensives in the Waziristan tribal region next to the border, bombing a suspected training camp and killing scores of suspected militants.
Nelson praised the Pakistani military for "very aggressive operations in the areas where we think these senior leaders are hiding. They've had quite a bit of success."
He said U.S.-allied forces had intensified their campaign against militants in neighboring Paktika, Paktia and Khost provinces of Afghanistan.
Pakistan's army spokesman was not immediately available for comment.