Oklahoma Democratic Rep. Brad Carson, with TV ads touting his "A" rating from the National Rifle Association and featuring a photo of himself shaking hands with President Bush, is a big reason the Democrats think they can regain control of the Senate on Nov. 2.
In an ordinary year, Oklahoma would be the last state on which Democrats would pin hopes of winning a Republican-held seat.
Two years ago, Republican Sen. James Inhofe won by a landslide, with 57 percent. In 2000, President Bush won 60 percent in the state.
If Carson beats the Republican candidate, obstetrician Dr. Tom Coburn, it will be the first time since 1990 that Oklahoma has elected a Democratic senator.
Coburn's penchant for provocative statements seems to have tipped this race slightly toward Carson.

A poll published Tuesday by the Oklahoma City Oklahoman and KWTV found 44 percent of likely voters backing Carson, 39 percent supporting Coburn, and 13 percent undecided.
In one of his recent attention-getting comments, Coburn said America must "keep our obligations to recognize Native Americans, but it's a totally different thing for us to allow a primitive agreement with the Native Americans to undermine Oklahoma's future."
The former three-term House member has also been forced to contend with a woman's accusation that he performed an involuntary sterilization on her in 1990. Coburn says the woman gave her consent; her lawsuit in the matter was dismissed.
"Liberal activists are tying to destroy Dr. Coburn's reputation by re-trying the case in the media," said his spokesman John Hart.
Fiscal conservatives see this race a test: If a fiscal hawk such as Coburn can't win in Oklahoma, where could one win?
While Arizona Sen. John McCain rails against pork-barrel spending, he's not a man with whom social conservatives feel at ease.
Coburn offers conservatives a perfect mix: a hard-core traditionalist, outspoken in opposing abortion, and a fiscal hawk who fought bitterly with the GOP leadership over pork-barrel outlays when he served in the House.
Boom in federal outlays
The timing seems right for a crusader of Coburn's stripe to join McCain in the Senate: During the past four years, discretionary spending has jumped from 6.3 percent of gross domestic product to 7.6 percent of Gross Domestic Product, or from $615 billion to $826 billion.
Coburn said Tuesday, "During the Korean War, during World War II, Congress cut discretionary spending by 20 percent to fund the war. … If we don't have a sound financial future, the war on terrorism won't matter." 
Coburn called for a freeze on non-military, non-homeland security discretionary spending.
And he added, "Those things that are not legitimate roles for the federal government, de-fund." He did not specify the agencies he'd try to eliminate, but he did promise to use the filibuster to stop excessive spending.
Both Medicare and Social Security will be unable to meet their promises to future retirees, Coburn warned, and he called for redesign of both programs — but without cutting spending.
For Medicare, "you don't have to cut spending; what we have to do is over a period of time reduce the amount of dollars consumed" by using preventive medicine and more efficient doctoring which would result in "markedly lower" per capita outlays.
Deterring diabetes
Coburn said the federal government has a legitimate role to play in disease prevention. For instance, 40 million Americans will develop diabetes in the next 20 years, Coburn said, but "with good prevention, we can eliminate 30 million of those cases of diabetes, the most expensive chronic disease we deal with."
The Coburn-Carson race provides a test of just how much fiscal conservatism the electorate wants here in one of the nation's most conservative states, but also one of its poorest. Oklahoma ranks 44th among the states in median household income.
Carson portrays Coburn as a man who would not bring federal money back to the state. "We've sent people to Washington, D.C., before who didn't do enough for us when they got there, but we have never sent anybody to Washington who made not doing anything for us their platform."
Calling this "a mischaracterization," Coburn said, "there is a legitimate role for a senator to make sure their state gets its legitimate share" of federal money, but he vowed to not be "Bob Byrd for Oklahoma," a reference to the West Virginia senator famed for channeling federal projects to his state.
As he toured towns in western Oklahoma this weekend, driving from Hobart to Cordell to Weatherford to Anadarko, Carson cast himself in the mold of another legendary federal largesse-gathering Democratic senator, Oklahoma's own Sen. Robert Kerr, who served from 1949 to 1963.
"He had a vision that you could dig a ditch from Catoosa (a small town in eastern Oklahoma) all the way to Gulf of Mexico and he got it done," Carson said. "Today on that waterway (the McClellan-Kerr Arkansas River Navigation System) is $5 billion worth of investment, 20,000 jobs."
Carson signals conservatism
In his small town campaign tour, Carson tried to reassure his audiences that he is not a Hillary-Clinton-Tom Daschle Democrat.
Just as Daschle has provoked Republican ire in his re-election bid in South Dakota by using a TV ad featuring a photograph of him embracing Bush, so too Carson's TV ads use a photo of him shaking Bush's hand, as the narrator says, "President Bush praised Brad Carson for supporting his tax cut."
And Carson touted his culturally conservative credentials on the campaign trail:
In Anadarko, Carson made the point of saying, "I'm a Christian, I'm a Baptist." And he repeated the familiar line about owning "more guns than I need, but less than I want."
In Cordell, he told the audience that most Democrats in Washington "think I'm a Republican half the time."
Carson assured a woman in Cordell who asked him about same-sex marriage that he supported a constitutional amendment to outlaw it.
When asked whether he is conservative enough for Oklahoma, Carson told MSNBC.com, "I think I am. My record is much like David Boren who was senator from 1978 to 1994 and he is one of the most beloved figures in our state's political history. My politics accurately reflect the mainstream of the state. I think of myself, if I look at people out there today, like a (Louisiana Democratic Sen.) John Breaux."
Would Carson be an "enabler" for the likes of Clinton and Daschle?
"Is John Breaux an 'enabler' of Tom Daschle? I don't think so," replied Carson. "Far from being an enabler, what I hope to do is restrain the more wild-eyed impulses of some people in my own party, while also being a fair-minded broker."
Hawkish on Iraq
Carson is a hawk on Iraq. When asked what the United States should do in Iraq, he replied, "Win, win, and win. Those are the three things we should do." He added, "We have to make a commitment whether we want to prevail in Iraq or whether we want to pussyfoot around….  We have not been sufficiently aggressive in rooting out the insurgency in the Sunni triangle and we have to do that."
Carson is reluctant to criticize Bush personally or to accuse him of making mistakes in Iraq.
Carson's hawkishness does not seem to bother the anti-Iraq war and anti-Bush group Moveon.org which has urged its members to contribute money to Carson's campaign.
Carson's approach is very much at odds with Moveon.org and with his party's nominee, John Kerry. Queried on whether he supports Kerry, Carson said, "I was a Lieberman man but, yeah, as a Democratic office holder, of course, I support the Democratic nominee."
But he rejects Kerry's argument that he could persuade Germany, France and other nations to contribute troops to pacifying Iraq. "We'd all love to see more foreign troops there. I just don't think that's going to happen." Kerry's argument "doesn't make any sense to me," Carson said.
In Anadarko last weekend, Donnie Cash, a farmer from Fort Cobb, Ark., whose son is a Marine sergeant in Iraq, asked Carson for his Iraq solution. 
Carson said the United State need not try to establish perfectly democratic government in Iraq, simply a stable one. In the Sunni triangle "we have to take back those towns."
Cash said later of Carson's answer, "It wasn't clear enough for me. I wanted him to say, 'We got a plan to get out of there.'"
Coburn said the United States should continue trying to build a stable Iraq. "To walk away from that will put us in jeopardy everywhere."
Key bloc: traditional Democrats
According to Carson, the decisive group on Nov. 2 will be "people who, like a lot of folks in this state, are registered in the Democratic Party, but haven't voted that way in a federal election in a really long time, at least since David Boren stepped down."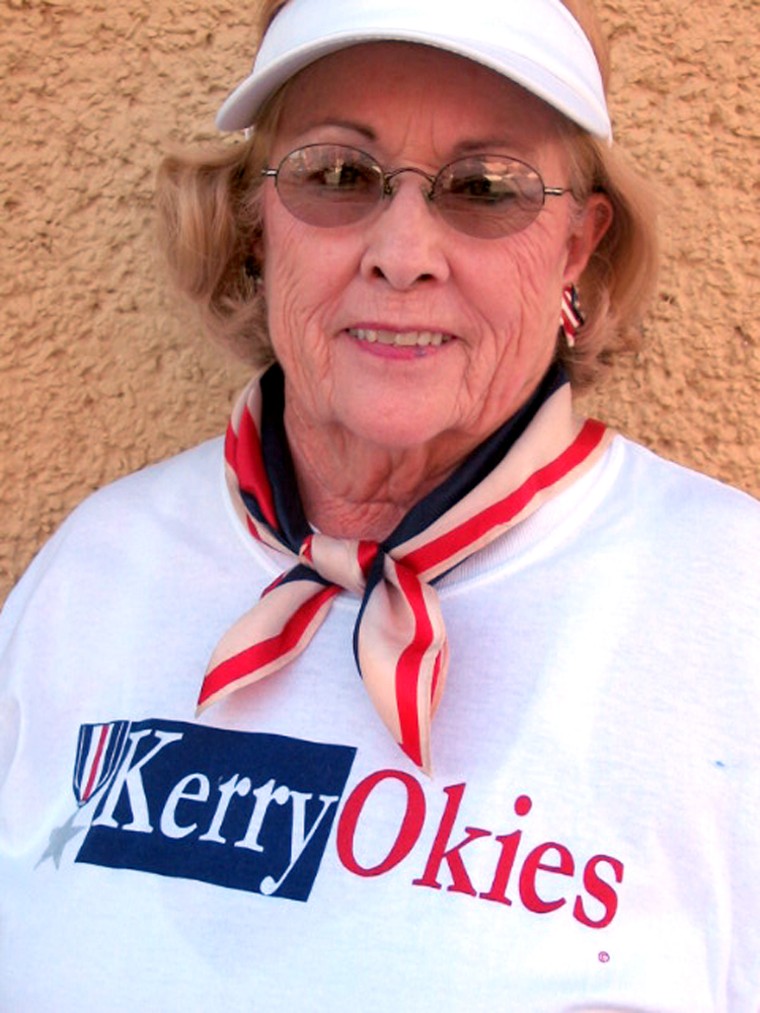 Bobby Osmond, the Democratic County chairwoman in Kiowa County, who sports a John Kerry T-shirt, said she has not heard from many of her neighbors that they'll split their ticket and vote for Bush for president and Carson for Senate.
"I'm afraid they're all just going to go in there and vote straight Republican. That's what worries me," Osmond said.