The image of a British hostage in Iraq pleading for his life in a video released on Wednesday is certainly not helping Prime Minister Tony Blair efforts to escape the shadow of Iraq at his Labour Party's annual conference this week.
The unrelenting bloodshed in Iraq and the haunting image of Ken Bigley, the British engineer being held hostage there, are eclipsing the conference - a gathering Blair hoped would kick start his campaign for a third term in office.
But, it appears Iraq is an issue that just won't go away for Blair, even when he's supposed to be among the party faithful.
Iraq – not a 'fringe issue'
The problems began just days before the conference, when one of Blair's ministers, Peter Hain, called Iraq a "fringe issue."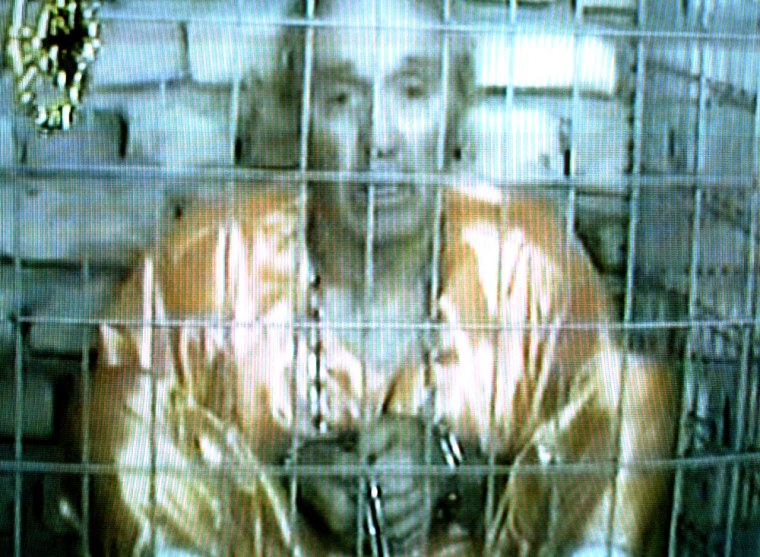 That comment prompted a furious reaction from many, especially the brother of Ken Bigley, the British hostage in Iraq.
A video showing Bigley chained and squatting in a bare wire cell, begging the prime minister to save his life by meeting his captors' demands to release Iraqi women, added to the sense of urgency regarding the crisis in Iraq on Wednesday.
"Tony Blair is a liar. He doesn't care about me. I'm just one person," said Bigley in the video broadcast by Al Jazeera on Wednesday. Bigley's two American colleagues were beheaded on video last week by the al Qaeda-linked group which snatched the three men from their Baghdad home two weeks ago.
Earlier in the week, before the release of the latest video, Paul Bigley, Ken's brother, vented his anger over Blair's inaction regarding his brother plight to a Labor anti-war meeting being held at the same time as the main conference. His words were scathing.
"Mr. Blair is a gentleman, he's a statesman if you like, but I'm afraid his sell-by date has passed," said Paul Bigley, calling on the prime minister to resign.  "He has not got the credibility to negotiate the sale of a bicycle."
Wednesday, Blair's office declined to comment on the tape. "It goes without saying that we are in contact with the family," a spokeswoman said.
Country divided over issue
The war has eroded public faith in Blair's trustworthiness and judgment. His personal ratings have sunk and some Labour delegates believe he has neglected bread and butter issues such as schools and hospitals.
He's been forced into defending the most divisive and unpopular decision of his seven year premiership.
"I know this issue has divided the country," Blair said in his keynote speech to the conference, "and I entirely understand why many disagree."
He acknowledged and accepted that intelligence on Saddam Hussein having weapons of mass destruction was wrong. But he said he would not apologize for removing Saddam Hussein from power.
"The decision, whether agreed with or not, was taken because I believe genuinely Britain's future depended on it," said Blair,  as he called on the people of Britain to unite until the job in Iraq is done.
Every survey of opinion in Britain shows a country as deeply divided as ever about the war. Commentators have described Blair's second term as lost in Iraq.
First must win back the Labour party
With a general election expected in the spring, the prime minister's biggest challenge appears to be regaining the trust of once loyal Labour supporters. Blair – who was idolized by his party when first elected in 1997 - is now loathed by many, largely because of his position on Iraq.
According to the Observer newspaper, private polling for Labour revealed three million of the party's natural supporters feel alienated. Asked by the Observer if he accepts that he has lost a significant slice of the electorate, Blair said, "Well, I accept that obviously a lot of people disagree with me profoundly about it."
Amid the anger during the lead up to the attack on Iraq, many of the Labour Party's members of Parliament voiced strong opposition and several MP's quit. 
Among them, Blair's then foreign minister Robin Cook. Now, Cook is calling on Blair to promise he won't lead the nation into supporting another war based on faulty intelligence and the premise of a pre-emptive strike.
"People who opposed the war are concerned about voting for Tony Blair when they think he might do it again," said Cook. "He needs to say 'I understand mistakes were made, we've learned lessons and it won't happen that way again.'"
But Blair refuses to rule out ever fighting another war alongside President Bush.
"We don't intend to go around starting conflicts all over the world, but you know, the fact is, I do believe that this global terrorism is the central security threat facing our time," Blair told the Observer.
Blair insists things are darkest before the dawn
Asked if the war on terrorism had really delivered a safer world, Blair suggested things were often darkest before dawn, comparing Iraq to the Second World War.  "There was more bloodshed in 1941 than in 1938."
The intensity of the insurgency shows, he said, how much is at stake.
Will the lost Labour voters turn back to Tony Blair by the next election?
Blair told the Observer, "It happens with all governments. There is disillusion and disappointment. That's politics," he replied. "What you've got to do in those circumstances is not buckle under it, but go out and make your case."