Picture your dream vacation in historic London. Does a Victorian B&B with views of Westminster Abbey and Big Ben, a manicured garden, full English breakfasts, and high tea come to mind? Or, how about a windowless Japanese-style capsule hotel? Yes, you read correctly; a high-class version of the Tokyo pods will soon be appearing in the U.K. capital.
Yotels, developed by the U.K. entrepreneur who brought the sushi craze to Britain with Yo! Sushi, will consist of stacks of rooms without any outward-facing windows. Although small by any standard, the 10-square-yard capsules will be several times the size of their Japanese counterparts.
"We can fit them in city centers, inside terminal buildings, car parks, and in the most extreme cases underground," said Yotel director Jim Woods, as he showed off a sample room for the first time at a recent design exposition.
Five-star appeal
What the rooms lack in size, they make up for in style. Each capsule will have a double bed, flat-screen TV with surround-sound stereo system, choice of hundreds of downloadable movies and CD's, desk with Wi-fi access, mood lighting, safe, and ensuite bathroom with monsoon shower.
The "economy" and "business" class rooms will be the same size, but the latter will have additional perks, like a rotating bed.
The display room drew a lot of attention at the design show in Earls Court, West London.
"It's like something you'd expect on an airplane," said restaurateur Dee Sidhe.
"It's quite cool like that; overnight it would be great, but as a place to stay for a week, I think it's really limited," the 27-year-old said.
As it surveys sites at London airports and in the center of the city, the company says it's mainly aiming to please people on business trips or on extended lay-overs.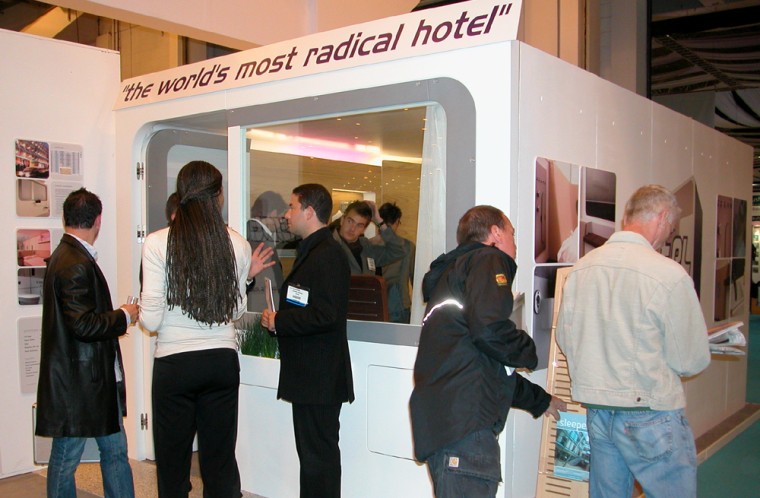 "The most radical feature is the window looking into the corridor where daylight will be channeled in," said Woods, explaining that the halls are designed to be "fun, interactive spaces" with fold-out seats and plants.
And, if that's not sociable enough for you, the company says their flagship Yotel will feature clusters of four adjacent rooms with foldable walls. A group of eight could have a party in one, larger room, then — if they haven't had too much to drink — fold up the walls, rotate the beds, and go to sleep.
Despite the classy perks, some passersby said it was just too small to stay in.
"I see the appeal but it wouldn't be for me. I like to spread out a bit more in a hotel. It's just feels a little bit too enclosed, too compact," said Sue Portsmore, an interior designer.
Checking into your luxury pod "will be sort've like British Airways automated check-in, where there's five or six automated check-ins and one person there, so that if you haven't been to a Yotel before they can show you how it all works," said Yotel CEO Gerard Greene.
"We're offering a low price but we also want to add in some of luxuries other five star hotels do," he said.
'An experience, not a budget hotel'
But what does this pint-size indulgence cost? £70 pounds ($127.00) per room, per night, and tourists will also be able to rent rooms out by blocks of three or four hours.
"If you go to Japan and get a little pod, the prices comparatively are only £15 or £20 (a night). I think that's more realistic," said Selby Stocks.
"I'm not sure why they're marketing it as a first class service where it could be something that's more of an economical idea for people who aren't willing to pay the taxi fare home. But the quality of design is very high," said the 26-year-old training architect. 
Robin Murray, an economist, commented, "They say it's £70 a night in London, which seems very very expensive."
"We're creating an experience, not a budget hotel," said director Woods, adding "we're an emotional decision, not a rational decision."
While £70 may seem extortionate to non-Londoners, visitors should keep in mind that London is the second most expensive city in the world (after Tokyo), according to a survey released by Mercer Human Resource Consulting in July.
For the same price, a tourist could stay at a two or three star hotel in a semi-central, but not always desirable, location. Quality of London B&Bs also varies greatly, from clean and decent to down right dingy. And some are hardly any bigger than the capsule anyway.
At the design show, a Japanese interior designer said she thought the Yotel looked like a cross between a Japanese "love" hotel (for couples) and a capsule hotel.
"It is 'love' hotel standard – it is very high quality, I love it, but it is a bit too small," said Akiko Koga.
"I have an apartment in London, but maybe after a fun night I could stay (in a Yotel) just for the experience," she said.