/ Source: Arthur Frommer's Budget Travel
Dan Rather may not be the darling of the 2004 election, but his famous on-air description of the results in 2000 aptly describe this year's election, too: "It's Spandex tight." The election four years ago ultimately came down to just a few votes, and to avoid a similar tabulation fiasco, average people on both sides of the party fence are campaigning to put their candidate in a sure lead. The final votes in most American states can be reliably predicted at this point, but a few swing states—where neither Bush nor Kerry has a decided lead—hang in the balance.
Enter Swing State Tourism. In 2000, voters in distant states made online deals with strangers to "trade" out-of-state votes for Nader with those of their favorite candidate. This year, with elections so close, such arrangements are frowned upon. Instead, over the next few weeks, thousands of voters are packing their bags and heading across state lines, to where their persuasive techniques are most needed.
Out-of-state campaigning is entering full swing. These eight battleground states are neither Blue nor Red. If you're heading out to campaign for your man, here's what to do while you're there. Just get back home in time to cast your own vote.
After 2000, there's no need to emphasize the strategic importance of the Sunshine State. Fortunately, October and November are the best time to hit the theme parks of Orlando and the city has fully cleaned up from the hurricanes, with all its attractions and hotels open and accepting visitors. With the kids back at school and holiday travel far in the future, hotel occupancy is at a low ebb, which means prices are at their cheapest levels of the year. Motels along International Drive are going for as little as $25 a night (the Knights Inn), although $45 is much more common (Holiday Inn Hotel & Suites Main Gate East).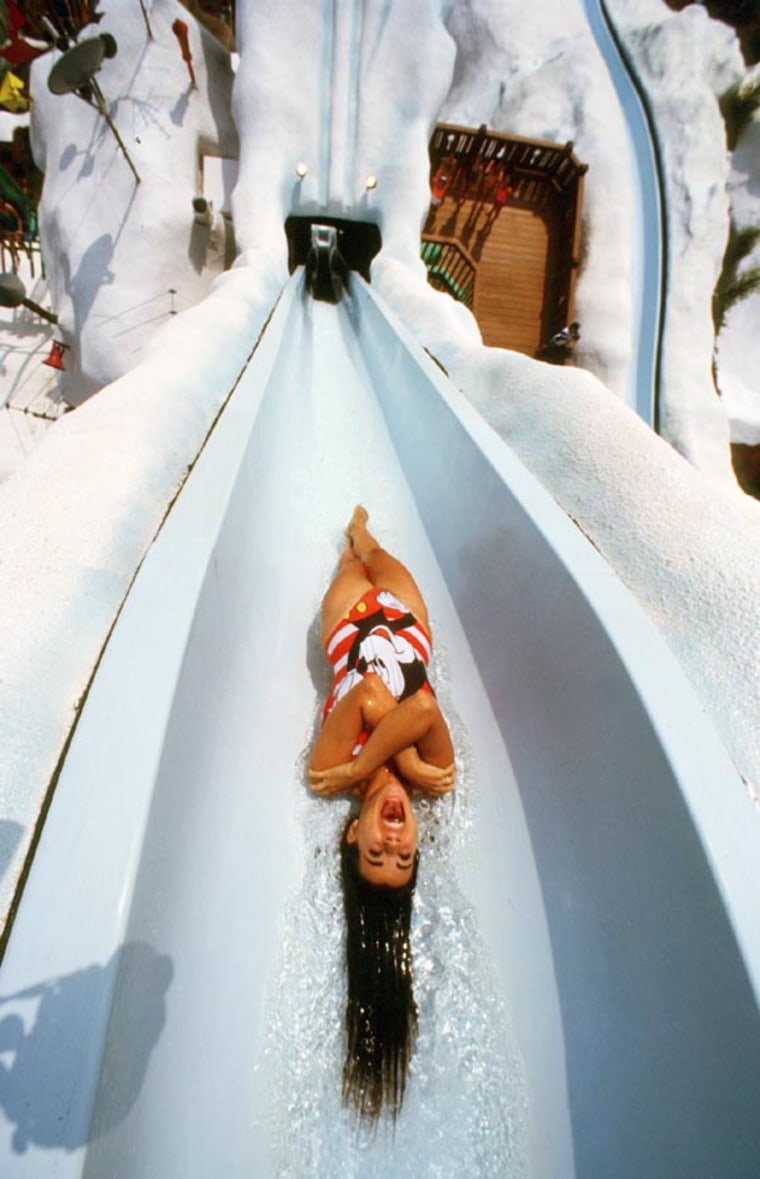 Walt Disney World is also throwing a sale at its Disney's Pop Century and All-Star Resorts for $55 standard rooms between now and well after the election. When booking, ask for "code BAT." Reservations must be made by October 10. Phone: 407/934-7639. Naturally, you're not allowed to campaign on theme park grounds (a little too much reality), but Orlando itself is ripe.
On many days in October, it's even possible to hit the water slides of Wet 'n Wild. Sure, the park's waters are heated through the winter, but if you want avoid freezing once you emerge from the flumes, October is often the last month until April in which the air is warm enough (800/992-9453, www.wetnwild.com).
Campaigning: To volunteer once in-state, contact the candidates' Florida campaign headquarters:
Kerry—954/848-0053
Bush—850/294-4040
Gerald Ford's presidential museum is in Grand Rapids (his library is in Ann Arbor, where he went to college), which makes this city a logical campaigning spot. Once a showcase of successful Midwestern industry, the city, like much of Michigan, went into decline in the 1980s and has been busily clawing its way back into repute. Because of its recently sullied image, tourists tend to forget that there are several sights worth seeing.
The first is, of course, the Gerald R. Ford Museum. Ford was only president for two years, but the museum spares no expense. There's a replica of the Oval Office, a holographic tour of the White House, and a healthy exhibit about the wildly controversial Betty Ford, one of the earliest First Ladies willing to speak her mind—even if it conflicted with her husband's opinions. ($5, 303 Pearl Street NW, 616/254-0400, www.fordlibrarymuseum.gov).
The city is replete with gifts from well-heeled corporate donors. The Meyer May House, in the fancy Heritage Hill neighborhood, is one of the rare homes by Frank Lloyd Wright. It was designed in 1908 for a wealthy clothier, and recently restored to full glory by the Steelcase furniture company (free, 540 Madison SE, 616/246-4821).
The $35 million Public Museum of Grand Rapids, paid for largely by an Amway executive, houses a diverse collection including a 75-foot-long fishback whale skeleton, exotic Chinese ivory carvings, a 1920 Lorraine Touring Car, a chunk of the Berlin wall, and a re-creation of 1890s Grand Rapids. (272 Pearl St. NW, 616-456-3977, www.grmuseum.org)
October is the optimal time to check out the city's Fish Ladder Sculpture, located on the Grand River at Leonard and Front Streets. The five-run concrete structure was built to assist salmon on their spawning runs, and at no time of year are the homely fish more active in hurling themselves up stream.
Although the motels (such as a Country Inn & Suites) are about $25 less expensive, our choice is Peaches B&B, a 1916 Georgian manor that retains nearly all of its original fittings. Within walking distance to downtown, it's got a game room, a video library, and both a desk and a refrigerator in every room. ($97, 29 Gay Avenue SE, 866/732-2437, www.peaches-inn.com)

Campaigning: To volunteer once in-state, contact the candidates' Michigan campaign headquarters:
Kerry—313/259-7730
Bush—248/356-6040
When people plan visits to American cities for business or pleasure, they rarely think to check in first with the local tourism office. Official tourism websites are a terrific place to look for deals and special promotions.
In the case of Minnesota's Twin Cities, Minneapolis and St. Paul, visitors have the option of two well-organized tourism sites. A quick perusal found a surprisingly wide palette of deals.
In Minneapolis, for example (www.minneapolis.org), there's even a link to TcTix (www.tctix.com), the local discount site for theatrical productions and event movie screenings. Minneapolis, believe it or not, has one of America's biggest and healthiest theatrical scenes, and the site contains dozens of opportunities for half-price tickets at the city's top venues, including the Music Box Theater and Hennepin Stages. Another surprise: TcTix includes discounted wristband admission tickets to Camp Snoopy, the amusement part inside the colossal Mall of America, which is 15 minutes from downtown in Bloomington (800/879-3555, www.mallofamerica.com).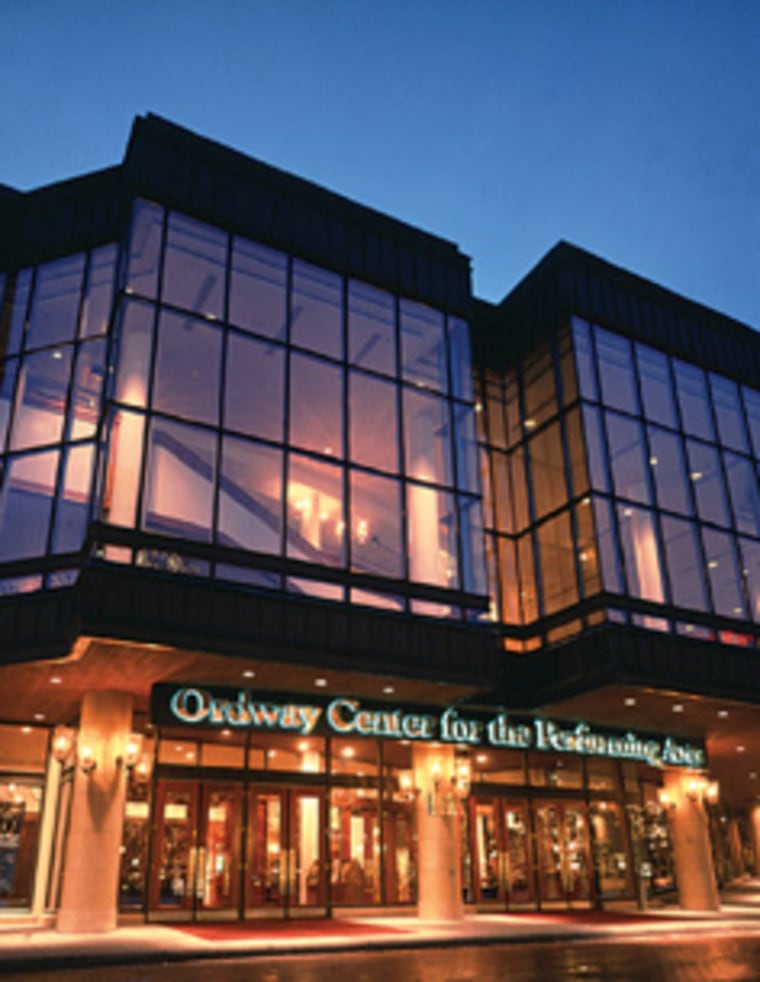 Also on Minneapolis' site, check out the Coupon Center, which lists printable deals you can bring along for enticements such as free meals and discounted admission tickets. (Of course, you should be wrangling votes while you're visiting—not just playing around!)
The St. Paul Convention and Visitors Bureau also has a tourism-oriented website at www.stpaulcvb.org. There, the coupons come in the form of a Fun Pass that you can download and tote around to the various attractions and restaurants listed inside. The good thing about the Fun Pass is that it also gets deals at local hotels; the current participants, with prices, are clearly listed online.
Even Bloomington's tourism department divulges a few secret deals on its site (877/543-1089, www.bloomingtonmn.org). Click "Getaway Specials" for the latest ones. If you like what you see, you can proceed and book online.
Another surprise: Northwest Airlines offers hotel-and-airfare packages to Minneapolis, ostensibly for people curious about visiting the 4.2 million-square-foot complex. We priced a few four-night packages including airfare from Denver, and most came to around $660, including a room at the Clarion Hotel Bloomington. And that's the total price for two people. (800/800-1504, www.nwaworldvacations.com).
Campaigning: To volunteer once in-state, contact the candidates' Minnesota campaign headquarters:
Kerry—651/647-5024
Bush—612/840-1103
Most of the people you'll encounter on The Strip in Las Vegas will be tourists who flew in from other states, so better to focus your energies elsewhere.  Use your Swing State vacation to get a feel for Nevada's pioneer days—after all, the lingering spirit of individualism informs many of the locals' political decisions. Carson City, the state capital, is a good place to accomplish both self-education and campaigning.
The State Capitol is an impressive stone structure, built in 1871, with Doric columns and a silver dome. (101 N. Carson St., 775/684-5700). Nearby, the Nevada State Museum is housed in what was, from 1870 to 1895, a United States mint. Now it displays some cool anthropological exhibits including a life-size Nevada ghost town.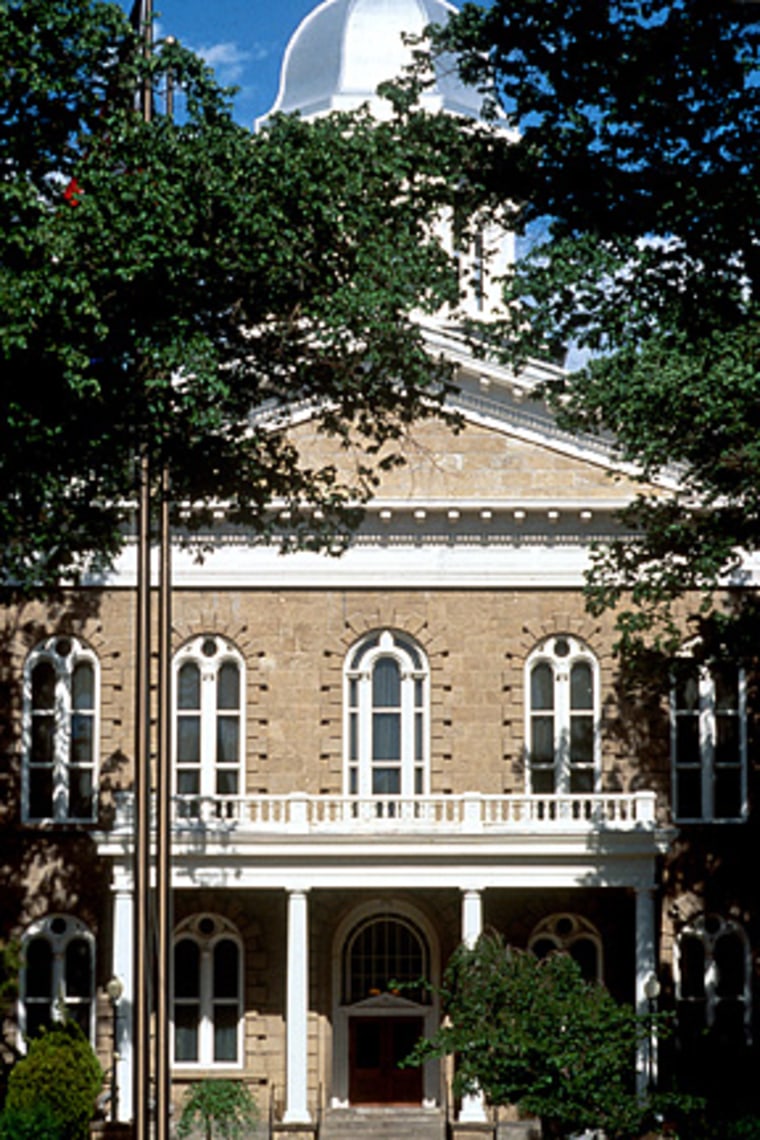 There's also a 300-foot mine tunnel beneath the museum that you can tour. Bowers Mansion, ten miles from town, was built during the Civil War with $200,000 in proceeds from gold and silver deposits. The original builders went bust quickly, driving Mrs. Bowery into penury as a fortune teller. Half-hour guided tours of the granite mansion take guests through the 16 rooms, many of which have original furnishings. It's operated by the National Parks Service—make sure to ask a guide which candidate he or she thinks will help the NPS keep the place open (775/849-0201, www.cr.nps.gov/nr/travel/nevada/bow.htm).
The best place to corner proud Nevadans and canvass for your votes will be at the Nevada Day Celebration, an over-the-top civic pride festival that actually lasts four days: October 28 to 31. Besides the requisite parade through the middle of Carson City (the 66th annual such procession), the parties include a grand ball, a longest beard contest, and a rock drilling contest. Americana this rich is not as easy to find as it used to be: (866/683-2948, www.nevadaday.com).
The Mill House Inn has rooms from about $45 (3251 S. Carson St., 775/882-2715).
Campaigning: To volunteer once in-state, contact the candidates' Nevada campaign headquarters:
Kerry—702/737-8683
Bush—702/258-9182
We know what you're thinking: Stay in New Jersey and go to New York City! Sorry, wrong answer. New York is a Blue state, not a battleground state. To have the most effect for your candidate, you need to stay in the Garden State. Which is a great place, once you get away from the clogged zone around Manhattan. Head down to the historic seashore: Atlantic City.
Republicans and fans of roadside kitsch will both appreciate the enormous pachyderm known as Lucy, the Margate Elephant. The historic six-story-tall National Historic Monument has been charming visitors to South Atlantic City since 1881. You can actually climb into the exhibition hall in her belly via a spiral staircase in her leg. She's open Saturday and Sundays until the end of the year ($4, 609/823-6473, www.lucytheelephant.org).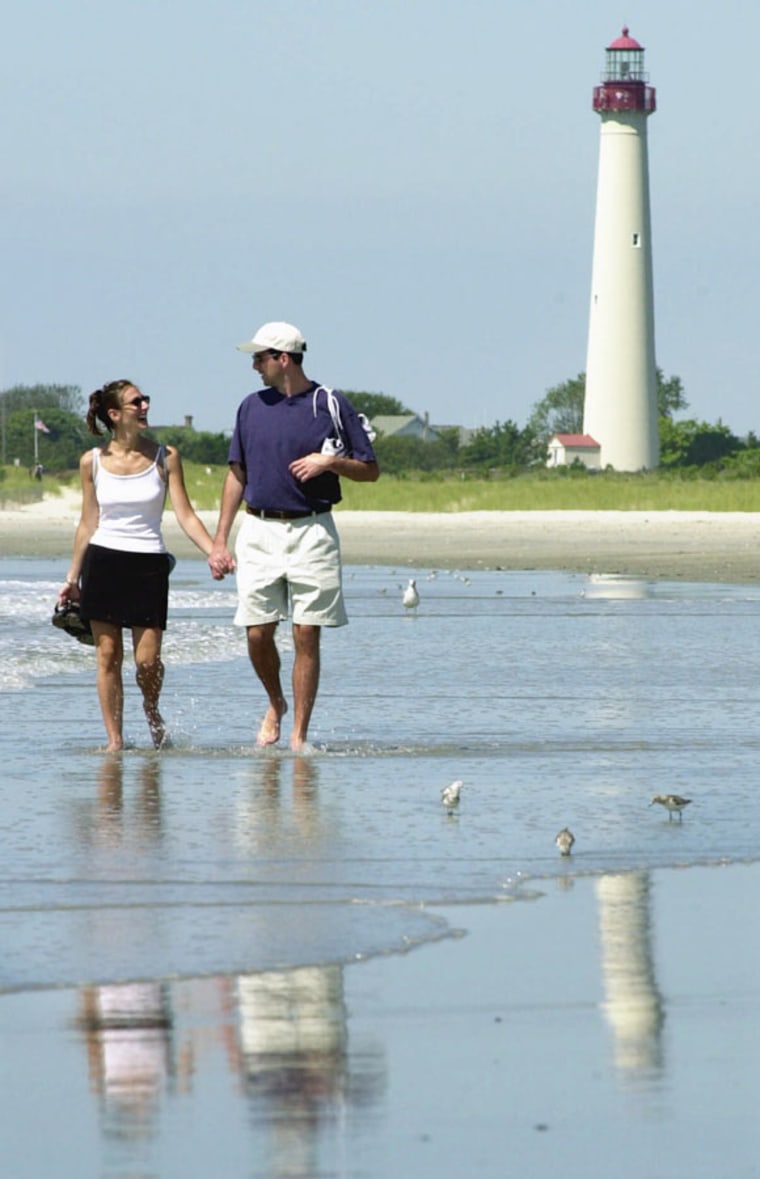 Another historic site: the Absecon Lighthouse, opened in January, 1857. It soars 228 steps over the sea, and has been electric since 1925. It's the tallest lighthouse along the entire New Jersey coast. ($5, 609/449-1360, www.abseconlighthouse.com).
Of course, Atlantic City is one of America's biggest gambling destinations, and unlike in modern Las Vegas, the casinos are perfectly willing to mark down rooms since they assume you'll be losing money at cards, too. Room rates at Resorts Atlantic City, a 662-room oceanfront property, start at around $75, which is one of the best deals for a major casino on the water in AC. Hint: Don't look at the hotel's Packages page; the rates are higher ($109) than what you'd find though a simple rates search.
Other, standard hotels in the area such as the Quality Inn and Comfort Inn West all charge about $60 a night via Hotels.com, but make sure to call each property once you collect an online quote—many of them will beat the prices quoted by other vendors.
Another lesser-known gem is Wildwood, a seashore resort stuffed with gradually vanishing Art Deco motels and hotels. Visit its website, www.wildwoodsnj.com, for a list of hotels worth contacting to request shoulder-season discounts.
Campaigning: To volunteer once in-state, contact the candidates' New Jersey campaign headquarters:
Kerry—609/392-3367
Bush—609/989-7300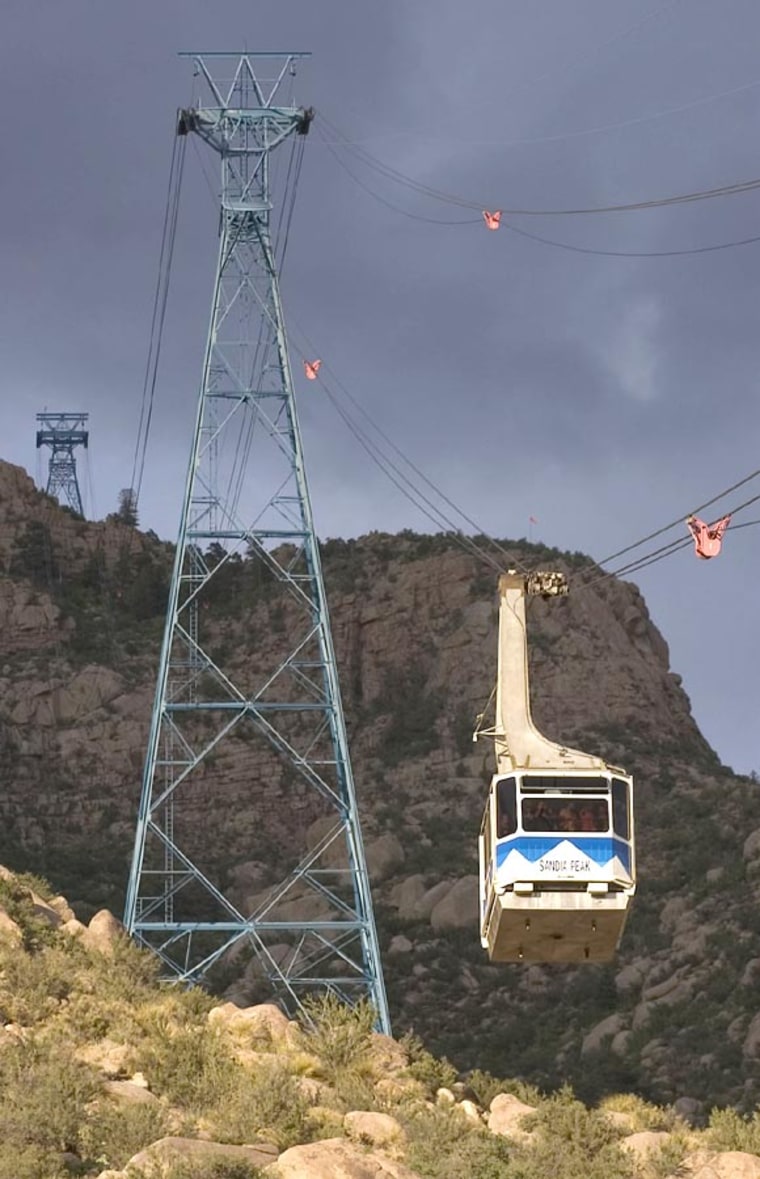 Head straight to Albuquerque, which is not only the most populous city in the state, but by dint of its heavy air traffic is also usually the cheapest to fly into. Sandia Peak towers over much of the city, and an aerial tramway travels almost three miles up the west slope to the peak, located at 10,378 feet. From there, one can see some 11,000 square miles through the clear, arid skies. ($15, 505/856-7325, www.sandiapeak.com). The High Finance restaurant is also at the crest, but be warned it's appropriately named if you stay for dinner. Its lunch menu is more affordable, with prices around $8.50 for burgers and $9 for pasta.
It's a little-known fact that Albuquerque has some of America's most oddball museums that can account for several days of whimsical touring. The National Atomic Museum is the nation's only such facility, with exhibits about the Manhattan Project, the Cold War, and replicas of Fat Man and Little Boy, which wrought destruction on Japan. Outside, there are rockets and real B-52 bombers. ($4, 1905 Mountain Rd., 505/245-2137, www.atomicmuseum.com).
The Telephone Pioneer Museum, housed in a 1906 building, follows the evolution of the phone from 1876 to the present, including more than 400 old telephones and directories and even the switchboard used to warn of Pancho Villa's impending attack. ($1, 110 4th St. NW, 505/842-2937, www.nmculture.org/cgi-bin/instview.cgi?_recordnum=TPM).
And behind Sandia Peak, on the drive to Santa Fe, there's Tinkertown, a 22-room, oddball museum of Americana maintained by artist and free spirit Ross Ward. Inside, weird collections (wedding cake decorations), fanciful structures (walls made from thousands of bottles), and intricate creations (a handmade, clockwork circus) have made Tinkertown a famous New Mexico rest stop for three decades. On Nov 1, it closes for the winter. ($3, 121 Sandia Crest Rd., 505/281-5233, www.tinkertown.com).
Albuquerque not being a hotbed of tourism (Santa Fe and Taos steal its thunder), hotels and motels are easy to come by, especially during a lean month like October. We checked Places to Stay (www.placestostay.com), an online search engine, and got prices for perfectly acceptable lodging (Comfort Inn, Sleep Inn) from $34 a night, with averages around $55.
Campaigning: To volunteer once in-state, contact the candidates' New Mexico campaign headquarters:
Kerry—505/256-2570
Bush—866/644-2874
In the past, Ohio has delivered seven natives to the Oval Office. No such luck this time (Kerry was born in Colorado and Bush in Connecticut), but as a battleground state, Ohio still has a chance to put its mark on history.
October is the end of the summer season at Cedar Point in Sandusky, Ohio, about an hour west of Cleveland on the bank of Lake Erie. The resort started life as a summer music-and-dancing pavilion in the Victorian era, but today, it hosts one of the planet's biggest collection of thrilling roller coasters, including the tallest, fastest one, Top Thrill Dragster. The park is open Fridays to Sundays throughout October; on Saturdays, it's open until midnight—the latest regular hours of the whole season. ($44, 419/627-2350, www.cedarpoint.com)
As they are in Orlando, hotels are virtually empty in Sandusky in the fall, since the theme park season ends on Halloween. Prices for many simple hotels (such as the Comfort Inn) go for a little over $34 a night, which is hard to beat the rest of the year.
Campaigning: To volunteer once in-state, contact the candidates' Ohio campaign headquarters:
Kerry—614/276-2004
Bush—614/228-2481
Until a few weeks ago, Oregon was considered a Blue State (meaning it's leaning Democratic), but recent results from pollsters have put its projected result in murkier standing. It could now go either way.
As autumn advances, we're entering the golden season for fares to Portland (rates which usually are well over $250 from the East Coast dipped below $190 last week), which makes October an ideal time to visit the lovely harbor city. After October, snows start appearing and closing some mountain roads, so a pre-election jaunt would be well-timed.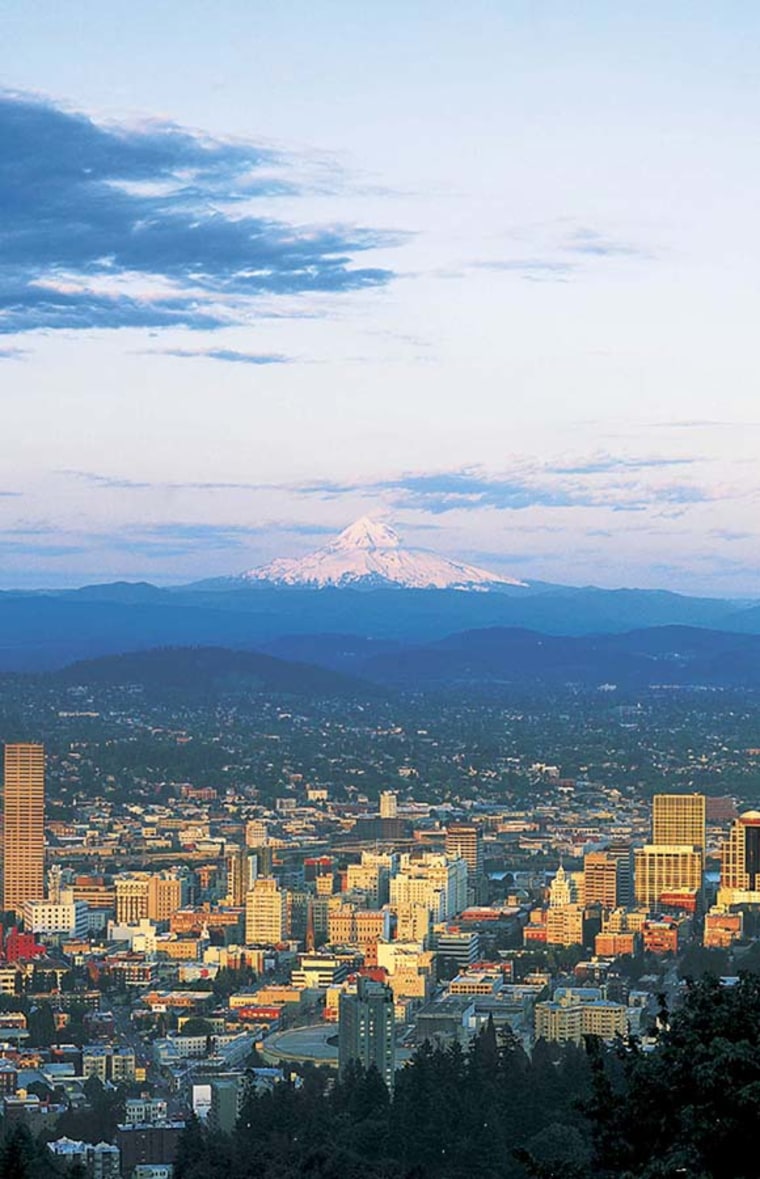 A primary reason to visit Portland is the spectacular scenery around it. The 75-mile drive along the Columbia River Gorge, which has one of America's greatest concentrations of waterfalls, begins east out of the city on I-84. And Mount St. Helens, which has been grumbling ominously over the past few weeks, is 50 miles northeast (as a small comfort, its collapsed crater faces in the other direction). Experts predict it will erupt soon, but don't anticipate much destruction—ever seen a volcano erupt with your own eyes?)
Even Portland's city parks were founded as much as 150 years ago, making them among the most pristine on earth. The city also has one of the most authentic Japanese gardens outside of Japan, with a Strolling Garden, a Sand and Stone Garden, and a Tea Garden ($6.50, 611 SW Kingston Ave., 503/223-1321, www.japanesegarden.com).
Just out of town, the Grotto at the National Sanctuary of Our Sorrowful Mother is a religious (Catholic) sanctuary and botanical garden, created in 1924, that takes up 62 acres around a 110-foot cliff. It overlooks the Columbia River and, on clear days, Mount St. Helens. (503/254-7371, NE 85th and Sandy Boulevard,www.thegrotto.com)
A fun place to stay is the 100-room McMenamins Edgefield, built in 1911 as a farm, converted into a nursing home in the 1960s, and today a funky, festive alternative hotel. Everything is geared to the arts and to having a good time: Bars are spread throughout the compound, there's an on-site movie theatre, daily acoustic concerts, and a homegrown brewery that produces over 1 million pints a year. (hostel beds $20, doubles from $85 double, 2126 S.W. Halsey St., 800/669-8610, www.mcmenamins.com/edge).
Campaigning: To volunteer once in-state, contact the candidates' Oregon campaign headquarters:
Kerry—503/239-6001
Bush—503/587-9233