/ Source: The Associated Press
Machete-wielding supporters of ousted President Jean-Bertrand Aristide are turning their wrath on Haiti's demoralized police force, beheading some of their victims in a campaign imitative of the insurgency in Iraq.
Seven of at least 18 people killed in the turmoil in Port-au-Prince have been police officers, judicial police chief Michael Lucius said Monday. He said an eighth officer remains hospitalized in serious condition with a gunshot wound to the head.
Three of the slain policemen were decapitated after being shot during clashes with pro-Aristide demonstrators last week.
Interim Prime Minister Gerard Latortue, who is leading a U.S.-backed transitional government installed after Aristide's ouster in February, has said the police killings were part of an offensive by pro-Aristide gangs dubbed "Operation Baghdad."
Deadly clashes continued Monday between street gangs in Cite Soleil, a Port-au-Prince shantytown teeming with Aristide supporters where police shot and killed two gang leaders last week.
"I don't know how many or who was killed, but people were killed," said Cite Soleil Mayor Corneille Jean-Jorel, speaking by telephone from the seaside slum.
Violence coincides with storm's chaotic aftermath
The violence in Port-au-Prince, in southern Haiti, has coincided with the chaotic aftermath of Tropical Storm Jeanne in the northwest.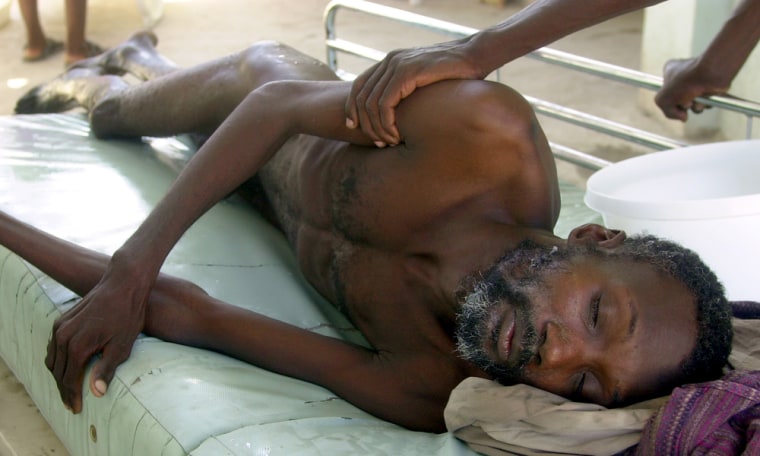 As rescuers recovered more bodies from the devastating floods and mudslides around Gonaives, the official toll rose Monday to 1,870 with another 884 people reported missing and most presumed dead.
The Norwegian Red Cross on Tuesday was sending a 100-bed field hospital and an expert team to Gonaives to help storm victims. The team also planned to rebuild as quickly as possible a 179-bed field hospital that was set up earlier this year but was severely damaged by Jeanne.
"People are desperate. They are searching for missing family members in the mud, and badly needed food and water," said Halvor Fossum Lauritzsen, of the Norwegian Red Cross.
About 150 Aristide supporters used torched cars and rocks to block roads into the downtown Port-Au-Prince slum of Bel Air on Monday, accusing police of night-time raids. Police fired in the air in an effort to disperse the mob as U.N. peacekeepers guarded the nearby National Palace.
"We'll be in the streets until death or Aristide comes back," said Milo Fenelon, 24. "We won't stop. If they come in here, we're going to cut off their heads. It's going to be just like Baghdad."
Some of the demonstrators carried machetes and rocks. At least two had guns — a rifle and a homemade shotgun. Some wore masks, others covered their faces with T-shirts. A burning tire lit in the middle of a road sent acrid smoke into the air.
"We will fight until the return of Aristide," said Georges Jean, a 33-year-old mechanic. "We can also cut off Latortue's head."
The interim prime minister told reporters Sunday night Haiti is seeing "a climate of terror" resembling months leading up to Aristide's departure.
Now in exile in South Africa, Aristide has accused U.S. agents of ousting him from the presidency on Feb. 29 amid a bloody rebellion — a charge the U.S. government denies.
Dozens of police officers were killed by rebels — who included gangsters and former soldiers from Haiti's disbanded army — who torched police stations. Hundreds of officers fled their posts, and some fled the country.
Police force lacks strength
Latortue's government undertook a massive recruiting and U.N.-backed training drive to rebuild the police force. Aristide supporters consider the new officers sellouts. Still there are only about 3,000 officers in the country of 8 million.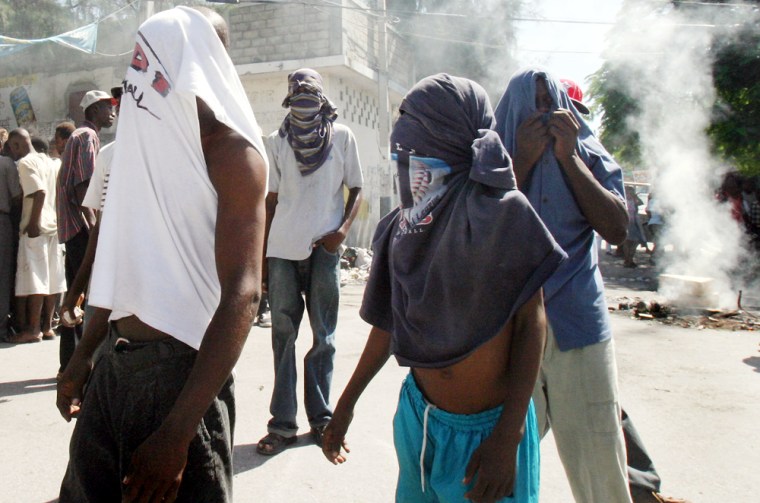 Jean-Jorel indicated the force remains weak and demoralized, complaining that there were only about 20 officers stationed in Cite Soleil, whose population he put at 600,000 people. "If the police in the area had the means, I think we could solve this problem," he said.
Aristide, who became Haiti's first freely elected president in 1990, was chased from power by the army in 1991 and restored by U.S. troops in 1994. He then stepped down under U.S. pressure and a term limit but was re-elected in 2000.
The violence in Port-au-Prince erupted Thursday as his Lavalas Family party commemorated the 1991 coup with demands to end "the occupation" by foreign troops — referring to the U.S. Marines who arrived the day Aristide fled and the U.N. peacekeepers who took over in June.
On Saturday, police arrested Haiti's Senate president and two other politicians on suspicion of orchestrating the violence.
The politicians deny the charges. Pro-Aristide groups allege the arrests amount to political persecution and said police and gangsters opened fire on Aristide supporters during last week's demonstrations, killing several people. At least one teenager was killed by police.
Some Haitians have criticized Brazilian-led U.N. peacekeepers for not doing more to prevent violence. But U.N. officials say they are doing the best they can with about 750 troops from the 3,000-member force deployed to the flood-ravaged northwestern city of Gonaives. The force is less than half the 8,000 initially promised by the United Nations.