/ Source: msnbc.com and NBC News
Cuba's top trade official has warned that American agricultural companies could suffer sharp financial losses because of the new U.S. restrictions on trips to the island nation.
Trade with the United States has already declined to a trickle since the Bush administration sought in June to further squeeze the government of Fidel Castro, said Pedro Alvarez, chairman and chief executive of Empresa Cubana de Alimentos, or Alimport, the national import agency.
On paper, 2004 looks like a record year for U.S. imports to Cuba. By the close of December, U.S. suppliers and shippers will have earned some $450 million, a 20 percent increase over 2003 sales of $349 million.
But Alvarez said he signed 95 percent of the year's U.S. contracts before the White House limited Cuban-American travel and remittances to family members on the island.
Now, in a challenge to the U.S. government, Alimport is inviting American companies to show their products at Havana's annual trade fair next month. The company intends to sign its first contracts for 2005, worth some $150 million.
No-shows?
Last year, the U.S. government discouraged companies from attending. This year, a no-show means no business.
"It's an American problem," Alvarez said. He suggested that Cuba has already begun substituting the lost U.S. trade by purchasing from other countries.
That threat alarms family rancher Ralph Kaehler, who began selling Minnesota hogs, sheep, bison and cattle to Cuba after attending a U.S. trade exhibit in Havana two years ago.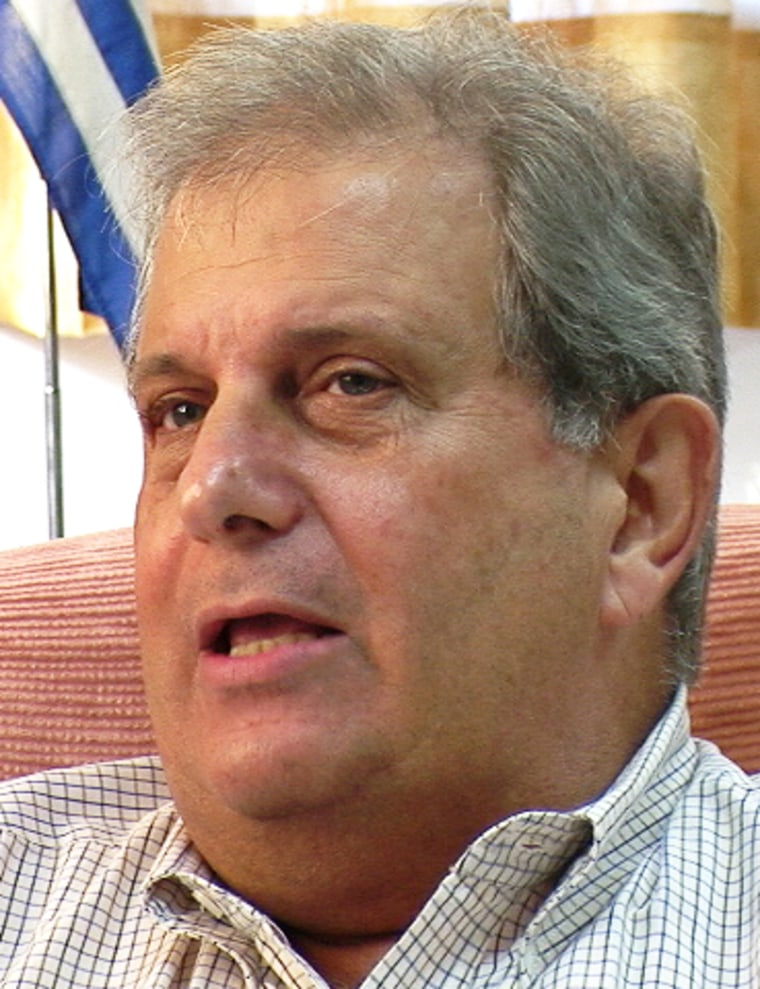 Trading with the Cubans has been good for his business, the St. Charles, Minn., farmer said.
"We have worked hard to cultivate our relationship with the Cuban customers; we can replace their business, but it will cost us additional time and money," Kaehler said. "It is not the way our forefathers expected the government to lead us."
One Cuban official even suggested that purchases of U.S. products could fall by more than 50 percent next year if the restrictions remain in place.
Agricultural sales
The food sales are the one exemption to 43 years of a tight trade ban. In 2000, the farmer lobby succeeded in persuading Congress to allow food and agricultural sales to Cuba.
A year later Castro's government took advantage of the exemption to replenish food reserves depleted after a major hurricane swept across the island. Since then, sales have multiplied 100 times.
Under the U.S. trade deal, the Cuban government must pay cash for any American purchase.
As for the new regulations, Cuban-Americans must solicit U.S. government licenses to visit immediate family and can only make the trip once every three years. They are barred from visiting aunts and uncles or returning for humanitarian reasons such as to attend to a sick relative or a funeral. The new rules also eliminated most university and cultural exchanges.
Separately, the U.S. government bars virtually all Cuban visitors to the United States, including academics, musicians and artists, as well as the likes of Alvarez.
The Bush administration believes the restrictions are necessary to stem the flow of hard currency to the Castro government, even at the risk of angering Cuban-Americans. "We think in the long run it is better to do everything possible to pressure [Castro] to change, to modify, to adjust instead of allowing visits every one instead of three years," said one U.S. official, who spoke on condition of anonymity.

Remittances
Analysts estimate that Cuban families received between $600 million and $1 billion in remittances annually before the new rules. That money was spent in government-run dollar stores where the average Cuban buys both staples and Western consumer goods at steep retail markup prices.
The Cuban government desperately needs the American currency to sustain a deteriorating infrastructure.
In the most recent setback, Cubans are enduring near daily electricity blackouts due to a malfunction at the nation's largest thermoelectric plant. The government says it will take months to repair the problem at the Antonio Gutierrez facility in Matanzas province, west of Havana. Ultimately, the overhaul of the plant could cost $20 million.
Meanwhile, at least 22 hotels and factories closed temporarily while government office hours shortened as part of a drive to save electricity.
But unlike most of Cuban society, which bears the brunt of the economic distress that the government blames on U.S. sanctions, Alvarez has power to fight back.
Since Congress allowed U.S. agricultural producers to trade with Cuba, he has spent nearly $1 billion to buy American products. In three years, Alimport says it has become the third-largest importer of American rice and the eighth-largest of chickens.
Political role
Alvarez, during an interview Friday at his headquarters in Havana, said he's merely a businessman, but his role is very political.
The job of Cuba's only food buyer is far from just importing chicken quarters, skimmed milk, wheat, corn and soy products. He buys around $1.3 billion in products annually from the United States as well as from other countries in Latin and Central American and Europe.
As such, the head of Alimport can slam Americans where it hurts, in their pocketbooks, making him an important weapon for Castro.
The lure of making money has enticed hundreds of U.S. companies from 45 states to do business with the Castro government for the past three years, establishing a quasi-diplomatic channel between Havana and business leaders in a country that has no official relations with Cuba.
Furthermore, pressure on lawmakers, including Republicans, in agricultural states has bolstered congressional efforts to ease some restrictions on Cuba.
Alvarez acknowledged that the latest American restrictions will hurt Cubans, "but they are not going to starve."
At the same time, he was quick to allege that the White House measures could backfire and cause job losses in the U.S. food belt, now benefiting from this new Cuban market.

"I have not decided yet, but if the United States keeps reducing the money, American producers could be hurt," he said.