/ Source: Arthur Frommer's Budget Travel
They don't ski the powder. Of all the cultural peculiarities that North American skiers and snowboarders discover in the Alps, that one leaves them the most dumbfounded. In Colorado and Vermont and British Columbia, diehards have been known to stand in lift lines before daybreak if it means fresh tracks. But in Europe, the overwhelming majority prefer the fluffiness squeezed out of the snow to make for easy cruising runs. Carving turns in powder, while fun, is an awful lot of work, and anything coming close to the W-word is a no-no for Europeans on holiday. That just means more freshies for you and me.
Everything else that goes along with the Alpine village experience in Europe makes absolute sense. Instead of day trips or long weekends, people primarily come for weeks at a time so that it's actually possible to relax. They use intricate train and bus links in lieu of cars, reserving the compact village centers for peaceful walking. And then there's that indefinable charm—the snow-topped chalets, narrow alleys, cozy après-ski pubs, and sheltering mountain surroundings are so irresistible that resorts around the world have been imitating them for decades. We're spotlighting three of these storybook ski villages, in Switzerland, Austria, and Italy. Each is authentic to its roots, more affordable than people imagine, and perfect in its own way.
Wengen, Switzerland: An Alpine Classic
Switzerland is known for its idyllic ski villages, with traditional wooden chalets nestled amid craggy peaks jutting up into a baby-blue sky. Wengen (Ven-ghen) stands out because of its location in the middle of three interconnected ski areas, each of which would be considered well above average on its own in North America. Wengen is a pedestrians-only village—no diesel fumes, no cars revving their engines, no parking lots the size of football fields—so people find it that much easier to decompress here. And decompress they do: The ski holiday in Switzerland focuses as much on the idea of "holiday" as it does on "ski," and savoring a two-hour midday meal or hoisting a mug of frothy beer on a sundeck is more important than logging lots of mileage up and down the mountain.
Instead of cars, Wengen relies on an elaborate, efficient system of trains, gondolas, cable cars, chairlifts, and T-bars that could only be the work of Swiss engineers. Visitors drive or take the train to the town of Lauterbrunnen. From there, a cog railway carts them past old timber farm sheds and over the crest of a cliff to Wengen. Across the Lauterbrunnen valley from Wengen is its smaller mirror image, Mürren, which is similarly car-free and situated on top of a dramatic bluff. On the Wengen side, a cable car in town shoots up to the top of a peak, and skiers can cruise down 4,000 vertical feet on the other side to find themselves in yet another quintessential ski hub, Grindelwald. The three villages form the heart of the Jungfrau region, smack in the center of Switzerland, just south of Interlaken and about three hours from Zürich. To access the Jungfrau's terrain—or any of the snowy landscape's restaurants, bars, cafés, and toboggan runs—all you have to do is roll out of your hotel and walk (or ski) to the nearest train stop. A ski pass covers all transportation within the Jungfrau region, and the trail maps come printed with train schedules.
There's hardly a bad room in town, but since most ski hotels in Switzerland include breakfast and dinner in their rates, it's essential to factor in the quality of the kitchen. (If you don't want dinner, most hotels will take it off the bill, but only if you tell them ahead of time.) At the Hotel Hirschen in Wengen, the delicious pastas, tangy soups, and weekly fondue parties more than make up for the smallish guest rooms. Ski trails lead right to the hotel door, and most west-facing rooms come with terraces and views of the town, the mountains, and the valley. The village center is just a few minutes away on foot, quicker if you're on skis.
Each morning, skiers and boarders face a mountain range's worth of options: hopping into the Männlichenbahn cable car for wide-open groomers leading down to Grindelwald; boarding the train and heading up above Mürren to the Schilthorn, a 9,748-foot peak known for its revolving restaurant, steep slopes, and the fact that the James Bond movie On Her Majesty's Secret Service was filmed there; or taking the train in the opposite direction, up to the sunny Kleine Scheidegg area, where people toss back schnapps inside a giant tepee or soak up sun on the decks, gathering the nerve to try the Lauberhorn, a famous downhill course where a World Cup race takes place every January.
Instead of the X Games style of aggression so common at North American ski resorts, the Jungfrau is filled with people making one effortless turn after the next with nothing to prove. They meander along, breathing the crisp air and reveling in the international atmosphere—the ski instructor may be Austrian, the waiter Dutch, the guy at the rental shop Canadian. Trying to ski more than one area per day is foolish. There's too much ground to cover, especially with the long, relaxing lunch break so popular in the Alps. It's rare to ski more than 10 minutes in the Jungfrau without spotting a lodge or hotel serving decent, affordable food, and a great view is all but guaranteed. For example, the Schilthornhütte, on a sunny perch near Mürren's Stellifluh lift station, has picnic tables near slopes that drop off so abruptly it feels like the top of the world. Plates of bratwurst, macaroni and cheese, and hot apple strudel are only $6 to $12 per. 
When the light begins to fade, skiers snowplow back through outposts of hotels and outdoor bars, right into the heart of Wengen. They prop their skis on a rack outside Chili's bar, settle in at one of the big wooden tables, and discuss the epic day they just had. After dinner at the hotel, the strongest—or just the most stubborn—convince their legs that they're able to take them back to town for more fun. Perhaps dancing to hip-hop with the young locals at the dungeon-like Kegelbahn? Maybe karaoke in French at the Club Med?
Fact File: Wengen
Lodging
Hotel Hirschen 011-41/33-855-1544, hirschen-wengen.ch, from $109 for two, or full weeklong package from $731 per person
Food
Schilthornhutte Murren 011-41/ 33-855-5053, bratwurst plate $6.70
Chili's 011-41/33-855-5020
Information
Wengen Tourist Office 011-41/33-855-1414, wengen-muerren.ch, lift pass at Wengen-Grindelwald $45, five-day pass $205
Saalbach, Austria: The Winter Carnival
"We haff no…moral?" That's how, in uncertain English, a longtime local explained the no-inhibitions party scene in Saalbach-Hinterglemm, neighboring villages in a snowy valley between Innsbruck and Salzburg. "Other places, zay haff what zay call ski sizzon," he said. "We haff Carnival all winter long."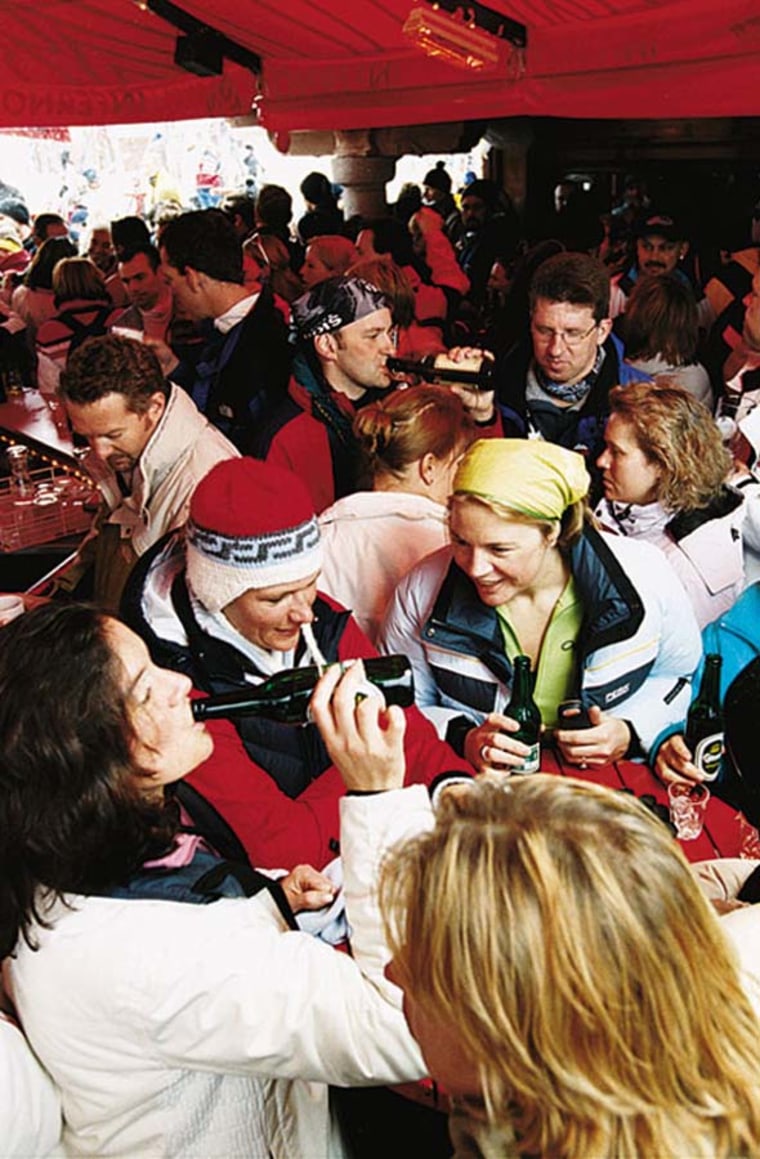 By 2:30 every day, a lack of "moral" is on display underneath tents at Bauer's Schi Alm and other après-ski bars, where hordes who bailed on the slopes early curl their soggy gloves around mugs of beer and coffees laced with sweet liqueurs. Soon enough, a tipsy German in his 40s is up on a slippery table dancing in his ski boots. People who live here don't seem annoyed by the shenanigans; they embrace the raucous atmosphere and often join in. A well-known rumor has it that a prominent elected official, a married man, was caught with his pants down in a pub with a young girl a couple of seasons back. He was reelected soon after—with more votes than he received the first time. The two villages are made for carousing until your body says uncle, with the likes of Goasstall, a crazy bar decorated with goat-headed mannequins, and discos that draw crowds well after midnight.
Even with all the wacky happenings in town, an evening at the mountain lodge Spielberghaus will probably be the most memorable part of the trip, so reserve early. The adventure begins with a 15-minute ride in a snowcat up to the converted farmhouse. The ride isn't particularly windy or cold, but you'll want to wear boots, snow pants, a hat, gloves, and goggles for what comes later. Inside, it's all wooden walls and ceilings. Here and there are old skis, stuffed moose heads, paintings of Tyrolean life, and rosy-cheeked people laughing and telling stories. A host, who more than likely speaks a half-dozen languages, sits groups on benches at big tables. You may have to share a table with strangers, but that's part of the fun. The goal, apparently, is to eat and drink as much as possible. Order the pork ribs, and out comes a heaping pan with enough to feed three. Waiters carry special trays on their shoulders for beer—basically a two-by-four with round grooves for a dozen glasses. Inevitably, some group will start singing songs from their homeland, be it Russia, Sweden, or Germany, and will then challenge other tables to do the same. Everyone sways to the anthems, drinks in hand. Dancing in the crowded aisles or right at the table usually follows. (People of all ages enjoy the Spielberghaus, but go early if you're with kids; things get nuttier by the hour.)
After dinner, folks head to the adjoining bar for a game of nageln, or nailing. Four or five players stand around a slab of tree trunk trying to pound in nails using the chisel end of an old-fashioned hammer. Each person gets a swing, then passes the hammer along. First one to flatten his nail into the wood wins. At night's end, everyone puts on their snow gear and barrels down the snowcat track in red plastic sleds. The ride is a 30-to-45-minute mix of laid-back cruising and exciting, mountain-hugging turns, interrupted by the occasional snowball fight.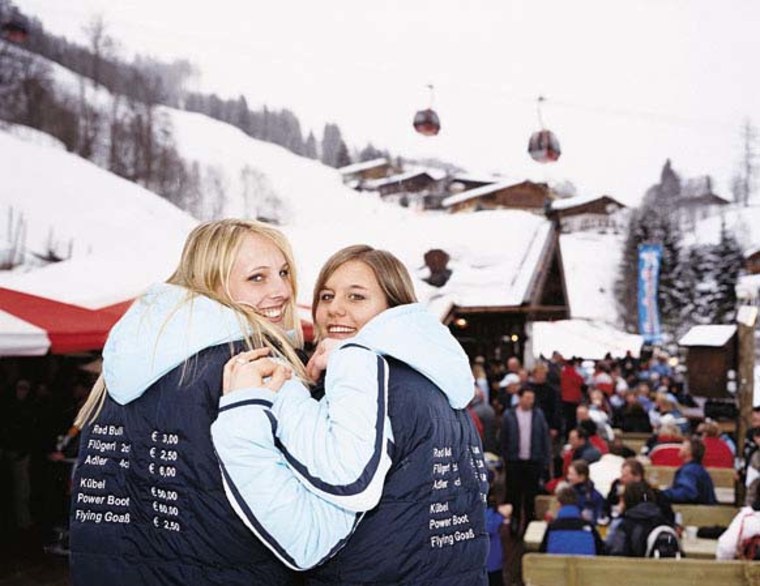 Oh yeah, Saalbach-Hinterglemm offers skiing too—really good skiing, if you can stop partying long enough to try it out. The entire area, which includes slopes on both sides of the Saalbach-Hinterglemm valley as well as several other mountain faces and wide-open bowls, is aptly called the Ski Circus. If it's not the greatest show on earth, it's close. There are 55 lifts in total, and like Switzerland's Jungfrau region, it's best to stick to one area per day. Even if it hasn't snowed in a while, you'll probably still be able to carve fresh tracks off of the Sportbahn 2000 lift (most people avoid the powder, remember). For lunch, stop in at the nearby Die Alte Schmiede, a rustic homestead-turned-restaurant with gorgeous mountain views and enough old farm equipment for it to qualify as a museum.
Free buses work the lone valley road, so it's not necessary to pay extra for lodging in town. Right next to a bus stop, and just a 10-minute walk from Saalbach—the more charming of the two villages—is Landhaus Burgi. This classic chalet, which was redone a year ago and is efficiently run by Hans and Burgi Obwaller, has simple wooden fixtures and sleek bathrooms. When choosing between Burgi's traditional B&B accommodations and its one  fully equipped apartment (no meals included), keep in mind that many people in Saalbach find it difficult to rise early enough for breakfast. Every bed at the Burgi comes with a cushy down comforter, and the back rooms have decks that hang over the gurgling river.
The rowdy atmosphere gets most of the attention in Saalbach-Hinterglemm, but the resort also attracts plenty of couples, families, and low-key groups. Ski instructors in Austria take pride in their reputation as the best in the world, and here they're particularly skilled and sensitive. For a break from the slopes and nightlife, each village has a few quaint, car-free blocks lined with bakeries, coffee shops, and souvenir stores. Restaurants such as Hotel Peter, where the staff wear traditional Tyrolean dress (milkmaid skirts, lederhosen), keep tasty classic Austrian barbecue recipes alive. The ultimate romantic outing is past the villages and lifts, at the far end of the valley: a horse-drawn-sleigh ride to the old farmhouse restaurant Lindlingalm (see the photo on this issue's Contents page).
Fact File: Saalbach-Hinterglemm
Lodging
Landhaus Burgi 011-43/6541-6466, landhaus-burgi.com, from $38 per person with breakfast, apartment for four from $145
Food
Bauer's Schi Alm Saalbach, 011-43/6541-6213
Goasstall Reiterkogelweg 491, Hinterglemm, 011-43/6541-8705
Die Alte Schmiede 011-43/6583-8246, alteschmiede-leogang.com
Hotel Peter Saalbach, 011-43/6541-6236
Activities
Lindlingalm Hinterglemm, 011-43/6541-7190, lindlingalm.at, $13 for horse-drawn-sleigh ride
Spielberghaus Spielbergweg 207, 011-43/6541-7253, spielberghaus.at, snowcat ride and sled $9
Information
Saalbach Tourism Glemmtaler Landstrasse 550, 011-43/6541-6800, saalbach.com, lift pass for one day from $32, for six days $151
Bormio, Italy: Old, Old World Charm
It's not easy to reach Valtellina, a mountainous region just east of the lakes district in northern Italy. Half of the roads threading through the pointy peaks into the Valtellina are closed for the winter because of snow. The passes that remain open are of the winding, single-lane variety, and travel on them slows down even  further in tunnels and narrow town centers along the way. On a map, the posh resort of St. Moritz lies right across the Swiss border from Bormio, the city at the heart of the region, but driving there takes at least a couple of hours. Milan Malpensa, the nearest airport served direct from the U.S., is about four hours by car, more like five with a combination of train and bus.
The remote locale is a blessing. How else would so few people know about a medieval village that overflows with handsome churches, towers, archways, and cobblestone piazzas, all within a 10-minute walk of world-class skiing?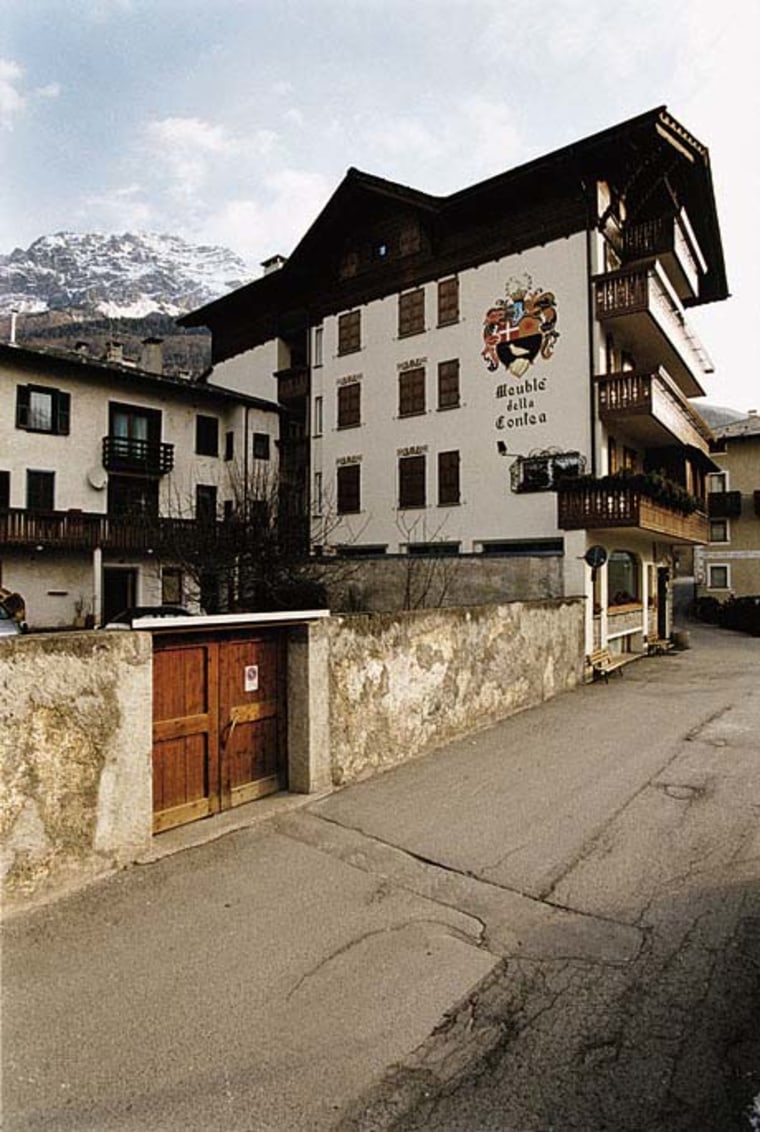 Several of the palaces and public squares around the main drag of Via Roma date to before the 15th century. Yet just across a small footbridge are completely modern cable cars that shoot skiers up to wide-open slopes. Bormio boasts a hefty 5,860-foot vertical drop—longer than any resort in North America—but overall the resort is considered smallish in Europe. This is probably because Bormio's layout is tall and thin, served by 14 lifts, which is paltry compared with mammoth spreads in France, Switzerland, and Austria. Still, the mountain's long, thigh-burning trails are good enough for the globe's best: It'll host the Alpine World Championships in early 2005. Lifts top out at a lofty 9,882 feet, and there can be a foot of virgin powder at the peak even if it hasn't recently snowed in town. Together with the bigger resort of Livigno (33 lifts) and a few intermediate ski hills all within an hour of each other on a free ski bus, the terrain of Valtellina will keep any skier happy for a week.
With the exceptions of Christmas and New Year's and the popular vacation period of mid-February to mid-March, crowds are rare in Bormio, both on the slopes and in town. Once you arrive, expenses will be minimal compared with most ski resorts. A daily lift pass starts at $32, less than half of what most U.S. mountains charge. Meublé Garnì della Contea, a B&B chalet on the slope-side edge of the old town, has sparkling rooms and a breakfast with gooey pastries and coffee with hot cream for under $40 a night per person. The food in Bormio is spectacular, and most restaurants seem unaware that it's standard procedure to gouge ski tourists. La Nuova Pastorella, a warm, family-run establishment right on Via Roma, charges $5 for brick-oven pizzas, as little as $6 for pastas, and $8 for liters of the sweet house red.
When there's a race or festival in town, après-ski in Bormio can be as spirited as in Wengen or Saalbach. Most of the time, the day winds down with a quiet dinner and a stroll past 800-year-old chapels and the prominent Civic Tower clock.
A rejuvenating retreat on a day off from the slopes is 10 minutes from town by car ($5 by taxi). The Romans knew about the area's thermal springs more than 2,000 years ago, and over the centuries the healing mineral waters have attracted visitors such as Leonardo da Vinci, Garibaldi, and Austria's Archduke Ferdinand. A day of soaking in the caverns, grottoes, and baths at the Bagni di Bormio Spa Resort—including a steaming open-air pool overlooking the valley and soaring mountains around Bormio—does wonders for stress, as well as for sore hamstrings and aching backs. Before you know it, you'll be raring to tackle the Stelvio, Bormio's steep, unforgiving downhill course that doesn't let up for more than two miles.
Fact File: Bormio
Lodging
Meublé Garni della Contea Via Molini 8, 011-39/0342-901202, garnicontea.it, from $36 per person
Food
La Nuova Pastorella Via Roma 20, 011-39/0342-901253, pizzas from $5, pasta dishes from around $6
Activities
Bagni di Bormio Spa Resort Strada dello Stelvio, 011-39/0342-910131, bagnidibormio.it, one day $36 per person
Information
Tourism Bormio Via Roma 131b, 011-39/0342-903300,valtellinaonline.com, pass at Bormio $32, five-day pass at four resorts in Valtellina from $150