/ Source: The Associated Press
If you asked people strolling down Fifth Avenue to name a genius, most would probably cite Albert Einstein. "Ask them to name another one, it would be (Isaac) Newton," said Mordechai Feingold, curator of a new exhibit about the 17th-century English mathematician and physicist who transcended science to become a lasting icon in society.
In fact, Newton would probably have been the top choice until Einstein gained fame in the early 20th century, said Feingold, a history professor at the California Institute of Technology.
The free exhibit shows such treasures as handwritten manuscripts by Newton and a copy of his 1687 masterwork, the "Principia," with changes and corrections handwritten in Latin by the master himself. They go on display Friday at the New York Public Library's Humanities and Social Sciences Library.
As the exhibit makes clear, Newton's ideas not only blazed paths and provoked controversy among scientists, but they spread into the general population through the efforts of writers including Voltaire and Francesco Algarotti, author of "Newtonianism for Ladies," written in 1737.
Newton was key to the ascent of science as "the kind of knowledge most worth having" in a culture that formerly paid more attention to such things as literature and religion, Feingold said. Newton, who began his studies at Cambridge University in 1661, showed a monumental gift for simultaneously consuming and transforming any knowledge he acquired.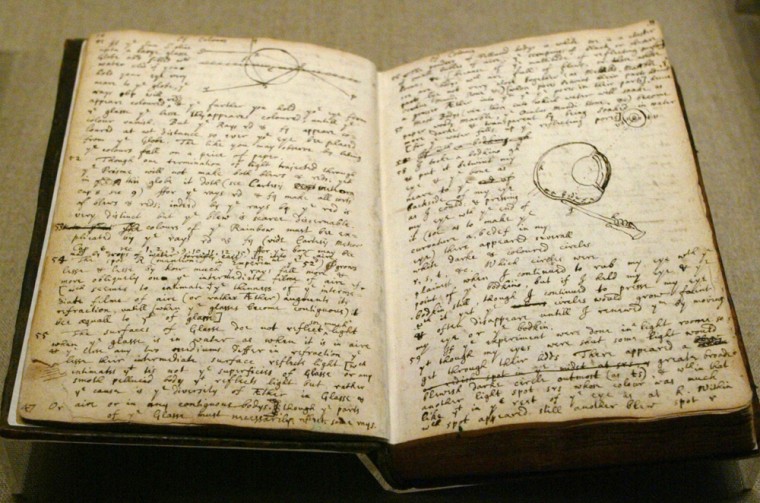 Among Newton's achievements were demonstrating that white light is a mix of all other colors, which defied centuries of scientific thought; inventing calculus; describing gravitational attraction in mathematical terms; and producing his three laws of motion, which state for example that a body at rest or in motion will stay that way unless a force acts on it.
The exhibit, which closes Feb. 5, 2005, shows documents from a bitter dispute over who invented calculus -- Newton or German mathematician Gottfried Wilhelm Leibniz. Leibniz appealed to the England's Royal Society in 1711 to defend him against allegations that he'd taken the idea from Newton. Newton, it is now known, wrote the society's report on the matter and, after it was published, he anonymously wrote a review of it to gain more publicity.
Not surprisingly, the report concluded that Newton came up with calculus first and it implied Leibniz knew about it. The exhibit shows drafts of the review Newton wrote, as well as a 1676 letter he sent Leibniz that played a key role in the dispute.
Given Newton's academic genius, the setting of the exhibit is quite appropriate: a darkened and hushed hall with marble walls and ionic columns, beneath a carved wooden ceiling. And if visitors milling around the display cases feel surrounded by Newton's influence, that's just how the scientist's contemporaries felt.
He was the focal point for scientists of his time, Feingold said. "Whether you were for him or against him, it was always Newton and his ideas that had to be addressed."
The New York Public Library is the only stop for the Newton exhibit.