On the verge of historic presidential elections in Afghanistan, everybody is braced for the worst.
Yet, on the last day of campaigning Wednesday, the threats from the Taliban and al-Qaida to disrupt the campaign had not materialized.
Yes, it's still early — voting doesn't take place until Saturday — and opponents of change in Afghanistan are ruthless.
The extremists are still active and interim president Hamid Karzai's running mate did narrowly escape a bomb attack on Wednesday.Indeed, over the past year, hundreds of civilians, aid workers, voter registration workers and soldiers have been killed.

All that said, democracy as practiced in Afghanistan may be dangerous, but so far, it appears to be working.
Lacking suspense
There are 18 candidates for president. However, the suspense that seems to be building in the American presidential race is lacking here because everybody expects Karzai to win.
In fact, two of the 18 candidates withdrew their names from the ballot in favor of Karzai on Wednesday.
One was not considered to be very popular but the other, Sayed Ishaq Gailani, is from one of the country's best-known families.The only real question left is the size of Karzai's margin of victory; he needs at least 51 percent to avoid a runoff.
Confidence in the Karzai camp is running so high that the president took a few days off this weekend to visit Germany where he received an award marking his accomplishments as a political leader.
Imagine President Bush interrupting his campaign to travel to Honduras to receive a silver bowl and a handshake?
Making history
This really is a unique election. The country has been war torn since the Soviet invasion in 1979 and has not held any form of election since the late 1960s. It will be the first time that Afghans directly elect their own leader.
In the past Afghans got to vote by using their feet by fleeing the country. There are still more than two million Afghans living in neighboring countries too afraid or just too poor to return.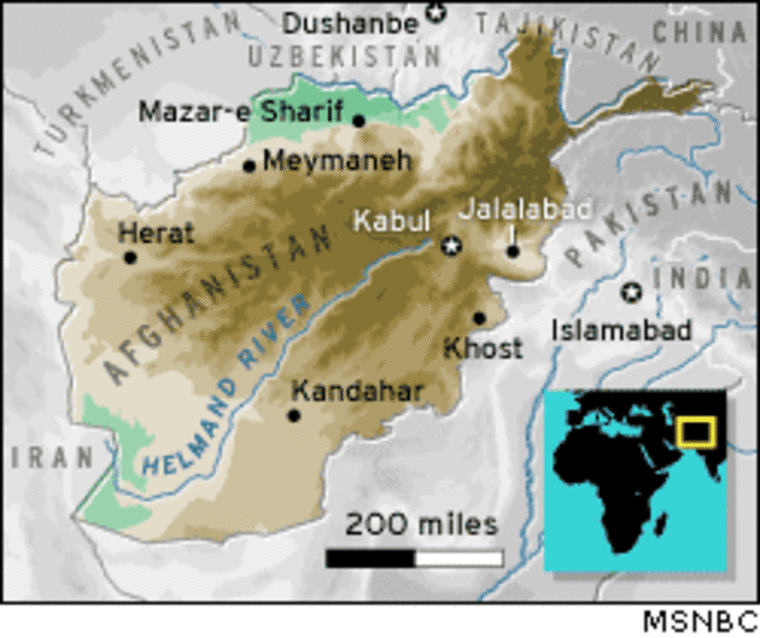 The ballot is a work of genius. The majority of Afghans are illiterate. So the ballot is a piece of paper with pictures and names of each candidate. Look at the face and check the box.
It takes a graduate degree to read through an absentee ballot from America. Here the process is kept simple and neat. At least there can be no problem counting the things. The registrar of voters in Florida should take notes.
The campaign too is a simple affair. No such thing as a paid political announcement on television. Each candidate gets 20 minutes of TV time on the state-owned broadcasting network.
It appears people are mostly excited about getting the chance to voice an opinion without getting shot.
Outside a local bakery where a team of men slapped dough onto rocks to make flat bread, young people spoke of how excited they are to vote. In broken English, Rosoul, 22, displayed his voter registration card as if he was flashing a picture of his girlfriend.  
First female candidate
More than 100 miles north of Kabul, slaughtered sheep hung from hooks in the open-air market in Ghulam Ali, a one lane dusty village, which hosted its own presidential rally.
Some of the men carried ancient Enfield riles over their shoulders. Foreigners are rarely seen in this part of the country and the stares they receive are not hostile, but it's wise to stay alert. All women must be covered.
Masooda Jalal grabbed the microphone on the dusty playground of the local school. No bands here. No warm up banter to get the crowd excited.
It's better this way. You don't want this crowd to get too emotional because there are some 200 hundred turbaned men with eyes hardened by more than two decades of war.
Jalal's campaign has drawn a lot of attention. She's not particularly glamorous. Her campaign fund wouldn't buy a good dinner for two in New York. She travels without bodyguards in a country where people like to keep a loaded gun under the pillow.
The attention comes from the fact she's a woman. The first time a woman has stepped up in public and proclaimed that she can do anything man can do. Don't forget this is a culture where married women walk behind their husbands, not with them.
So it is something of a shock to see this 41-year-old, a former pediatrician, take the microphone and tell her all-male audience that she alone can deliver a nation free from corruption, cruelty and tribal hatred.
"Don't fear anybody when your voting," she said. "You will be alone -- it's between you and your God!"
Security an issue, but courage winning
Three-star general David Barno is the top American commander on the ground here. He has steel blue eyes and a no-nonsense approach to preventing disruption to the voting process.
Barno has been making what he calls "a big footprint," with additional airpower and 700 fresh paratroopers assigned to Afghanistan.
The American forces on the ground number some 19,000 and there are an additional 8,000 NATO troops guarding Kabul. On nearly every street, Afghan police peek into cars and road blocks are frequent near public places.
Despite all of the security issues, courage is winning here. More than 10 million people have registered to vote despite threats from the former Taliban regime to kill anyone found in possession of a voter registration card. What's even more remarkable is that more than 40 percent of registered voters are women.
No one at the U.N. knows what to make of it. Cynics suggest multiple registration may inflate the numbers, but this may be a show of girl power unimaginable in a country where three years ago women were not allowed to go to school, hold a job or venture out of the house without a male escort.
The numbers are encouraging, but let's not forget that candidates don't hold large rallies for fear of a car bomb. United Nations workers are not allowed out of their compounds after dark. Hotels, restaurants and the main shopping district are strictly off limits. I keep a bulletproof vest next to my bed.
Everybody is on guard for something bad to happen. It's in the air floating with the dust that swirls over Kabul like a bad omen.
But here's a prediction. The elections will take place. Afghans will vote in large numbers. There will be incidents and accidents, and violence in some remote parts of the country.
But the vote will go on, and this historic process will be a victory for hope in a land once dominated by misery.