Even before the dust had settled from the $10 million Ansari X Prize for private spaceflight, the sand was being kicked up for another, potentially more lucrative space race: the competition between spaceports for final-frontier tourist ventures.
"History was made today, and we begin an era of commercial space travel," Peter Mitchell, director of New Mexico Office for Space Commercialization, told reporters at the Mojave Airport on Monday, just a couple of hours after the SpaceShipOne rocket plane's prize-winning flight.
"Today doesn't belong to New Mexico, the day belongs to the gentlemen up here ... that made this dream become a reality," Mitchell said. "Tomorrow, however, we focus on bringing the spoils of this dream to the state of New Mexico."
That sparked a retort from Dick Rutan, the brother of SpaceShipOne designer Burt Rutan and a member of the Mojave airport district's board of directors.
"Welcome to California, New Mexico," Rutan told Mitchell. "The sandbox for this is not in New Mexico, it's here in California. We're going to give you a run for your money."
And they're off ...
So the race has begun for the suborbital passenger business, even before it's truly a business. Today, Mojave Airport certainly has the inside track — not only because it's the home base for the SpaceShipOne team, but also because Virgin billionaire Richard Branson plans to run his first space tourism flights from here in 2007.
Branson says he's already sold "a lot of real tickets" for those future flights at $190,000 each — including a spot for British advertising guru Trevor Beattie of TBWA/London, who attended the past week's proceedings in Mojave.
"I think anyone who had the chance to go would want to go," Beattie told reporters Monday. "Well, I've got the chance to go, because of my profession and because of Richard."
However, it will take more than a single SpaceShipOne, or even several of Branson's yet-to-be-built Virgin Galactic ships, to win this space race. Potential rivals are also working on the formula for spaceport success:
New Mexico will be home of the X Prize Cup, the annual rocket festival conceived as a follow-up to the Ansari X Prize. British-based Starchaser Industries already has opened an office in New Mexico and plans to begin flying suborbital space vehicles there as early as 2006.
Oklahoma serves as the home base for two X Prize contenders, Rocketplane Ltd. and TGV Rockets. The Oklahoma Space Industry Development Authority plans to complete its federal spaceport application by next summer, executive director Bill Khourie said. And as of Wednesday, reservations are being taken for Rocketplane suborbital flights from Oklahoma starting in 2007, said Jane Reifert of Incredible Adventures. List price is $99,500.
Russia operates the only spaceport that has actually taken paying passengers into orbit — the Baikonur Cosmodrome in Kazakhstan. The Russian-based Suborbital Corp. is developing its own analog to SpaceShipOne, known as Cosmopolis XXI, which could be flying by 2007.
Australia already has an agreement to launch Russian spacecraft from its Woomera Range, and Virginia-based Space Adventures — the company that helped send millionaires Dennis Tito and Mark Shuttleworth into space on Russian rocket ships — says it may select an Australia site for a suborbital spaceport by the end of the year.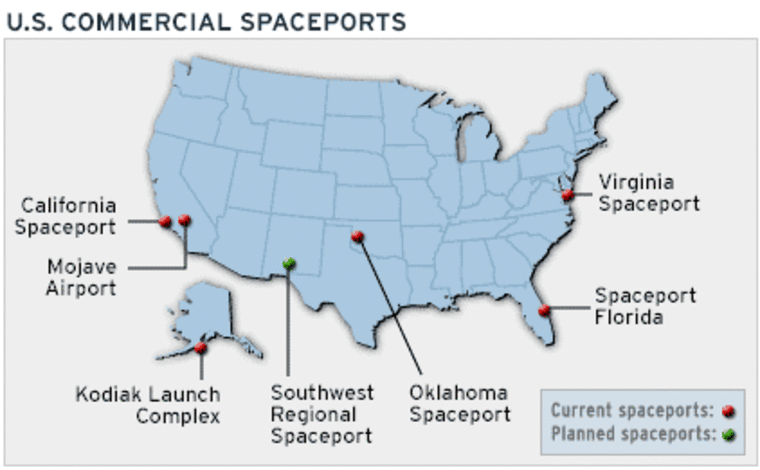 More than just a launch
Suborbital space tourism could generate $700 million a year in revenues by the year 2021, according to a market study by Futron Corp. But the infant industry's main players say space passenger operations will require upgrades in infrastructure, regulations and even accommodations to attract the first wave of millionaire thrill-seekers.
Stuart Witt, manager of the Mojave Airport, can already tick off the questions that will need to be answered within the next three years: "Where do they stay? Where do they train? Where do they fly from, what do they see, where do they return to? ... We need places to put people who want that [high-class resort] experience in a hotel. That does not exist here today. It's a flight research place in the middle of the Mojave Desert. That's a fact."
Historically, rocket-launch ranges have been godforsaken places with lots of wide-open space and not much else. But if space riders are going to plunk down nearly $200,000 for the spaceflight experience, they may not be content with three-star accommodations while they wait for their four minutes of weightlessness and a 70-mile-high view.
"It needs to be a viable tourist destination," said Eric Anderson, Space Adventures' president and chief executive officer. "Traditional spaceports — like Baikonur — just won't do."
Branson's first passengers could conceivably spend less time soaking in Mojave's sunshine, and more time soaking in Hollywood glitz. How's this for a scenario: You train for your launch at a Southern California resort, hobnobbing with celebrity spacemen and playing golf in your free time. A parabolic flight from LAX to Mojave gives you an advance taste of zero-gravity. After a day's orientation, you board a five-seat rocket plane for a two-hour space mission in the morning, then jet back to L.A. for a champagne celebration in the evening. At the end of the tour, you get a DVD documentary of your exploits to take home.
Regulations and radar
Building a suborbital space industry will require attention to the nitty-gritty details as well as the glitz. For one thing, spaceports need runways long enough for a rocket plane to land. The Oklahoma Spaceport's 13,503-foot-long runway qualifies, as does Mojave's 12,600-foot-long extended runway.
Witt said his civilian spaceport also benefits from the tracking services and airspace access provided by nearby military facilities. During the SpaceShipOne flights, the radar data that confirmed the rocket plane's altitude came from nearby Edwards Air Force Base. Spaceport operators might have to find a way to contract for such services on a per-flight basis when regular operations begin, Witt said.
"There's got to be a way for us to buy it by the drink," he said. "They need to craft laws that make it easy."
The regulatory environment could well determine whether suborbital space tourism succeeds or fails in the United States, Witt said.
"Do you want this business in America, or do you want to travel to China to do it?" he asked. "Because if we want it here, there's always a way to manage how to do it. It's never going to be risk-free. It's never going to be totally safe. But I believe it can be made as safe as airline travel today."
Currently, legislation that would allow paying passengers to take suborbital space flights is hung up in negotiations between the House and the Senate. The bill's "fly at your own risk" provision is a central issue: Industry insiders say they need extra protection from lawsuits, because of the inherent risk involved with flying experimental spacecraft. Those on the other side of the argument worry that passengers will be forced to give up their access to due process.
Witt clearly stands with those who believe suborbital flight regulations will have to allow for more risks. He says his own congressman — Republican Rep. Bill Thomas, who chairs the House Ways and Means Committee — "gets it." But he's worried that other lawmakers just might keep suborbital space passengers grounded at Mojave and the nation's other spaceports.
"The single biggest factor facing the private sector in reaching orbit or interplanetary or even reaching the surface of the moon is the United States Congress," Witt said, echoing the sentiments of SpaceShipOne designer Burt Rutan. "Frankly, I think that is the only issue."