As the New York Yankees head to Minneapolis this weekend to face the Minnesota Twins in the American League Division Series, baseball-crazy fans in Cuba are hoping that pitcher Orlando Hernandez will again save the day for the Bombers.
Balky shoulder and all, "El Duque" has been a stalwart for the Yankees this season, compiling the best record, 8-2, since his comeback to pinstripes after the All-Star Break.
Although his status has been questionable since he complained of soreness last week, manager Joe Torre has indicated that Hernandez will be his Game 4 starter at the Metrodome on Saturday. Despite his injury, the Yankees manager likes Hernandez's playoff experience; he's 10-2 in post-season games since joining New York in 1998.
In Cuba, Hernandez's resilience is no surprise. Fans are excited to see the former ace with Havana Industriales, one of the leading clubs in the country, show his mettle in the playoffs.
"We feel proud of every Cuban sportsman that goes to the summit in whatever sport," said Bernardo Escalano, one of the dozens of "fanaticos del beisbol" who gather daily in Havana's Parque Central to talk baseball.
Invisible
But, of course, they probably won't see him.
Hernandez has not been seen playing baseball here since the summer of 1996, when he was banned from the game for allegedly planning to flee to the United States. More than a year later, he did defect, signing up with the Yankees in March, 1998.
Furthermore, there's not a word about his accomplishments in the Cuban media, the same newspapers and magazines that followed his every pitch while he compiled a 126-48 record with Industriales.
The reason, of course, is political; defections are an embarrassment to the government of Fidel Castro.
Yet the editor of Juventud Rebelde, the government-owned daily youth newspaper, insisted that Hernandez's story -- a former Cuban star's comeback from injury to figure prominently in the playoff picture -- wasn't much of a tale.
"There is no interest in him here," Rogelio Polanco said. "We have our own baseball league and we are the world champions," he added, referring to the national team.
A government official, a fan of Industriales, was more candid: Hernandez, like other defectors, can no longer be covered in his homeland. He has become another pawn in the decades-old conflict with embittered exiles in south Florida. Any coverage of his successes in Cuba would only give succor to Castro's enemies, he said.
As a result, Hernandez along with the other successful Cubans playing at major league level, including Jose Contreras and Livan Hernandez (El Duque's half-brother), have disappeared from the firmament; they are officially invisible in Cuba.
A Cuban religion
They are, however, present and accountable for the fans, who debate baseball with a religious fervor daily in central Havana.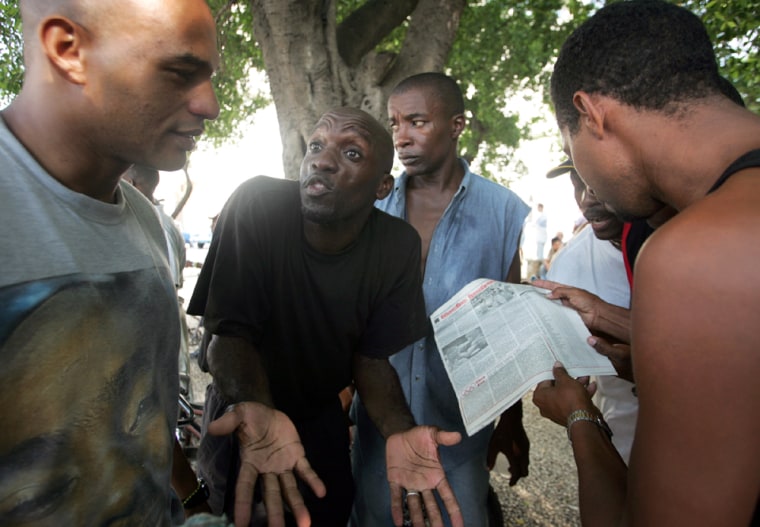 On two recent visits to Parque Central in Havana, different groups of men — and it's usually men — were standing in the shade, loudly discussing players and their records. It's the Cuban equivalent of all-sports radio, where no topic is too trivial for a noisy debate.
When it came to El Duque, they were surprisingly up to date on his recent performances and his injury. The consensus was that the Cuban, even at 39 years old, still has the magic stuff to stifle hitters.
"As long as he pitches like he does, he will have a long life in the game," said one fan, who declined to give his name.
Others bemoaned the lackluster performance this year of another Cuban star hurler, Jose Contreras. Briefly a stable mate of Hernandez' at the Yankees before he was traded in late July to the Chicago White Sox, Contreras was a favorite of Castro's, before he defected in 2002.
Amid high expectations -- and after a bidding war involving the Boston Red Sox, the three-time Cuban athlete of the year signed a $32 million four-year deal with the Yankees two years ago, only to scratch out so-so numbers, 20-11, over the past two seasons with a 5.50 earned run average.
"We are sad about Contreras, he hasn't pitched as well as he could," Escalano said.
Following the game
For Escalano and his friends, following American baseball requires some ingenuity.
With censorship by the state-owned media, the only way to see Major League Baseball is via satellite dishes, which are illegal, or at hotels that cater exclusively for foreigners. There are a few Internet cafes, but the lines are long.
Duzmay Torres explained that he sometimes gets newspapers from tourists or manages to slip into Havana hotels, where ESPN and other international sports channels are freely available.
Information gathered is then shared among the fraternity; more fodder for debate, stats for the mental encyclopedias.
Although it depletes the national league, which is amateur, most fans are happy to see their players compete against the world's best.
For a nation with a deep sense of national pride, there is little resentment about the Hernandez's flight. "He's a sportsman, why talk about politics," Escalano said.