/ Source: msnbc.com news services
Kenyan environmental activist Wangari Maathai won the Nobel Peace Prize on Friday for her work as leader of the Green Belt Movement, which has sought to empower women, improve the environment and fight corruption in Africa for almost 30 years.
"Many of the wars in Africa are fought over natural resources," she told The Associated Press. "Ensuring they are not destroyed is a way of ensuring there is no conflict."
In her first speech after winning the award, she spoke in her native Kikuyu language to an audience of 200 people, mostly poor women who had gathered to collect government food aid.
"Don't farm in forests ... because we will lose our forests," she said. "We have been given the responsibility of caring for future generations, and the younger ones, so that they may have water."
The crowd clapped politely when she told them she had won another international award, which most of them has never heard of. But they laughed loudly when told the prize brought with it more money than she could count.
Earlier Friday, Maathai planted a tree to celebrate and vowed to use the money to strengthen her campaign to save Africa's forests.
"I have never seen so much money in my life!" she told Reuters in an interview in her home town of Nyeri, which nestles in the shadow of Mount Kenya, Africa's second highest peak.
"I was shaking and crying and I looked at the mountain -- this mountain that has inspired me for many years. I particularly liked the fact that the news reached me here in Nyeri, at home in front of Mount Kenya," she said.
Parts of Mount Kenya have been deforested and acres of marijuana have been found growing in the forests — a sign of desperation by some farmers hit by low world prices for coffee.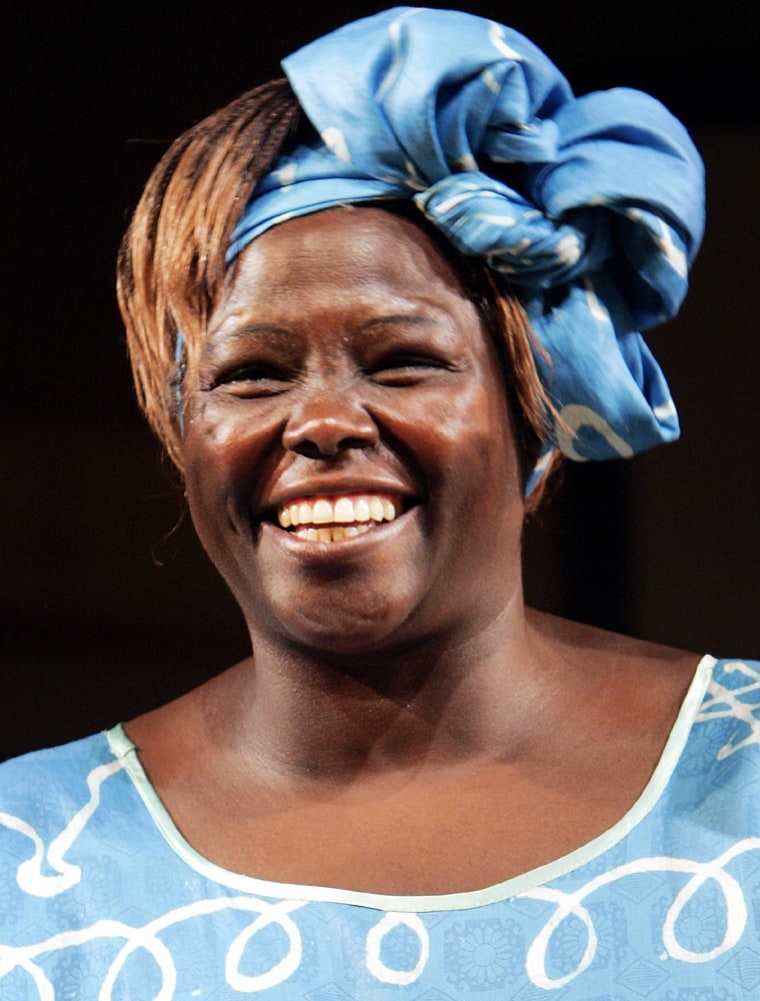 "Some of it (the money) will definitely go towards the environmental programs," she added. "I have to make a budget and think about the things I will do — just like rich people (do)!"
Maathai, Kenya's deputy environment minister, is the first African woman to win the prize, first awarded in 1901. She gained recent acclaim for a campaign planting 30 million trees to stave off deforestation.
"We believe that Maathai is a strong voice speaking for the best forces in Africa to promote peace and good living conditions on that continent," the Nobel committee said in its citation.
Kenyan President Mwai Kibaki said that "as a government we are proud to have her as an assistant minister."
"As Kenyans," he added, "we must rededicate ourselves to conserve the environment as a gesture of appreciation of the prestigious award to one of our own."
First peace prize for environment
With a record 194 nominations, the committee had a broad field to choose from, and speculation had focused on other candidates. Many observers had wondered if the committee would try to send a message about Iraq, as it did in 2002, when members said the choice of former U.S. President Jimmy Carter should be seen as criticism of the Bush administration's move to topple Saddam Hussein.
The choice of Maathai was a clear answer that it would eschew politics this time around.
It was the first time the prize recognized work to preserve the environment. During the 2001 centennial anniversary of the prize, the committee said it wanted to widen the scope of the award, including honoring those who worked to improve the environment, as well as contributed to advancing peace worldwide.
"This is the first time environment sets the agenda for the Nobel Peace Prize, and we have added a new dimension to peace. We want to work for a better life environment in Africa," said committee chairman Ole Danbolt Mjoes.
Maathai, 64, is believed to have been the first woman in East and Central Africa to earn a doctorate. She got a degree in biological sciences from Mount St. Scholastica College in Atchison, Kan., in 1964.
Previous winners from Africa include U.N. Secretary-General Kofi Annan, who shared the prize with the United Nations in 2001, and Nelson Mandela and F.W. de Klerk, South Africa, in 1993.
Environment and war
"The environment is very important in the aspects of peace because when we destroy our resources and our resources become scarce, we fight over that," Maathai told Norwegian state television, fighting back tears. "I am working to make sure we don't only protect the environment, we also improve governance."
Maathai has also been praised for standing up to Kenya's former government, led by President Daniel arap Moi for 24 years until he stepped down after elections in 2002.
The award, which includes $1.3 million, is always presented on Dec. 10, the anniversary of the death of its founder, Swedish industrialist Alfred Nobel. The peace prize is awarded in Oslo, and the other Nobel prizes are presented in the Swedish capital, Stockholm.
"Peace on earth depends on our ability to secure our living environment," Maathai's citation said. "Maathai stands at the front of the fight to promote ecologically viable social, economic and cultural development in Kenya and in Africa."
Maathai founded the Green Belt Movement in 1977 while a member of the National Council of Women of Kenya. She abandoned a promising academic career as a biology professor to pursue her environment projects.
Should weapons have been focus?
Morten Hoeglund, a member of Norway's Progress Party, criticized the award to Maathai, saying there were more pressing issues like weapons of mass destruction the Nobel Committee should focus on.
"Today we have problems with nuclear arms and technology gone astray. The Nobel Committee should spend more resources on these matters instead," he said.
Indeed, oddsmakers and speculation had pointed to Mohamed ElBaradei and the International Atomic Energy Agency as likely winners.
Last year's winner, Shirin Ebadi of Iran was similarly a dark horse.
This year's award announcements began Monday with the Nobel Prize in physiology or medicine going to Americans Richard Axel and Linda Buck for their work on the sense of smell. On Tuesday, Americans David Gross, H. David Politzer and Frank Wilczek won the physics prize for their explanation of the force that binds particles inside the atomic nucleus.
The chemistry prize was awarded Wednesday to Israelis Aaron Ciechanover and Avram Hershko and American Irwin Rose for their work in discovering a process that lets cells destroy unwanted proteins. On Thursday, Austrian feminist writer Elfriede Jelinek won the Nobel Prize in literature on Thursday.
The Bank of Sweden Prize in Economic Sciences in Memory of Alfred Nobel will be announced Oct. 11.